Faux News: new Surgeon General nom 'too fat' to serve
Holy crap. I'm speechless. Take a look at not-so-svelte Neil Cavuto and Anti-Gym hardbody proprietor Michael Karolchyk, who sports a "No Chubbies" T-Shirt, take a crap on the President's nominee for Surgeon General, Dr. Regina Benjamin (see my earlier post).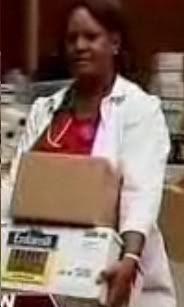 A screen cap of Benjamin is on the right. Does she look wildly obese to anyone? Did anyone protest about C. Everett Koop's portly figure as a disqualification to serve? Wow. Weight-proportional-to-height status is not the sole marker of health anyway. Jim Fixx, a slim long-distance running advocate, dropped dead of a heart attack. Obesity is clearly a health risk, but so is family history of cardiovascular disease, or Type II diabetes, whether you smoke, along with a variety of other factors. I certainly don't see Dr. Benjamin, who, by any stretch of the imagination, is qualified to serve, is worthy of this sort of disgusting slam.
After many years and many server changes and finally landing here at Raw Story, which has taken very good care of us, it's time to say goodbye to Pandagon. I've been blogging under this banner for ten years, after Jesse Taylor asked me to join. He, in turn, had been running this joint since he was in college. A lot has changed since then. I became a journalist, moved from Austin to New York and learned to play Dungeons & Dragons. Jesse became a lawyer and, just this past weekend, a married man.
Carly Fiorina defends her lie with a whole bunch of lies
I do like it when Republican candidates sport a resume full of corporate executive work, because it really shows the public how many fools and idiots coast into that position not on merit but on their bullshitting abilities. Donald Trump, Herman Cain, and now we have Carly Fiorina, who just can't understand why her perceived underlings (voters, journalists) won't scurry away, pretending to accept her bullshit like former employees of hers had to do, lest they lost their jobs.
And so it goes that Fiorina, who could make this entire Planned Parenthood controversy go away by saying something like, "I may have misremembered the video, but I still think abortion is wrong," instead is doubling and tripling down. And every time she does, she lies more and more. She was on Meet the Press and, so enamored of the idea that she is perfect and could never do anything wrong, just went to town with the defensive posturing.
Marco Rubio has an astoundingly low opinion of women's intelligence
At RH Reality Check, I covered this story that I wish was getting more press, about how Marco Rubio goes back and forth between suggesting that women who get abortions are greedy monsters who get pregnant for cash:
I just think you've created an industry now … a situation where very much, you've created an incentive for people not just to look forward to having more abortions, but being able to sell that fetal tissue for purposes—these centers—for purposes of making a profit off it, as you've seen in some of these Planned Parenthood affiliates.