Pandagon is daily opinion blog covering feminism, politics, and pop culture. Come for the politics, stay for the complete lack of patience for the B.S. and bad faith coming from conservative leaders and pundits.
Joe the Plumber…er, scribe(?!)
Don't miss stories. Follow Raw Story!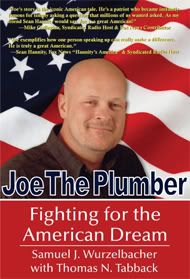 Honest to god, how soon will "Joe the Plumber: Fighting for the American Dream" hit the bargain bin?
Joe exemplifies how one person speaking up can really make a difference. He is truly a great American. Sean Hannity, Fox News Hannity s America , Syndicated Talk Radio Joe's story is the iconic American tale. He's a patriot who became instantly famous for simply asking a question that millions of us wanted asked. As my friend Sean Hannity would say, Joe is a great American! Mike Gallagher, Syndicated Talk Radio Joe The Plumber – Fighting for the American Dream is the Inspiration Guide for the New Conservatism. Get ready to get Angry, Laugh out loud, Cry, Shout, and Get Involved in the Future of the United States of America!

Reviews
I had some major goosebumps several times. Read this book! You will be truly inspired. –Margaret, Jenkins, KY

I just finished reading Joe s book and all I can say is WOW! I love how he thinks and expresses himself. I laughed during every chapter – it was so entertaining! –Glynis, Biddeford, ME

The book is fantastic and I read it in two days. Keep working for our country Joe! –C. W., Flowery Branch, GA
You know some conservative think tank will buy a buttload of copies to give away to pump up the sales, but I seriously doubt the teabaggers are going to line up to read this ghostwritten POS. WingNutDaily's fawning coverage reads like a parody, however we did get an idea of Joe's relationship with the Man Upstairs and politics.
Asked if he has plans to run for public office, he replied, "I hope not. You know, I talked to God about that and he was like, 'No.'"