People of the 5th Congressional district in NC, please boot embarrassment Virginia Foxx out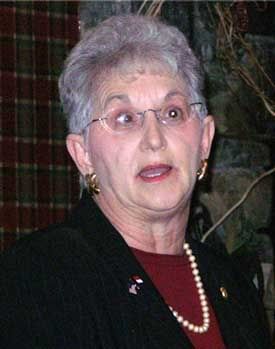 Rep. Virginia Foxx (R-NC5) is a stain on the reputation of my state. She continues to belch out the most ignorant garbage on the floor of the House.
Yesterday she decided to weigh in on the health care reform debate with this doozy. Keyboard protection on.
Rep. Foxx: The Republican plan would "make sure we bring down the cost of health care for all Americans and that ensures affordable access for all Americans and is pro-life because it will not put seniors in a position of being put to death by their government."
WTF is she talking about?! Media Matters has to straighten out the mental confusion of Rep. Foxx (since I doubt she's able to navigate the complexities of the subject at hand to actually do anything except regurgitate winger talking points):
The Democratic Legislation Actually Provides Professional Guidance For Seniors' Difficult Decisions – NOT To Encourage Euthanasia Like other Republicans before her, Rep. Foxx is basing her statement on a clause in the House bill guaranteeing seniors free counseling to help them with complex decisions.

"Advance Care Planning Consultation" Would Provide Seniors With Professional Advice On Will Preparation, Power Of Attorney, And Other Complicated Issues. PolitiFact.com reported: "Indeed, Sec. 1233 of the bill, labeled 'Advance Care Planning Consultation' details how the bill would, for the first time, require Medicare to cover the cost of end-of-life counseling sessions. According to the bill, 'such consultation shall include the following: An explanation by the practitioner of advance care planning, including key questions and considerations, important steps, and suggested people to talk to; an explanation by the practitioner of advance directives, including living wills and durable powers of attorney, and their uses; an explanation by the practitioner of the role and responsibilities of a health care proxy.'" [PolitiFact.com, 7/16/09]

Medicare Will Pay For Increased Counseling If The Senior Citizen Becomes Ill And Would Like Additional Information. According to PolitiFact.com: "Medicare will cover one session every five years, the legislation states. If a patient becomes very ill in the interim, Medicare will cover additional sessions." [PolitiFact.com, 7/16/09]

Counseling Is NOT Mandatory. In regards to the "mandatory" assertion, PolitiFact.com reported: "For his part, Keyserling said he and outside counsel read the language carefully to make sure that was not the case. 'Neither of us can come to the conclusion that it's mandatory.' he said. 'This new consultation is just like all in Medicare: it's voluntary.' 'The only thing mandatory is that Medicare will have to pay for the counseling,' said Dau." [PolitiFact.com, 7/16/09]
***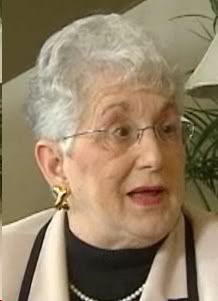 You might recall that last year Foxx managed to make KO's worst person in the world for calling the hate crime of Matthew Shepard's murder a hoax:
Rep. Foxx: "The bill was named after a very unfortunate incident that happened, where a young man was killed, but we know that that young man was killed in the commitment of robbery. It wasn't because he was gay. The bill was named for him, the hate crimes bill was named for him, but it's, it's really a hoax, that that continues to be used as an excuse for passing these bills."[House Floor Speech, 4/29/09]
Foxx had to go into serious damage control mode. She issued a standard non-apology after the uproar, saying it was "a poor choice of words," and sent a note to Judy Shepard that said "if I said anything that offended her, I certainly apologize for it and know that she's hurting, and I would never do anything to add to that."
When that went over like a lead balloon, the Congresswoman for the 5th district attempted to play the victim — she said that she was receiving death threats at her office. However, that tactic didn't exactly work out since the Capitol Police reported that no one in Foxx's office had alerted them about any threats and that there was "no ongoing investigation" of the matter.
Please — the good people of the 5th, I beg you — bounce her out in 2010.
After many years and many server changes and finally landing here at Raw Story, which has taken very good care of us, it's time to say goodbye to Pandagon. I've been blogging under this banner for ten years, after Jesse Taylor asked me to join. He, in turn, had been running this joint since he was in college. A lot has changed since then. I became a journalist, moved from Austin to New York and learned to play Dungeons & Dragons. Jesse became a lawyer and, just this past weekend, a married man.
Carly Fiorina defends her lie with a whole bunch of lies
I do like it when Republican candidates sport a resume full of corporate executive work, because it really shows the public how many fools and idiots coast into that position not on merit but on their bullshitting abilities. Donald Trump, Herman Cain, and now we have Carly Fiorina, who just can't understand why her perceived underlings (voters, journalists) won't scurry away, pretending to accept her bullshit like former employees of hers had to do, lest they lost their jobs.
And so it goes that Fiorina, who could make this entire Planned Parenthood controversy go away by saying something like, "I may have misremembered the video, but I still think abortion is wrong," instead is doubling and tripling down. And every time she does, she lies more and more. She was on Meet the Press and, so enamored of the idea that she is perfect and could never do anything wrong, just went to town with the defensive posturing.
Marco Rubio has an astoundingly low opinion of women's intelligence
At RH Reality Check, I covered this story that I wish was getting more press, about how Marco Rubio goes back and forth between suggesting that women who get abortions are greedy monsters who get pregnant for cash:
I just think you've created an industry now … a situation where very much, you've created an incentive for people not just to look forward to having more abortions, but being able to sell that fetal tissue for purposes—these centers—for purposes of making a profit off it, as you've seen in some of these Planned Parenthood affiliates.