Stories Chosen For You
In a column for MSNBC, former FBI Assistant Director for Counterintelligence Frank Filiuzzi called out an assortment of Republican Party lawmakers who have run to defend FBI agents who are balking at investigating and arresting those who took part in the Jan. 6 insurrection.
At issue is the FBI suspending Special Agent Steve Friend of the FBI's Daytona Beach office who refused to take part in the arrest of a rioter which then led to Friend to reach out to Sens. Ron Johnson (R-WI) and Chuck Grassley (R-IA) who fired off a letter to the FBI complaining about how Friend was being treated.
According to Figliuzzi, Friend and other law enforcement officials who refuse to do their jobs are out of line, and Grassley and Johnson should know better.
"In late August, Attorney General Merrick Garland issued a memo to all Justice Department employees, including those at the FBI, reminding them that are legitimate processes in place to report concerns — but back channel communications with law makers isn't one of them," he wrote. "It's a sad sign of our times that the institutions responsible for identifying those among us who reject the rule of law must also determine whether such people walk the halls of those same institutions."
IN OTHER NEWS: Former prosecutor pours cold water on Trump's high-priced lawyer's latest legal strategy

He then added, "The people who claim they're concerned about the FBI becoming political sure have taken a partisan path to raise those concerns. Throughout every FBI field office, from employee break rooms to the agency's internal intranet, there are well-posted options to reporting misconduct, ethical or integrity concerns."
Writing, "Deeply flawed assertions, and the politically tinged way they've been raised, unfortunately cast a shadow on any more substantive claims made by the agents," he then explained, "There's something even more disturbing about this small group of FBI agents who refuse to respect the rule of law and decide which parts of long-established criminal justice processes they will or won't follow in that they're exhibiting the same radicalized mindset of Jan. 6 defendants they're supposed to be investigating and arresting."
"Law enforcement agents who mirror that behavior aren't 'heroes' or patriots — they're dangerous dupes who've lost their compass, and, I believe, ought to lose their jobs," he concluded.
You can read more here.

CONTINUE READING
Show less
The Louisville chapter of the NAACP called Friday for the resignation or impeachment of Kentucky Attorney General Daniel Cameron over his failure to bring charges against officers in connection with the death of Breonna Taylor.
Cameron, a Republican and Kentucky's first Black statewide official, did not bring charges against officers who killed Taylor while she slept in her Louisville apartment – where they fired 32 shots -- on March 13, 2020. Her death sparked national outrage and protests.
The officers were accused of having used a fraudulently obtained no-knock warrant in a drug investigation for which Taylor was not a suspect. The U.S. Justice Department indicted four of those officers on August 4 for violating Taylor's civil rights and conspiracy, obstruction and unconstitutional use of force.
"The recent federal indictments of four Louisville Metro Police officers involved in the Breonna Taylor killing has highlighted, demonstrated, and proven the insufficiency of the state investigation led by the Attorney General of the Commonwealth and an absence of an understanding of the Commonwealth's criminal laws," the NAACP said in a press release.
"The NAACP wrote 'the insufficiency of the investigation and the lack of understanding of Kentucky criminal statutes were the results of the current Attorney General of the Commonwealth of Kentucky in his own words 'backing the blue,' not justice," the Louisville Courier-Journal reported.
NAACP President Raoul Cunningham said at a press conference that calling on the first Black man to hold the AG's office to resign was "not the easiest decision," the newspaper reported.
"Although he is the first African American to be elected to a statewide office, that does not exclude him from his responsibility to the entire community," Cunningham said. "Nor does it exclude him from fairness and equality. And we do not think that he possessed that in his decision."
Cameron, a Republican running for governor in 2023, has received national criticism for more than two years over his handling of the Taylor case. Cameron is a protégé of Senate Majority leader Mitch McConnell of Kentucky, having been hired as his general counsel at the age of 29 in 2015.
Cameron also has been a fervent supporter of Donald Trump and earned his endorsement in 2020 in part because of his own "back the blue" rhetoric.
"He is tough on Crime, Strong on Borders, and will fight for our Second Amendment," Trump tweeted in his endorsement," Vox reported. "Daniel will never let you down."
On Friday, Trump launched a threatening and racist attack on McConnell.
CONTINUE READING
Show less
Venus, often called Earth's "evil twin" planet, formed closer to the Sun and has since evolved quite differently from our own planet. It has a "runaway" greenhouse effect (meaning heat is completely trapped), a thick carbon-dioxide-rich atmosphere, no magnetic field and a surface hot enough to melt lead.
Several uncrewed scientific missions will study how and why that happened in the next decade. But now some scientists want to send a crewed mission there as well for a flyby. Is that a good idea?
With a slightly smaller diameter than Earth, Venus orbits closer to the Sun. This means that any water on the surface would have evaporated shortly after its formation, starting its greenhouse effect. Early and sustained volcanic eruptions created lava plains and increased the carbon dioxide in the atmosphere – starting the runaway greenhouse effect, which increased the temperature from just a little higher than Earth's to its current high value of 475°C.
While the Venus year is shorter than ours (225 days), its rotation is very slow (243 days) and "retrograde" – the other way round to Earth. The slow rotation is related to a lack of magnetic field, resulting in a continuing loss of atmosphere. Venus' atmosphere "super-rotates" faster than the planet itself. Images from many missions show V-shaped patterns of clouds, composed of sulphuric acid droplets.
Despite the harsh conditions, some scientists have speculated that Venus' clouds might at some altitudes harbor habitable conditions. Recent measurements apparently showing phosphine – a potential sign of life as it is continuously produced by microbes on Earth – in Venus' clouds have been strongly debated. Clearly, we need more measurements and exploration to work out where it comes from.
Future missions
What we know about Venus so far has been gathered from several past probes. In 1970-82, for example, the Soviet Venera 7-14 probes were able to land on Venus' harsh surface, survive for up to two hours and send back images and data. But there are remaining questions about how Venus evolved so differently from Earth, which are also relevant for understanding which planets orbiting other stars may harbor life.
The next decade promises to be a bonanza for Venus scientists. In 2021, Nasa selected two missions, Veritas and DaVinci+, due for launch in 2028-30. The European Space Agency selected EnVision for launch in the early 2030s. These are complementary, uncrewed missions which will give us deeper understanding of Venus' environment and evolution.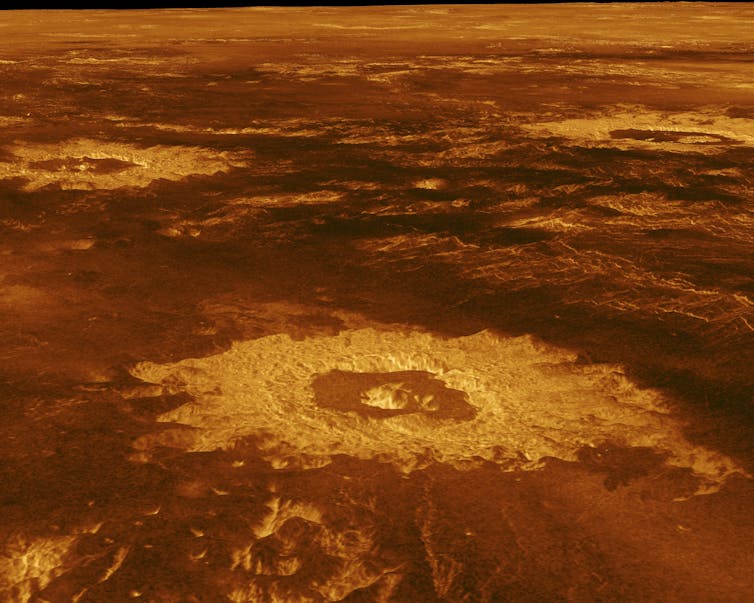 Craters on Venus seen by Venus Nasa's Magellan probe.NASA/JPL
Veritas will map Venus' surface to determine the geological history, rock composition and the importance of early water. DaVinci+ includes an orbiter and a small probe that will descend through the atmosphere and measure its composition, study the planet's formation and evolution and determine whether it ever had an ocean. EnVision will study the planet's surface, subsurface and atmospheric trace gases. It will use radar to map the surface with better resolution than ever before.
India also plans an uncrewed mission, Shukrayaan-1, and Russia has proposed Venera-D.
Do we need crewed flybys?
The idea of a crewed flyby of Venus was suggested in the late 1960s, and involved using an Apollo capsule to fly people around the planet. But this idea ended when Apollo finished. Now, the Artemis project to fly around the Moon, and other ideas of crewed missions, have led to the idea being floated again, most recently in journal papers and at a recent meeting of the International Astronautical Federation, an advocacy organization, in September 2022.
The idea would be to fly a crewed spacecraft around Venus and return to Earth. This would allow scientists to test deep-space techniques such as how to operate a crewed mission with significant time delays when communicating with Earth. It could therefore prepare us for a more complex, crewed mission to Mars. However, the crew wouldn't do any landing or actual atmosphere investigation at Venus – the conditions are way too harsh.
The researchers who back this idea argue that you could also use Venus' gravity to alter the spacecraft's course for Mars, which could save time and energy compared with going directly from Earth to Mars. That's because the latter option would require the orbits of the two planets to be aligned, meaning you'd have to wait for the right moment both on the way there and back. However, as a crewed mission to Mars would be highly complex, going directly from Earth to Mars would keep designs simpler.
Sending humans to a planet that may harbor living organisms also won't make it easier to find them. It is risky – we may end up contaminating the atmosphere before we discover any life. The best way to look for biochemical signs of life is with uncrewed probes. There would also be significant thermal challenges and higher radiation from solar flares due to closer proximity to the Sun.
And, unfortunately, with a flyby mission like this, only a few hours of data would be possible on the inbound and outbound trajectories. It would be a highly expensive venture, which would no doubt produce some amazing imagery and useful additional data. However, this would add little to the detailed and much longer bespoke studies currently planned. I, therefore, believe the likelihood of a crewed mission to Venus is very unlikely.
There have also been conceptual, more far-fetched studies – including sending crewed airships to hover in Venus' atmosphere, rather than just flying by. This is a nice idea, which may achieve more science than a flyby, but it remains a distant and unrealistic concept for now.
For the moment, we only carry out crewed exploration in low-Earth orbit. The Artemis project, however, aims to fly people around the Moon and build a station, called Gateway, in lunar orbit. This is being designed to do science, enable crewed landings on the Moon and crucially to test deep space techniques such as refueling and operating in a remote environment that could in the long run help get us to Mars without doing training at Venus.

Andrew Coates, Professor of Physics, Deputy Director (Solar System) at the Mullard Space Science Laboratory, UCL
This article is republished from The Conversation under a Creative Commons license. Read the original article.
CONTINUE READING
Show less
{{ post.roar_specific_data.api_data.analytics }}