AP admits: Cheney equivocated to the FBI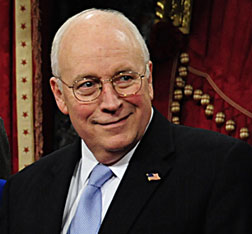 Federal prosecutor Patrick Fitzgerald famously declared in the Valerie Plame affair that "there is a cloud over the vice president." Last week's release of an FBI interview summary of Dick Cheney's answers in the criminal investigation underscores why Fitzgerald felt that way.
On 72 occasions, according to the 28-page FBI summary, Cheney equivocated to the FBI during his lengthy May 2004 interview, saying he could not be certain in his answers to questions about matters large and small in the Plame controversy.
The Cheney interview reflects a team of prosecutors and FBI agents trying to find out whether the leaks of Plame's CIA identity were orchestrated at the highest level of the White House and carried out by, among others, I. Lewis "Scooter" Libby, Cheney's chief of staff.
Among the most basic questions for Cheney in the Plame probe: How did Libby find out that the wife of Bush administration war critic Joseph Wilson worked at the CIA?
Libby's own handwritten notes suggest Libby found out from Cheney. When Libby discovered Cheney's reference to Plame and the CIA in his notes — notes that Libby knew he would soon have to turn over to the FBI — the chief of staff went to the vice president, probably in late September or early October 2003.
Sharing the information with Cheney was in itself an unusual step at the outset of a criminal investigation in which potential White House witnesses were being ordered by their superiors not to talk to each other about the Plame matter.
"It turns out that I have a note that I had heard about" Plame's CIA identity "from you," Libby says he told the vice president.
And what did Cheney say in response? Fitzgerald asked Libby in front of a federal grand jury six months later.
"He didn't say much," Libby replied. "You know, he said something about 'From me?' something like that, and tilted his head, something he does commonly, and that was that."
Trump blames Ocasio-Cortez for two Democrats who were nearly barred from Israel
President Donald Trump tweeted out Sunday that Democrats are ready to wage war against Israel because the prime minister followed his direction to ban Congresswomen from coming to the country.
Israel backed off after an uprising from both conservative and liberal groups, saying the purpose of any international visit should be to help educate, regardless of the support for the country.
"House Democrats want to take action against Israel because it is fighting back against two (maybe four) people that have said unthinkably bad things about it & the Israeli people. Dems have such disdain for Israel! What happened? AOC Plus 4 is the new face of the Democrat Party!" Trump announced.
'Part of me wanted to leave': Lone attendee of Steve King town hall turns out to be a 'hungover' Democrat
Rep. Steve King (R-IA) is being told to resign by members of his own party who are tired of his overt racism. While many Republicans might exhibit racist tendencies and make apologies for the president's racism, King says things out loud the GOP would just assume he keep quiet on. The true test, however, comes from King's own district and whether or not they're willing to reelect him in November.
The key revelation came at a recent townhall King held, where the only person who attended was a hungover Democrat. The Iowa Starting Line reported the pathetic event, where it seemed more members of the press were willing to show up than actual constituents.
'I'm the one who calls the shots': Trump rails against Fox News for giving him 'his worst polls'
President Donald Trump explained why Fox News has drawn his ire and that they need to realize he's the one in control of them.
In a conversation on the tarmac in Morristown, New Jersey on his way back to Washington, Trump said that Fox News has not been good to him lately.
"Fox is a lot different than it used to be, I can tell you that," Trump said.
In an earlier Twitter rant, the president went off on Juan Williams for being "nasty and wrong."