Evangelist Oral Roberts dead at 91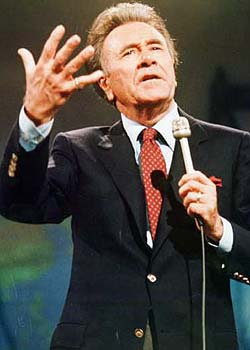 "Dr. Oral Roberts, a legendary evangelist who rose from humble beginnings to become one of the most influential Christian leaders of the 20th century, died today in Newport Beach, Calif., due to complications from pneumonia," a press release issued by his ministry announced Tuesday.
A report earlier today stated that Roberts was "hospitalized after falling in his home over the weekend."
The Christian Post article stated,
"On Saturday, December 12, while in his home in California, Oral Roberts slipped and fell," reported the ministry of the 91-year-old televangelist in a statement released Monday.

"He was transported to a local hospital and is currently being treated for broken bones and a slight case of pneumonia. Doctors report he is in stable condition," added the ministry, which is presently being led by Roberts' son, Richard.
Tulsa World mentioned some controversies which surrounded Roberts.
In 1977, Roberts told his partners that God had told him to build a medical complex that would merge "the healing streams of prayer and medicine." Construction of the $150 million City of Faith complex began in 1978.

Although Roberts had encountered controversy before, this project stirred intense debate and proved to be one of the biggest financial burdens on his ministry. During the construction, when donations were down, Roberts said he saw a vision of a 900-foot-tall Jesus lifting up the City of Faith complex and saying, "I told you that I would speak to your partners and through them, I would build it!"

A $25 million debt forced the closing of the City of Faith and its medical school in September 1989.

…..

Early in 1987, Roberts touched off another controversy by announcing on television that if he did not raise $8 million for medical students' scholarships so they could become missionaries, he would die by the end of March.

After the announcement, a few television stations refused to air the broadcasts.

Roberts received the needed money, including $1.3 million from a dog track owner in Florida, before the March 31 deadline, and he proclaimed victory in the campaign.
A memorial website devoted to his memory says, "Granville Oral Roberts was one of the most famous and influential Christian leaders of the twentieth century."
Full press release follows:
####
There will be a private family internment. Arrangements for a public memorial service in Tulsa are pending and will be announced soon.
"Oral Roberts was the greatest man of God I've ever known," Richard Roberts said. "A modern-day apostle of the healing ministry, an author, educator, evangelist, prophet, and innovator, he was the only man of his generation to build a worldwide ministry, an accredited university, and a medical school.
"Beloved husband, father, grandfather and great-grandfather, he was not only my earthly father; he was my spiritual father and mentor. The last member of his generation in the Roberts family, he had a passion to bring healing to the sick.
"His name is synonymous with miracles. He came along when many in Christendom did not believe in the power of God and His goodness. Oral Roberts was known for sayings such as 'God Is a Good God,' 'Expect a Miracle,' 'Release Your Faith,' and 'Plant Your Seed for a Harvest.'
"The Bible teaches that when a Christian dies, he or she is instantly transferred into the presence of God. The past few months, my father has talked about going home to be with the Lord on a daily basis. He has run his race and finished his course. Now he is in heaven, and we as Christians have the Bible promise that someday we will be reunited. My heart is sad, but my faith in God is soaring."
Granville Oral Roberts was born into poverty in Bebee, Okla., on Jan. 24, 1918. He began stuttering as a young child and then, as a teenager, contracted a potentially deadly case of tuberculosis. Bedfast at 17, he was carried to a revival meeting by his older brother, where a healing evangelist was praying for the sick.
On the way, he clearly heard God speak to him, saying, "Son, I am going to heal you, and you are to take My healing power to your generation. You are to build Me a university based on My authority and on the Holy Spirit."
Roberts was miraculously healed of tuberculosis and stuttering at the revival meeting. His healing ministry was born several years later. "If a former stuttering, tuberculosis-ridden young Indian boy in an obscure county in Oklahoma can see the invisible and do the impossible—and still do it—so can you!" Roberts once said.
Roberts was a legendary and beloved figure in a segment of Christianity that emphasizes healing, speaking in tongues, and other gifts of the Holy Spirit, as described in the New Testament.
Dr. Jack Hayford, president of the International Church of the Foursquare Gospel, said of Roberts, "If God had not, in His sovereign will, raised up the ministry of Oral Roberts, the entire charismatic movement might not have occurred. Oral shook the landscape with the inescapable reality and practicality of Jesus' whole ministry. His teaching and concepts were foundational to the renewal that swept through the whole church. He taught concepts that spread throughout the world and simplified and focused a spiritual lifestyle that is embraced by huge sectors of today's church."
After his healing at age 17, Roberts spent a dozen years pastoring churches in Oklahoma and Georgia, and preaching at revivals around the country, while also studying at Oklahoma Baptist University and Phillips (Okla.) University.
Then, in 1947, he founded Oral Roberts Evangelistic Association (OREA) and began conducting crusades across America and around the world, attracting crowds of thousands—many who were sick and dying, and in search of healing. Through the years, he conducted more than 300 crusades on six continents. OREA officials estimate that he personally laid hands in prayer on more than 2 million people. The ministry continues under the leadership of Roberts' son, Richard, who has ministered in the U.S. and around the world for almost 30 years.
In 1954, Oral Roberts revolutionized evangelism by bringing television cameras into services, providing what he liked to call a "front-row seat to miracles" for millions of viewers. Years later, he began a television program, "Oral Roberts Presents." More than 50 years later, the ministry's daily program, "The Place for Miracles," continues to minister to millions on over 100 television stations, multiple cable and satellite networks, and can be seen around the world via the Internet.
In 1958, Roberts founded the Abundant Life Prayer Group to address the around-the-clock needs of those suffering and requesting prayer. More than 50 years later, prayer partners continue to receive calls from around the world seven days a week, 24 hours a day. Over the years, they have received more than 23 million phone calls for prayer, along with astounding reports of miracles in answer to prayer.
Roberts answered God's call to build an institute of higher learning in 1963, founding Oral Roberts University on 500 acres in Tulsa, Okla. Longtime friend Billy Graham officially dedicated ORU four years later. In the 1970s graduate schools, including Medicine, Nursing, Dentistry, Law, Education, and Theology, were added. Roberts served as school president until 1993, when he became chancellor.
In 1981, Roberts founded the City of Faith Medical and Research Center, merging the healing power of medicine and prayer. The facility closed after eight years, leaving a lasting impact on the understanding by many medical professionals of the importance of treating the whole person—body, mind and spirit.
Roberts wrote more than 130 books, including such classics as "If You Need Healing, Do These Things," and "The Fourth Man." His book "The Miracle of Seed Faith" has more than 8 million copies in circulation. This book's key principles—God is your Source, sow your seed out of your need, and expect a miracle harvest—formed a fundamental part of Roberts' ministry and legacy.
"After I'm gone, others will have to judge how well I've obeyed God's command not to be an echo but to be a voice like Jesus," Roberts said. "As far as my own conviction is concerned, I've tried to be that voice with every fiber of my being, regardless of the cost."
Roberts was preceded in death by his wife, Evelyn, a daughter and son-in-law, Rebecca Ann and Marshall Nash; a son, Ronald David Roberts; a grandchild, Richard Oral Roberts; his mother and father; two sisters, Velma Roberts and Jewel Faust; and two brothers, Elmer and Vaden Roberts.
He is survived by a son and daughter-in-law, Richard and Lindsay Roberts; a daughter and son-in-law, Roberta and Ronald Potts, all of Tulsa; as well as 12 grandchildren and several great-grandchildren.
####
Get your fax right: Bungling officials spark Japan nuclear scare
Bungling Japanese officials sparked a nuclear scare after a violent, late-night earthquake by ticking the wrong box on a fax form -- inadvertently alerting authorities to a potential accident.
Employees of the Tokyo Electric Power Company (TEPCO), operator of the Kashiwazaki-Kariwa nuclear plant in Niigata -- where the 6.4-magnitude quake struck -- faxed a message to local authorities seeking to allay any fears of damage.
But TEPCO workers accidentally ticked the wrong box on the form, mistakenly indicating there was an abnormality at the plant rather than there was no problem.
Harvard psychiatrist stunned by Donald Trump's lies and 'comfortable shamelessness'
On Tuesday, President Donald Trump officially launched his re-election bid to crowds of supporters in Orlando, Florida. Notably, ahead of the kick-off of his campaign, he pledged to round up and deport migrants, a pledge widely seen as unrealistic but geared toward pleasing his base.
Raw Story spoke with Leonard L. Glass, M.D., M.P.H., about the Trump's re-election and whether he is fit for the office of President. Glass is a psychiatrist and psychoanalyst in Newton, Massachusetts. He is an associate professor of psychiatry at Harvard Medical School and a senior attending psychiatrist at McLean Hospital. Dr. Glass was President of the Boston Psychoanalytic Society and Institute and was a Distinguished Life Fellow of the American Psychiatric Association until he resigned in protest of the Goldwater rule in April 2017. He contributed his scholarly background in ethics to "The Dangerous Case of Donald Trump," edited by Bandy X. Lee (dangerouscase.org).
Who are the four men charged with downing of MH17?
International investigators have charged three Russians and one Ukrainian with murder over the 2014 shooting down of flight MH17 above rebel-held eastern Ukraine in which 298 people were killed.
Here are the four suspects named by the Dutch-led team on Wednesday.
- Igor Girkin -
Igor Girkin -- also known by his pseudonym "Strelkov" -- is the most high-profile suspect.