Palin's dad told reporters daughter left Hawaii because uncomfortable about minorities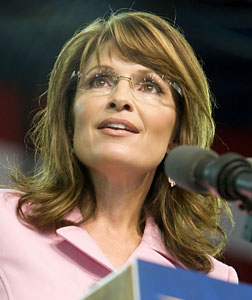 A little-noticed paragraph in the latest New Yorker review of Sarah from Alaska (and Sarah Palin's Going Rogue) reveals that Palin's father told reporters she'd quit Hawaii after a brief stint at college there because she was uncomfortable around Pacific Islanders.
Palin, though notoriously ill-travelled outside the United States, did journey far to the first of the four colleges she attended, in Hawaii. She and a friend who went with her lasted only one semester. "Hawaii was a little too perfect," Palin writes.

"Perpetual sunshine isn't necessarily conducive to serious academics for eighteen-year-old Alaska girls." Perhaps not. But Palin's father, Chuck Heath, gave a different account to [Scott] Conroy and [Shushannah] Walshe [authors of 'Sarah From Alaska'].

According to him, the presence of so many Asians and Pacific Islanders made her uncomfortable: "They were a minority type thing and it wasn't glamorous, so she came home."
The paragraph was first noticed online by The New Republic.
Trump has been 'insulated' by his wealth to never have to learn from his mistakes: biographer
President Donald Trump's inherited wealth has meant he's never had to learn from his mistakes, Trump biographer Tim O'Brien told MSNBC's Brian Williams on Thursday.
"Bloomberg Opinion writer and our next guest Tim O'Brien writes today, 'Yes, of course, you need a certain kind of appalling narcissism to be comfy promoting yourself as heaven-sent in a televised press briefing and as a deity on Twitter. It's doubly unhinged when you're doing this as president,'" Williams said. "He goes on 'The Trump of the past few weeks is the same disordered figure of the past several decades with, I suspect, a big dollop of something new blended in: unbridled and unmanageable panic.'"
'Both Putin and Xi will be voting Trump in 2020': NYT columnist says Russia and China want 'turmoil and chaos'
The Russian Federation and the People's Republic of China are both rooting for President Donald Trump to win re-election in 2020, a New York Times columnist argued on MSNBC on Thursday.
Thomas Friedman was interviewed by Lawrence O'Donnell on "The Last Word."
"What do we know about how the leaders of other countries see Donald Trump at this stage in their dealings with him?" O'Donnell asked. "Especially this weekend, when it comes at the end of a week in which they've heard him call himself the King of Israel, they have heard him say he is The Chosen One. They have heard all the crazy things that everyone here has heard the president say."
Trump is 'not a stable genius': GOP strategist says the president 'doesn't remember who and where he is'
President Donald Trump's mental fitness is lacking, a top Republican strategist explained on "The Last Word" with Lawrence O'Donnell.
Rick Wilson, the author of the 2018 bestselling book Everything Trump Touches Dies: A Republican Strategist Gets Real About the Worst President Ever, blasted the commander-in-chief.
"Rick Wilson, your assessment of where the president stands as he heads off to the G7 summit?" O'Donnell asked.
"I think Donald Trump has had a week in which he is proving that this isn't 87-dimensional chess game, this isn't some masterful strategy of communications or persuasion," Wilson replied. "This is an old man who is sick and who has problems and who has mental disconnects and who has aphasias and who has moments where he doesn't remember who and where he is."