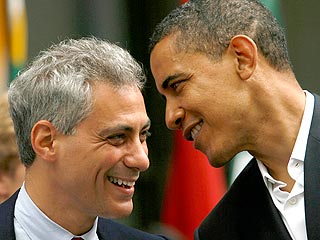 Conservatives have had it with President Barack Obama — in the latest Gallup poll, he earned just a 23 percent approval rating from Republican voters. Liberal Democrats, meanwhile, have the president's back, awarding him an 88 percent backing.
But liberal support — at least for the president's chief of staff, Rahm Emanuel — seems to be waning. And Emanuel seems to be slapping back.
According to a report Tuesday in the Wall Street Journal, Emanuel told a liberal strategy group in August that a plan to run advertisements against conservative Democrats who were "balking at Mr. Obama's health-care overhaul" was grossly unwise.
"F—ing retarded," Mr. Emanuel scolded the group, according to participants cited by the paper.
"He warned them not to alienate lawmakers whose votes would be needed on health care and other top legislative items," the reporter said.
Cenk Uygur, a liberal talk-radio host, calls Mr. Emanuel "Barack Obama's Dick Cheney." One group has run ads against Mr. Emanuel in his hometown of Chicago. And Jane Hamsher, a prominent liberal blogger, is going after Mr. Emanuel's service—10 years ago—on the board of housing-finance giant Freddie Mac.

For the president, Mr. Emanuel is a useful foil, playing a role akin to that of James Baker, who absorbed attacks from unhappy conservatives while chief of staff to Ronald Reagan. Mr. Emanuel is a centrist cut from the Bill Clinton mold, and his presence is useful as the president tries to cut deals with centrists and conservatives.
After a recent meeting between the White House and civil liberties critics — among them, the American Civil Liberties Union — the ACLU's executive director said he'd grown suspicious of Emanuel. ACLU director Anthony Romero said he believed Emanuel was more focused on politics than policy.
Romero asserted that he'd seen a shift since Emanuel became "consigliere at the White House," where he believes he's focused "less on the policy outcomes and more on maintaining a Democratic agenda that will keep the party in power."
"Everyone seems to be waiting around for the Chicago street brawler Rahm, because the one that showed up in the White House has little apparent fight in him," Markos Moulitsas of Daily Kos remarked. "Sure, he's quick to attack progressives when they criticize Obama or put legislative pressure on him from the left, but he's far too quick and happy to accommodate the Democratic Party's corporatist wing."
Ire at Emanuel has come so far that even a liberal blogger has teamed up with tax-hater and conservative darling Grover Norquist to call for a federal probe into his activities while at Freddie Mac.
"We write to demand an immediate investigation into the activities of White House Chief of Staff Rahm Emanuel," blogger Jane Hamsher and Norquist wrote. "We believe there is an abundant public record which establishes that the actions of the White House have blocked any investigation into his activities while on the board of Freddie Mac from 2000-2001, and facilitated the cover up of potential malfeasance until the 10-year statute of limitations has run out.
"The purpose of this letter is to connect the dots to establish both the conduct of Mr. Emanuel and those working with him to thwart inquiry, and to support your acting speedily so that the statute of limitations does not run out before the Justice Department is able to empanel a grand jury."
Emanuel's supporters, meanwhile, argue that he's just being politically pragmatic in an effort to pass the president's priorities.
"Rahm's approach, like the president, is not ideological. It's practical," Bruce Reed, chief executive of the centrist Democratic Leadership Council, told the Journal. "The administration's strategy has been to pass health-care reform, not die trying."
Trump brags Amy Coney Barrett will kill abortion rights: 'I guess she maybe would'
President Donald Trump told Fox News that he expects Supreme Court nominee Amy Coney Barrett to strike down Roe v. Wade and the right to have an abortion.
Trump made the remarks in an interview that aired Sunday on Fox & Friends after host Pete Hegseth noted that the president had previously said that his Supreme Court picks would "automatically" overturn Roe v. Wade.
"I didn't think it was for me to discuss that with her," Trump explained. "Because it's something that she's going to be ruling on. And this is what I was told -- although, I would have had the right to do that."
Trump has recruited an army of volunteer lawyers to immediately contest the election results: report
According to a report from Politico, Donald Trump's campaign has recruited an army of hundreds of volunteer lawyers who will supplement a team of hired attorneys to dispute vote totals and observe polling locations in an attempt to stave off an election defeat for the president on November 3rd.
Pointing out the effort to gear up for legal challenges began over a year ago, the report states "Republicans are preparing pre-written legal pleadings that can be hurried to the courthouse the day after the election, as wrangling begins over close results and a crush of mail-in ballots."
This GOP senator just proposed a bill to help Trump undermine the election
A new bill proposed by Republican Sen. Rick Scott is "entirely unworkable," Slate reported Thursday evening, but demonstrates the GOP's intense desire to make sure millions of votes aren't counted in the general election by severely restricting the time frame during which they can be tallied.
The Orwellian-named "Help America Vote Act of 2020," which Scott proposed Thursday, would help to codify President Donald Trump's desire, stated last week, to ensure that the preliminary tally of votes on Election Day will count as the final vote count in the election.