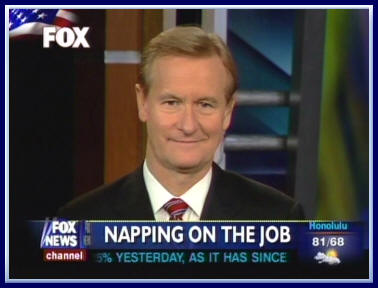 Fox News host Steve Doocy was forced to backtrack Tuesday after a guest called him out over a seemingly transparent racist quip in which he declared that all the suspects who'd tried to blow up American airliners "look alike."
"Critics argue when you think about it, for the most part, all of the people who try to blow airliners out of the sky look alike," Doocy said.
"False," rejoined Council on Islamic-American Relations spokesman Ahmed Rehab. "False information. Not true. The last guy — I mean, we don't have to go far. The last guy that tried to take down a plane was a young African. And in the past, prior to that incident, we were looking for Middle eastern-looking men. Next time it could be an Asian guy.
"So no," Rehab added, "they don't always look alike."
"Right," Doocy replied, backtracking. "And you could go back a number of years and it was Timothy McVeigh, a blond hair, blue eyed guy."
"Or Richard Reid, who was half Jamaican, half British."
Earlier in the clip, Doocy complained that his wife was forced to be subjected to a TSA pat down each time she travels because of a knee replacement, positing that she didn't fit a normal terrorist profile. Doocy's "look alike" comments appear at 2:35 in the clip below.
Photographs of Reid, who tried to blow up an airliner in 2001, and Umar Farouk Abdulmutallab, the alleged "Christmas Day" bomber who tried to take down a plane over Detroit, follow.

Umar Farouk Abdulmutallab.

Richard Reid.
This video is from Fox News' Fox & Friends, broadcast Feb. 16, 2010.


Download video via RawReplay.com
WATCH: Arizona man throws tantrum about masks — and his son has to pick him up and carry him out of the store
Video posted online purports to show a man being carried out of a store in Tucson, Arizona after a loud rant against wearing masks.
"People won't learn, these people won't learn," a man in a blue shirt, shorts and sunglasses is heard saying, to nobody in particular.
"You're a bunch of idiots wearing masks, you know it's not real," he shouted.
"Look at you fools, you got a f*cking doily on your face. You ret*rd, you look like you f*cking got it off your mom's countertop," he continued.
At thq5 point, a much larger man with a mask over his beard approached the anti-mask activist.
Trump campaign dispatches Pence to shore up Mormon support — after harsh criticism from Mitt Romney and Jeff Flake: report
The president's 2020 election campaign continues to play defense in Arizona, a once reliably-Republican state.
"President Donald Trump's reelection campaign is looking to shore up support among a specific population of Arizonans: members of the Church of Jesus Christ of Latter-day Saints," the Arizona Republica reported Monday. "Vice President Mike Pence is coming to Mesa Tuesday to help launch a 'Latter-day Saints for Trump' coalition in what appears to be a late-in-the-game play to win over LDS voters, who tend to vote Republican but hold values that clash with some of the president's."
Here's how Trump created a 'significant threat' to his re-election by failing on coronavirus stimulus
Politico on Monday reported on how Donald Trump may have imperiled his 2020 presidential campaign by failing to reach a deal with Congress on the next round of stimulus.
"After a spring and summer bolstered by cash infusions from the federal government of more than $3 trillion, the U.S. economy may have to sink or swim this fall with a relative trickle of support — presenting a significant threat to President Donald Trump's standing as he heads into a compressed reelection campaign already trailing in the polls," Politico's Ben White reported.