BlogHer10 pics, swag, vendors — and an interesting contrast to Netroots Nation
I'm reporting from NYC at the 2010 BlogHer convention, and it's my first time attending this event, held this year at the New York Hilton. It is HUGE; it's like an explosion of women from all walks of blogging life – mom bloggers, young newbies, seasoned women full of energy and activism, lifestyle bloggers, etc.
I've yet to attend any sessions; I've been so busy with offline networking – there are many areas for just chatting and meeting up. I also had a number of other appointments outside of the con, so that complicated matters a bit.
Welcome Swag
The welcome bag is an enormous burlap bag holding many goodies and promotions, but wow – really heavy on stuff for kids – toys, alarm clocks, grow-a-plants… The item holding 3 cans of Play-Doh was the most amusing – and heaviest goodie by far.
What was really nice is that there was a Swag Exchange room where you could recycle (i.e. dump) the items you didn't want and pick up ones you liked that others discarded. Well what did you know — the tubbie containing the Play-Doh was overflowing. Note to vendors — bag-dragging goodies that need to travel aren't popular, even if fun and useful for kids.
Exhibits and atmosphere: this is NOT Netroots Nation
One of the fascinating aspects of BlogHer is that it's fairly non-political on the surface, but highly political once you scratch that surface. The conference is very mom/kid/family-focused when it comes to the market that the vendors and sponsors target – there are kid-accommodating eco-friendly cars, toys, learning projects…and a whole lot of food, from Hillshire Farms, Jimmy Dean, Healthy Choice…I lost track. You could basically graze the hall and leave full. Also, I have to go back today to check out the skin care and other lifestyle vendors. There was one exhibit with some feminine protection items. I joked on Twitter with Lizz Winstead:
Pam_Spaulding: #blogher10 sponsors: food, everything for baby, autos, lifestyle products…def not #nn10. Totally different feel.
6:07pm, Aug 06 from HootSuite

lizzwinstead: @Pam_Spaulding I'll be there tomorrow. Curious to compare and contrast. #blogher10 #nn10
6:08pm, Aug 06 from TweetDeck

Pam_Spaulding: @lizzwinstead @Pam_Spaulding A mind-blowing difference. You didn't see a tampon of the future @ #NN10. ;)

lizzwinstead: @Pam_Spaulding And I don't have much of a future in the Tampon dept…. #NN10
In all seriousness, the number and variety of corporate sponsors at BlogHer dwarfs those at Netroots Nation. Of course, when you think about it, the level of PC at Netroots — concerns over union issues, corporate responsibility, etc., I would think one advocacy group or another attending NN would have some problem with some of these companies, making it difficult to please everyone.
All of these sponsors are dying to get to the technically adept, wired moms and other women who have a lot of spending power that are attending BlogHer. It's an aggressive presence of a wide .
There's no specific targeting of the LBT market at BlogHer; it's not that there aren't lesbians here and I've seen no trans folk; I've spoken to several lesbians, but they are there as moms, which means they fit that target market. So if you're a child-free, not-straight woman, BlogHer may feel like an odd experience, a dip into a very hetero-centric pool. That said, there's no homophobic vibe at all; in fact the sisterhood of living in a man's world is quite powerful politically, and that's a common thread in the discussions. Women still earn only 77 cents to the dollar that men earn, with women of color earning way less than that. The need for more political involvement and organizing is essential, something Sen. Kirsten Gillibrand said during her Q&A (more on that later).
It would be great to see more women of color at BlogHer as well. Netroots Nation has bolstered its POC and LGBT presence (and content) significantly over its five-year existence; women's issues not so much. Of course these conferences are not equivalent in purpose, but it's hard not to analyze the differences and similarities in programming and exhibits and what it says about target audiences. **
The panel I am on today at 3PM:
Change Agents: How to Start, Engage in and Moderate Civil Political Debate
What are the online "rules of the road" that can keep even heated debates civil? Where is the line between dissenter and troll? How do you take personal responsibility for your role in the debate, and how do you encourage the behavior you want to see on your site and at the online communities you frequent?

Four women will share their secrets to stirring their readers and engaging in friendly debate: Ann Friedman of The American Prospect and Feministing.com hashes it out with Denise Tanton, community manager at BlogHer.com; Pam Spaulding author of Pam's House Blend and Suzanne Fortin, the writer behind Big Blue Wave. Join us for a lively discussion, pick up a few tips, and share a few of your own!
As you can imagine, we've had to deal with all sorts of moderation issues over the years, and there will be war stories discussed about trolls, astroturfing, reprimands and warnings, and more.
Some photos of the brilliant women I've met up with at BlogHer10.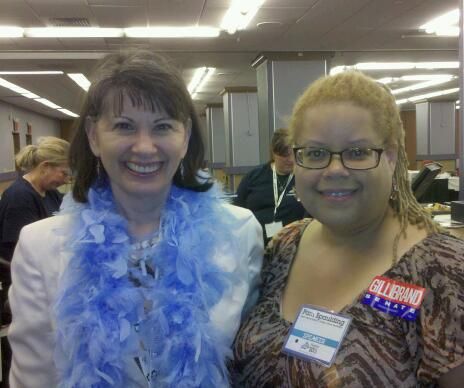 @sharkfu, a.k.a. Angry Black Bitch; with @GloriaFeldt of HeartFeldt Politics.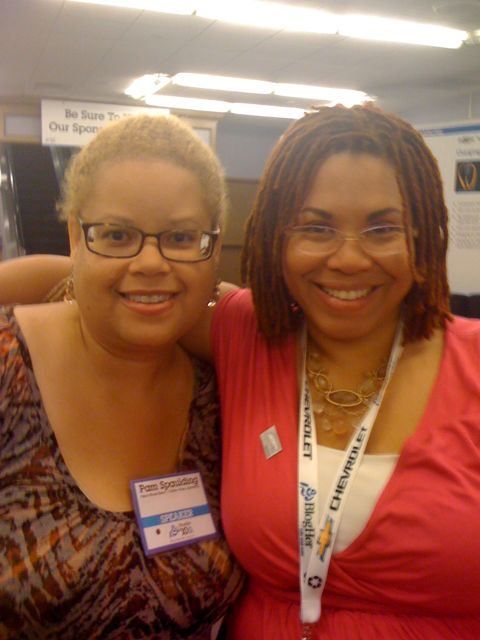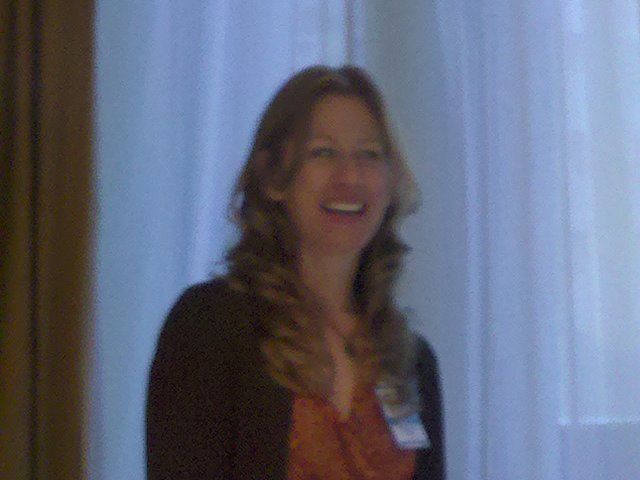 Cheryl Contee, a.k.a, Jill Tubman of Jack & Jill Politics. @ch3ryl; @LisaStone, BlogHer Founder & CEO.
I'll have a post about yesterday's meeting with Sen. Gillibrand later (I have to head over to the conference now!).
Republicans planted a time bomb in their tax cut bill that will actually raise most people's taxes: economist
On Saturday, writing for The New York Times, Nobel Prize-winning economist Joseph Stiglitz warned that many people's taxes are about to go up.
But it's not because Joe Biden's campaign plan raises taxes, as President Donald Trump has repeatedly and falsely claimed. It's because the Tax Cuts and Jobs Act — the controversial tax cut bill passed by Republicans on a party-line vote in 2017 — has a provision that will start slowly raising taxes next year. And ultimately, Stiglitz warned, many low and middle income people will actually pay more than they did before the bill passed in the first place.
REVEALED: Far-right extremists are circulating plans to lock down Arizona streets if Trump is re-elected
On Saturday, The Arizona Republic reported that far-right paramilitary groups are circulating plans to lock down neighborhoods in the Phoenix, Arizona metropolitan area in the event that President Donald Trump is re-elected, supposedly to police left-wing protesters.
"In Arizona, the head of the Prescott-area chapter of the Oath Keepers group, which recruits military and law enforcement officers, has warned residents to be prepared to protect their neighborhoods from feared extreme left-wing protesters who would be upset should President Donald Trump be re-elected," reported Richard Ruelas. "Part of that the pro-Trump group'splan involved closing streets and assigning monitors to control access, according to a planning document shared with The Republic."
Conservatives are hopping mad that their clumsy Hunter Biden smear is a flop
Welcome to another edition of What Fresh Hell?, Raw Story's roundup of news items that might have become controversies under another regime, but got buried – or were at least under-appreciated – due to the daily firehose of political pratfalls, unhinged tweet storms and other sundry embarrassments coming out of the current White House.
In 2016, Steve Bannon did an amazing job rolling out the Clinton Foundation nontroversy. He gave The New York Times and CNN early access to Peter Schweizer's book, Clinton Cash, and the outlets gave it mainstream credibility. Later, when the Uranium One story was thoroughly debunked, it didn't matter. The foundation remained under a pall of fuzzy suspicions.