BlogHer10 pics, swag, vendors — and an interesting contrast to Netroots Nation
I'm reporting from NYC at the 2010 BlogHer convention, and it's my first time attending this event, held this year at the New York Hilton. It is HUGE; it's like an explosion of women from all walks of blogging life – mom bloggers, young newbies, seasoned women full of energy and activism, lifestyle bloggers, etc.
I've yet to attend any sessions; I've been so busy with offline networking – there are many areas for just chatting and meeting up. I also had a number of other appointments outside of the con, so that complicated matters a bit.
Welcome Swag
The welcome bag is an enormous burlap bag holding many goodies and promotions, but wow – really heavy on stuff for kids – toys, alarm clocks, grow-a-plants… The item holding 3 cans of Play-Doh was the most amusing – and heaviest goodie by far.
What was really nice is that there was a Swag Exchange room where you could recycle (i.e. dump) the items you didn't want and pick up ones you liked that others discarded. Well what did you know — the tubbie containing the Play-Doh was overflowing. Note to vendors — bag-dragging goodies that need to travel aren't popular, even if fun and useful for kids.
Exhibits and atmosphere: this is NOT Netroots Nation
One of the fascinating aspects of BlogHer is that it's fairly non-political on the surface, but highly political once you scratch that surface. The conference is very mom/kid/family-focused when it comes to the market that the vendors and sponsors target – there are kid-accommodating eco-friendly cars, toys, learning projects…and a whole lot of food, from Hillshire Farms, Jimmy Dean, Healthy Choice…I lost track. You could basically graze the hall and leave full. Also, I have to go back today to check out the skin care and other lifestyle vendors. There was one exhibit with some feminine protection items. I joked on Twitter with Lizz Winstead:
Pam_Spaulding: #blogher10 sponsors: food, everything for baby, autos, lifestyle products…def not #nn10. Totally different feel.
6:07pm, Aug 06 from HootSuite

lizzwinstead: @Pam_Spaulding I'll be there tomorrow. Curious to compare and contrast. #blogher10 #nn10
6:08pm, Aug 06 from TweetDeck

Pam_Spaulding: @lizzwinstead @Pam_Spaulding A mind-blowing difference. You didn't see a tampon of the future @ #NN10. ;)

lizzwinstead: @Pam_Spaulding And I don't have much of a future in the Tampon dept…. #NN10
In all seriousness, the number and variety of corporate sponsors at BlogHer dwarfs those at Netroots Nation. Of course, when you think about it, the level of PC at Netroots — concerns over union issues, corporate responsibility, etc., I would think one advocacy group or another attending NN would have some problem with some of these companies, making it difficult to please everyone.
All of these sponsors are dying to get to the technically adept, wired moms and other women who have a lot of spending power that are attending BlogHer. It's an aggressive presence of a wide .
There's no specific targeting of the LBT market at BlogHer; it's not that there aren't lesbians here and I've seen no trans folk; I've spoken to several lesbians, but they are there as moms, which means they fit that target market. So if you're a child-free, not-straight woman, BlogHer may feel like an odd experience, a dip into a very hetero-centric pool. That said, there's no homophobic vibe at all; in fact the sisterhood of living in a man's world is quite powerful politically, and that's a common thread in the discussions. Women still earn only 77 cents to the dollar that men earn, with women of color earning way less than that. The need for more political involvement and organizing is essential, something Sen. Kirsten Gillibrand said during her Q&A (more on that later).
It would be great to see more women of color at BlogHer as well. Netroots Nation has bolstered its POC and LGBT presence (and content) significantly over its five-year existence; women's issues not so much. Of course these conferences are not equivalent in purpose, but it's hard not to analyze the differences and similarities in programming and exhibits and what it says about target audiences. **
The panel I am on today at 3PM:
Change Agents: How to Start, Engage in and Moderate Civil Political Debate
What are the online "rules of the road" that can keep even heated debates civil? Where is the line between dissenter and troll? How do you take personal responsibility for your role in the debate, and how do you encourage the behavior you want to see on your site and at the online communities you frequent?

Four women will share their secrets to stirring their readers and engaging in friendly debate: Ann Friedman of The American Prospect and Feministing.com hashes it out with Denise Tanton, community manager at BlogHer.com; Pam Spaulding author of Pam's House Blend and Suzanne Fortin, the writer behind Big Blue Wave. Join us for a lively discussion, pick up a few tips, and share a few of your own!
As you can imagine, we've had to deal with all sorts of moderation issues over the years, and there will be war stories discussed about trolls, astroturfing, reprimands and warnings, and more.
Some photos of the brilliant women I've met up with at BlogHer10.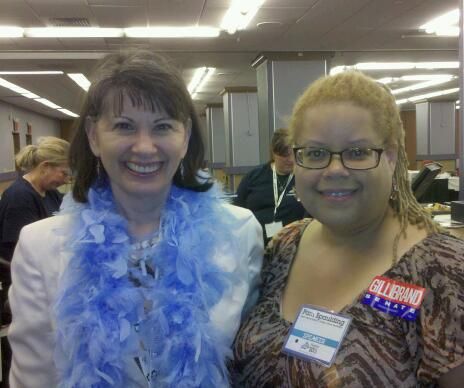 @sharkfu, a.k.a. Angry Black Bitch; with @GloriaFeldt of HeartFeldt Politics.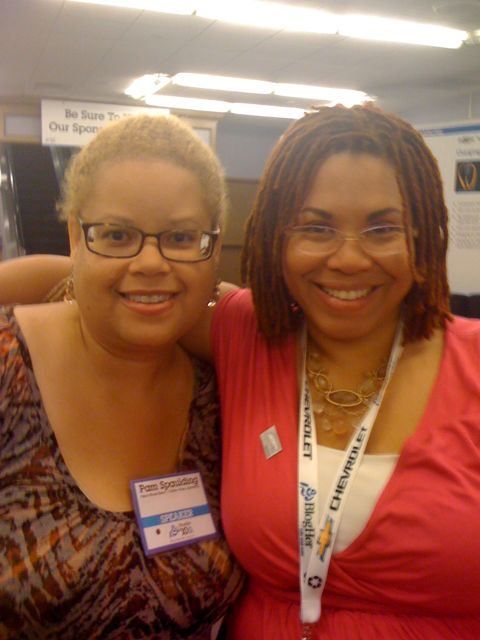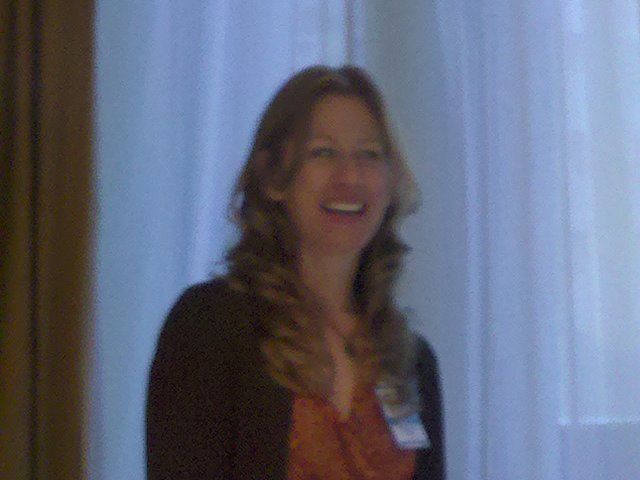 Cheryl Contee, a.k.a, Jill Tubman of Jack & Jill Politics. @ch3ryl; @LisaStone, BlogHer Founder & CEO.
I'll have a post about yesterday's meeting with Sen. Gillibrand later (I have to head over to the conference now!).
New images from asteroid probe offer clues on planet formation
Photographs snapped by a shoebox-sized probe that explored the near-Earth asteroid Ryugu have offered new clues about its composition, insights that will help scientists understand the formation of our solar system.
The German-French Mobile Asteroid Surface Scout (MASCOT) hitched a ride on Japan's Hayabusa2 spaceship, touching down on the 900-meter (3,000 feet) wide asteroid, whose orbit lies mostly between Earth and Mars, on October 3, 2018.
Ryugu's gravity is 66,500 times weaker than Earth's, and the forward motion of wheels would have launched MASCOT back into space.
Ex-Trump official bashes White House 'apologists' who haven't quit yet: 'There's not much hope for them'
A report on the silence coming from first daughter Ivanka Trump and her White House advisor husband Jared Kushner after Donald Trump attacked American Jews turned to the future of White House aides who are either complicit in the president's policies or stand idly by as he lurches from controversy to controversy.
In an interview with CNN's Brianna Keilar, former Trump adviser J.W. Verret pointed out there are still some "adults in the room" with Trump, but CNN's Kaitlan Collins first pointed out that -- as of late -- Ivanka and Kushner are not among them.
"This fits a pattern that we've seen from Jared Kushner and Ivanka Trump at times during times when the administration tried to repeal parts of Obamacare, and of course, the big one the president has made about Jewish people who are supporting Democrats," Collins explained. "Jared Kushner and Ivanka Trump are both Orthodox Jews. They've been involved with the president on many things. but neither of them have said anything publicly about the president's comments. and when we asked the white house have they been advising the president privately on this, the White House did not get back to us."
GOP facing nightmare scenario as rural America gets hit with a depopulation crisis
The Republican Party is entrenched in rural America with the overwhelming majority of small towns being represented by the GOP. But the population in these areas are under a huge decline.
That's a nightmare scenario for Republicans in Congress, whose districts are determined by population. The Republican Party has worked diligently to ensure gerrymandering can protect their rural members as the population shifts toward the suburbs.
One key component of the Affordable Care Act went to subsidizing rural hospitals to prevent them from closing. Most of that has been defunded by Republicans if the states were even willing to allow Medicare/Medicaid expansion in the state, to begin with. A Navigant report out earlier this year showed that more than one in five rural hospitals have closed so far.