Like this article ? Text `Support` to 50123 to donate.
Incumbent Republican governors in multiple states are facing primary challenges for being viewed as insufficiently extreme in the GOP's era of Donald Trump.
"Months away from their primary contests in this 2022 midterm election, a number of Republican governors nationwide are under siege," The Daily Beast reported Thursday. "Of the 15 GOP chief executives who are running for re-election, eight are facing at least one primary challenger running a real campaign. That number stands in stark contrast to the number of credible primary threats faced by the eight Democratic governors running for re-election: zero. It's an unprecedented phenomenon for the party, Republican operatives say."
The report noted most challenges were against Republicans who responded to the coronavirus pandemic and those viewed as insufficiently loyal to Trump.
"The Republican governors who didn't reject public health measures wholesale—and even some who did—faced intense backlash from their right, which grew over the last two years into serious primary threats," The Beast reported."
Covid restrictions are driving the campaign against Idaho Gov. Brad Little by Lt. Gov.Janice McGeachin and against Ohio Gov. Mike DeWine by former Rep. Jim Renacci.
"That is a testament to Trump's ironclad hold on the GOP for a fourth election cycle. Indeed, his endorsement means as much as ever, and his singular ability to turn conservative darlings into enemies overnight is the wildcard in every Republican primary nationwide," the report noted. "The primary motivation for Trump to target GOP incumbents himself isn't COVID, however, but his endless sense of grievance—particularly around the 2020 election."
In Georgia, the campaign against far-right Gov. Brian Kemp by former Sen. David Perdue is driven by the governor's refusal to overturn the 2020 election. The report noted the infighting could help Democrat Stacey Abrams win the seat in November.
"But even if the GOP's primary bumper crop yields no flipped seats, the political impact could still be significant. If governors in safely red states are replaced with even more conservative and even more Trump-aligned Republicans, the party's center of gravity in statehouses around the country will lurch further right. And in order to beat their challengers, incumbents will likely have to shift that way themselves.," The Beast explained.
Read the full report.
CONTINUE READING
Show less
Our eyes are continuously bombarded by an enormous amount of visual information – millions of shapes, colours and ever-changing motion all around us. For the brain, this is no easy feat. On the one hand, the visual world alters continuously because of changes in light, viewpoint and other factors. On the other, our visual input constantly changes due to blinking and the fact that our eyes, head and body are frequently in motion.
To get an idea of the "noisiness" of this visual input, place a phone in front of your eyes and record a live video while you are walking around and looking at different things. The jittery, messy result is exactly what your brain deals with in every moment of your visual experience. This can be seen also in the video below. The white circle on the right shows potential eye movements, and the blurry blob on the left reveals the jumpy visual input in every moment.
www.cogsci.nl/Sebastiaan Mathôt.
Yet, seeing never feels like work for us. Rather than perceiving the fluctuations and visual noise that a video might record, we perceive a consistently stable environment. So how does our brain create this illusion of stability? This process has fascinated scientists for centuries and it is one of the fundamental questions in vision science.
The time machine brain
In our latest research, we discovered a new mechanism that, among others, can explain this illusory stability. The brain automatically smoothes our visual input over time. Instead of analyzing every single visual snapshot, we perceive in a given moment an average of what we saw in the past 15 seconds. So, by pulling together objects to appear more similar to each other, our brain tricks us into perceiving a stable environment. Living "in the past" can explain why we do not notice subtle changes that occur over time.
In other words, the brain is like a time machine which keeps sending us back in time. It's like an app that consolidates our visual input every 15 seconds into one impression so that we can handle everyday life. If our brains were always updating in real time, the world would feel like a chaotic place with constant fluctuations in light, shadow and movement. We would feel like we were hallucinating all the time.
We created an illusion to illustrate how this stabilization mechanism works. Looking at the video below, the face on the left side slowly ages for 30 seconds, and yet, it is very difficult to notice the full extent of the change in age. In fact, observers perceive the face as aging more slowly than it actually is.
To test this illusion we recruited hundreds of participants and asked them to view close-ups of faces morphing chronologically in age in 30-second timelapse videos. When asked to tell the age of the face at the very end of the video, the participants almost consistently reported the age of the face that was presented 15 seconds before.
As we watch the video, we are continuously biased towards the past and so the brain constantly sends us back to the previous ten to 15 seconds (where the face was younger). Instead of seeing the latest image in real time, humans actually see earlier versions because our brain's refresh time is about 15 seconds. So this illusion demonstrates that visual smoothing over time can help stabilise perception.
What the brain is essentially doing is procrastinating. It's too much work to constantly deal with every single snapshot it receives, so the brain sticks to the past because the past is a good predictor of the present. Basically we recycle information from the past because it's more efficient, faster and less work.
This idea – which is also supported by other results – of mechanisms within the brain that continuously bias our visual perception towards our past visual experience is known as continuity fields. Our visual system sometimes sacrifices accuracy for the sake of a smooth visual experience of the world around us. This can explain why, for example, when watching a film we don't notice subtle changes that occur over time, such as the difference between actors and their stunt doubles.
Repercussions
There are positive and negative implications to our brain operating with this slight lag when processing our visual world. The delay is great for preventing us from feeling bombarded by visual input every day, but it can also risk life-or-death consequences when absolute precision is needed.
For example, radiologists examine hundreds of images in batches, seeing several related images one after the other. When looking at an X-ray, clinicians are typically asked to identify any abnormalities and then classify them. During this visual search and recognition task, researchers have found that radiologists' decisions were based not only on the present image, but also on images they had previously seen, which could have grave consequences for patients.
Our visual system's sluggishness to update can make us blind to immediate changes because it grabs on to our first impression and pulls us toward the past. Ultimately, though, continuity fields promote our experience of a stable world. At the same time, it's important to remember that the judgements we make every day are not totally based on the present, but strongly depend on what we have seen in the past.

Mauro Manassi, Assistant Professor in Psychology, University of Aberdeen and David Whitney, Professor of Psychology, University of California, Berkeley
This article is republished from The Conversation under a Creative Commons license. Read the original article.
CONTINUE READING
Show less
The man who took a rabbi and three congregants hostage in Colleyville, Texas, on Jan. 15, 2022, believed that Jews control the United States of America. He told his hostages, as one revealed in a media interview, that Jews "control the world" and that they could use their perceived power to free Aafia Siddiqui, a Pakistani convicted in 2010 for trying to kill American soldiers and plotting to blow up the Statue of Liberty. The hostage-taker also demanded to speak to New York's Central Synagogue rabbi, Angela Buchdahl, so that she would use her "influence" to help get Siddiqui released.
By invoking Jewish "power," the gunman, later identified as Malik Faisal Akram, a 44-year-old British national, seemed to echo Siddiqui's antisemitic views that Jews were responsible for the 9/11 terrorist attacks and had infiltrated American political and nongovernmental organizations. During her 2010 trial in New York, Siddiqui demanded Jews be excluded from serving on her jury.
As a scholar of Jewish history, I know that myths concerning "Jewish power," "control" and "conspiracy" have circulated in America since before the Civil War and continue until today. They provide a simple, albeit imaginary, explanation for bewildering social changes that people find hard to explain and confront.
Antisemitic literature
As immigration brought Jews in larger numbers to America's shores, particularly from Russia, one of the first overtly antisemitic books ever published in the United States, Telemachus Thomas Timayenis' 1888 book, "The American Jew: An Exposé of His Career" warned darkly that Jews had "acquired a hold on this country such as they never secured on any nation in Europe."
Actually, Jews comprised much less than 1% of the population at that time. Still, Timayenis, seen as the "the father of anti-Semitic publishing in America," claimed that they controlled Wall Street, the clothing and tobacco trades, politics, journalism and more.
Timayenis and his antisemitic books were largely forgotten for almost a century. Now, however, they are readily available through the internet.
A republication of one of his books carries a preface by J.B. Stoner, a neo-Nazi convicted of the 1958 bombing of Bethel Church in Birmingham, Alabama. "The Jews are embarked upon a plan to conquer the world and to rule over all other races and nations," it says. "By understanding the evil and aggressive nature of the Jew, we White Christians can better protect ourselves … It is our duty to publish this book for the benefit of the White Aryan Race in America and throughout the world," it continues.
Protocols and conspiracy theories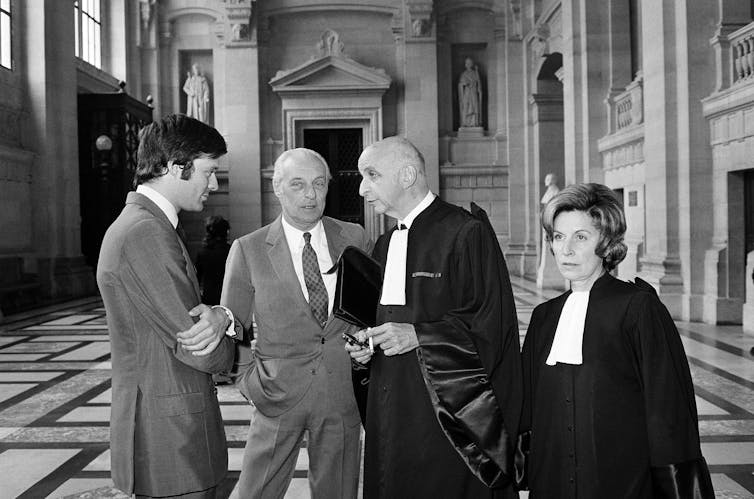 The Rothschild family has long been the target of conspiracy theorists. Baron Guy de Rothschild (center) with his son David (left) and lawyer M.E. Izard at the Palace of Justice in Paris on May 24, 1969.
In the 20th century, the publication that did the most to disseminate the myth of a Jewish conspiracy to control the world was the forgery known as "The Protocols of the Elders the Zion."
Described by the U.S. Holocaust Memorial Museum as "the most notorious and widely distributed antisemitic publication of modern times," the work first appeared in Russia as part of a disinformation propaganda campaign by Russian monarchists to prop up the embattled Tsar Nicholas II.
Subsequently, the forgery went through numerous translations and adaptations reaching every corner of the globe. Its explosive allegations influence people to this day.
The Protocols purport to be the minutes of late 19th-century meetings attended by world Jewish leaders, the "Elders of Zion," keen to take over the world. They set forth different stages of the supposed behind-the-scenes Jewish plan for global conquest: everything from manipulating the economy and controlling the press to promoting liberalism and pornography. They even articulate an ultimate goal: to reestablish the line of King David and anoint "the King of the Jews."
The Protocols form a classic conspiracy theory. The work provides a compelling, easy-to-understand explanation that connects a wide range of disparate phenomena roiling society. Nothing happens by accident, the Protocols and all conspiracy theories insist, and things seldom are what they seem. Conspiracy theorists believe that powerful controlling forces – in this case, the Jews – shape and manipulate events behind the scenes.
Believing imaginary conspiracies
Precisely because they offer a simple explanation – "the Jews are responsible" – and flatter believers into thinking they possess secret knowledge others lack, conspiracy theories like the Protocols are notoriously difficult to disprove.
After all, individual Jews, much like their non-Jewish counterparts, may well have engaged in some of the activities the Protocols and similar conspiracy theories describe. And the phenomena recounted – social, economic, political and cultural changes transforming the world – are certainly real enough. For many conspiracy-minded folks, that is usually validation enough.
Beyond the Protocols, a wide range of other conspiracy theories involving Jews have circulated over the past century. The great automaker Henry Ford, influenced in part by the "Protocols of the Elders of Zion," devoted extensive resources in the 1920s to proving that the "international Jew" was the "world's foremost problem," responsible for perceived ills that ranged, in his view, from urbanization to the modern music and dance that he hated.
Under intense economic and legal pressure, Ford publicly apologized in 1927 "for resurrecting exploded fictions, for giving currency to … gross forgeries, and for contending that the Jews have been engaged in a conspiracy." Yet Ford's "The International Jew" remains available for purchase around the world, and many still download it from the internet and take it seriously.
Conspiracy theorists targeted the Rothschilds, famed European Jewish bankers, as well. Niles Weekly Register, perhaps the most widely circulated magazine of its time, reported in 1835 that "the descendants of Judah" held Europe "in the hollow of their hands." It ascribed particular power to the Rothschild banking family which, it claimed, "govern a Christian world – not a cabinet moves without their advice."
Almost 200 years later, echoes of the "Rothschild myth" live on in Congresswoman Marjorie Taylor Greene's infamous 2018 post alleging that Rothschild-owned Jewish space lasers set California's forest fires in order to clear out land for a lucrative high-speed rail line.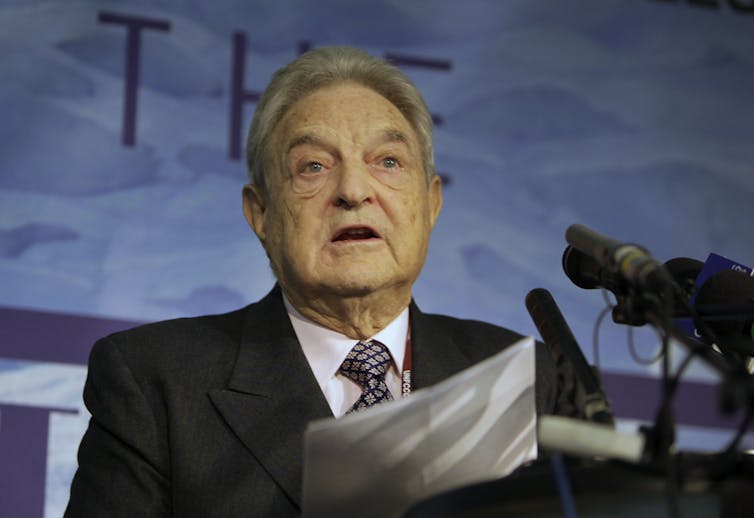 Businessman and philanthropist George Soros at a conference in Copenhagen in 2009.
In recent years, George Soros, a Hungarian-born American billionaire investor and philanthropist of Jewish origin, has been blamed like the Rothschilds for a host of what the extreme far right perceive to be society's ills. These conspiracy theories falsely attribute to Soros the anti-Trump protests, refugee problems in Europe and the Black Lives Matter movement, among other trends.
Believing imaginary conspiracies
Anti-Catholic, anti-Masonic, anti-Mormon and anti-Muslim conspiracy theories have likewise attracted legions of followers worldwide.
In the Islamist circles from which Aafia Siddiqui and the gunman who took hostages in Colleyville sprang, however, the favorite conspiratorial target remains the Jews. Attacks on "Jews," "Jewish power" and the supposed Zionist control of America are commonplace.
The reason has almost nothing to do with real Jews and a great deal to do with a phenomenon that historian David Brion Davis noticed some 60 years ago: In environments shaken by "bewildering social change," people find "unity and meaning by conspiring against imaginary conspiracies."
[Science, politics, religion or just plain interesting articles: Check out The Conversation's weekly newsletters.]

Jonathan D. Sarna, University Professor and Joseph H. & Belle R. Braun Professor of American Jewish History, Brandeis University
This article is republished from The Conversation under a Creative Commons license. Read the original article.
CONTINUE READING
Show less
{{ post.roar_specific_data.api_data.analytics }}