Jessa Duggar's wedding (Facebook)
Fans blasted the Duggars for posting 100 photos of daughter Jessa's wedding but not a single one of the cousin whose ceremony they attended over the weekend.
---
The family posted a link Tuesday to the photos, which were taken last year, on their official Facebook page after they all -- with the exception of sex scandal-plagued eldest son Josh Duggar -- attended the wedding of Amy Duggar to Dillon King.
"We all had such a wonderful time at Amy's wedding," the family posted. "All of this excitement has caused Jessa to pull out her pictures from her wedding and post 100 of them on her website. Check out her album here which includes many never before seen pictures."
Fans and critics quickly filled the family's Facebook page with criticism.
"Whether it was innocent 'excitement' or a grab for attention, this was just quite rude and makes you and Jessa come across as even more self-absorbed than the public already (unfortunately) perceives you to be," posted May Abel on the family's Facebook page.
Many fans suspected the conservative Christians were embarrassed by their cousin's strapless wedding dress, which revealed her cleavage.
[caption id="attachment_723613" align="alignnone" width="800"]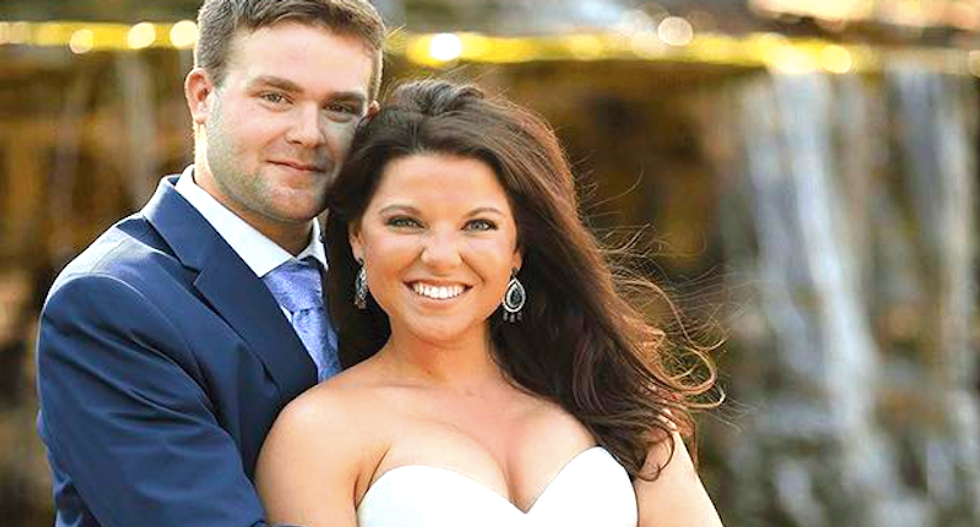 Amy Duggar and Dillon King (Facebook)[/caption]
"What couldn't post a pic of Amys wedding?!" wrote fan Angie Denise Barker. "What? Her dress wasn't modest ? Urg."
Fans also accused the Duggars of being jealous of the attention paid to the bride.
"This is pretty rude of Jessa to post pictures of her wedding up in what should be all about Amy & her husband," posted Gabriela Torres. "Did Jessa show up in a white dress too? This was simply distasteful & unfair to the bride."
Jessa Seewald did not actually wear a white dress to her cousin's wedding -- but her mother did.
"Jessa didn't, but Michelle did," pointed out Shannon Moloney. "Not even kidding."
The cousin, known as the "rebel Duggar" for her less strict adherence to the family's conservative religious beliefs, frequently appeared on the TLC reality show "19 Kids and Counting" before it was canceled after Josh Duggar admitted to molesting four of his sisters and a babysitter.
"The Duggars have been gracious enough to congratulate other couples on their union, why not Amy and Dillon?" wondered Missy Simon. "Amy went out of her way to make her extended family feel welcome. She even put off dancing and had a signal for those who disapprove of dancing/alcohol to leave. Additionally, Amy was so appreciative that Michelle and Anna came, she gave them personal 'thank you gifts.' Better etiquette would have been to say congratulations to the new bride and groom in one post. In a separate post, refer to Jessa and Ben's wedding photo's."
Many fans ripped the family for apparently trying to turn the spotlight back onto themselves.
"Omg really? How selfish and rude," said Dawn Naper. "This is in really bad taste. So disrespectful to Amy. They might not want to or be allowed to post pictures of Amy's wedding but she certainly didn't need to post more of her own."