Martin Shkreli talks to Maria Bartiromo (Screenshot/Fox Business)
Controversial former pharmaceutical executive, and man with the most slappable in America, according to Seth Meyers, Martin Shkreli endorsed Republican presumptive nominee Donald Trump Thursday night via Twitter.
---
"I haven't been called by the Trump camp. I support him vs. Hillary," Shkreli tweeted Thursday night. "He should find a VP candidate who is seasoned in politics, an ugly game."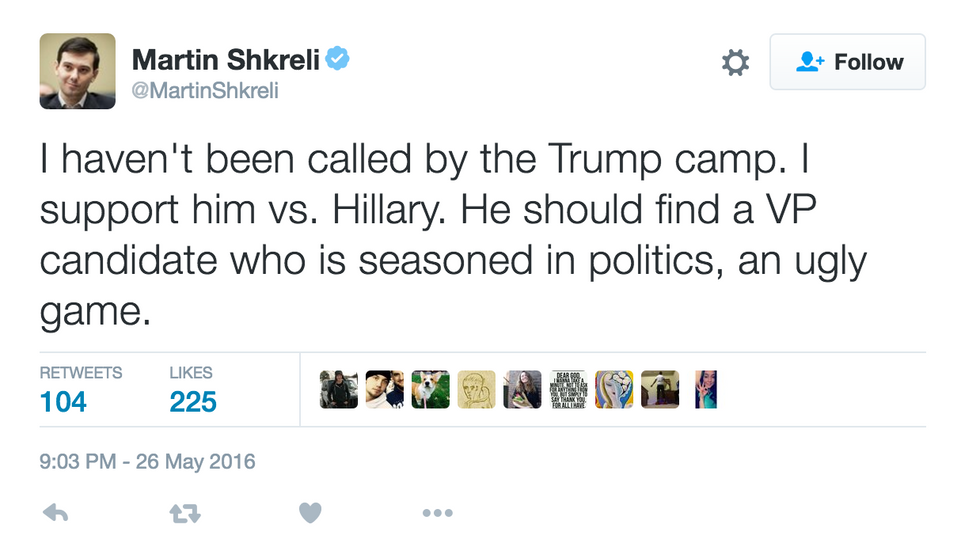 Shkreli is most known for buying up life-saving HIV/AIDS drugs and jacking up the price so much it made it unaffordable to many of those who needed it. He's since earned backlash for everything he's done publicly from his $2 million purchase of a Wu-Tang Clan album to blaming his firing for his PR problems.
Despite their business practices being so similar, Trump likely won't appreciate Shkreli's endorsement.
"He looks like a spoiled brat to me," Trump said last September. "You want to know the truth? He looks like a spoiled brat. That guy is nothing. He's zero. He's nothing. He ought to be ashamed of himself."
Now he stands aligned with Donald Trump.