Esten Ciboro (Facebook)
Plenty of people have ranted against Target's transgender restroom policy on Facebook -- but at least one of those social media users typed their polemic as his own 13-year-old stepsister was shackled downstairs in a basement dungeon.
---
Esten Ciboro and his father, Timothy Ciboro, were arrested after the girl managed to escape last week while her alleged captors went jogging, reported the Toledo Blade.
A neighbor spotted the girl, who was carrying several bags, and assumed she was a runaway, but she managed to gain her trust and discovered the girl had been chained to a support beam in her basement for more than a year as punishment for wetting the bed.
Timothy and Esten Ciboro were each charged with kidnapping and child endangerment.
After her escape and rescue, the girl told investigators she had lived with her father since her mother had left her and two siblings and ran off to Las Vegas.
She said she'd been chained by the ankle to the support beam for various periods of time, including once for as long as a year, and fed spoiled scraps of food and forced to use a bucket of ammonia as a toilet.
Lucas County Children Services investigated the family in 2014, after the girl was spotted eating French fries from a garbage can in the park, but found no signs of abuse in the home and left the girl there.
She and two other children were removed from the North Toledo home and placed in foster care after Ciboro and his son were arrested.
The 27-year-old Esten Ciboro's Facebook page reveals an apparent admiration for Donald Trump, and a strong opposition to transgender people using restrooms that correspond with their gender identity, reported LGBTQ Nation.
"For those unaware: Target will be allowing men in the girls' restrooms of its stores and will also allow women in the boys' restrooms of its stores- all to support queerism and confusion," Esten Ciboro wrote May 10, before his teenage stepsister was rescued from the basement dungeon in which he's accused of imprisoning her.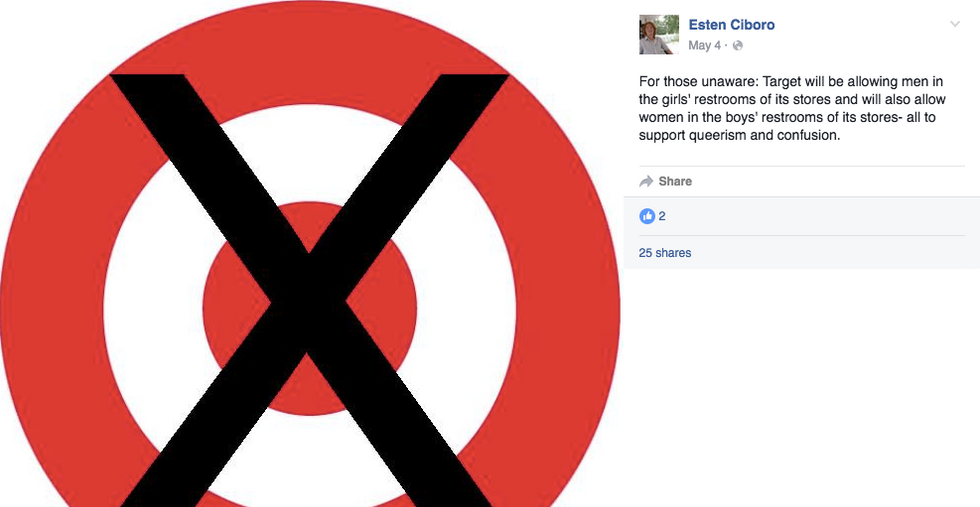 He and his father both shared a concern about satanic influence, with the younger Ciboro posting his concerns about a local megachurch's supposed affiliation with the occult.
The elder Ciboro posted concerns on his own Facebook page about supposed satanic symbolism on Monster energy drink's packaging.
The 53-year-old Ciboro also shared quotes from conservative activist and psychologist James Dobson and viral posts describing President Barack Obama as a socialist.
The three younger children were homeschooled, and the 13-year-old girl said she had not attended school since first grade.
Timothy Ciboro said from jail, where he and his son are being held without bond, that the two younger children were extraordinary because they cooked and cleaned, but he said the teenage girl refused to participate.
"She just didn't want to do things with us, she just didn't," he said. "I don't know why, I can't answer that. I love her and I loved her for her. I didn't think anything less."
He insisted he loved all of his children, and he explained the basis for his parenting.
"I miss my babies with all my heart," Timoth Ciboro said. "I want them to do right, that's the way they were raised. If they have any questions, all they have to do is open the Bible and they will have all the answers."
Watch this video report posted online by WTVG-TV: