A clinical trial wants your DNA – what should you do?
On May 6, the "All of Us" study started enrolling participants. This national study will be one of the largest ever examining the connection between genetics, behavior and medical outcomes, with a goal of 1 million or more participants. Anyone over the age of 18 in the U.S. can join.
As a researcher who studies personalized medicine, I believe it's important for Americans to be able to make an informed decisions in their quest for cutting-edge health care, but it does raise important questions over privacy. Given modern concerns about data security, I see positives and negatives to participating in trials like All of Us.
You may question how this will benefit you and potentially compromise your privacy. Your skepticism is warranted and worthy of investigation to help you make the correct decision.
Why do a clinical trial
Clinical trials often offer benefits to their participants. Many offer early access to cutting edge treatment that's not available to others. Another perk may be free or discounted treatment, or some other incentive.
In my view, participating in a clinical trial is also somewhat a personal duty. In the U.S., as of 2013, the Food and Administration has approved 1,453 drugs for use in humans. When you take an approved drug, you benefit from not only the work of scientists and billions of dollars of investment, but the sacrifice of many participants who took a chance on an experimental drug.
In contrast, the All of Us trial is not designed for any direct improved treatment. Instead, it aims to collect data to help researchers understand the connections between genetics, lifestyle and disease. For example, the study could identify novel biomarkers to measure long-term average blood glucose levels.
Despite careful tests on safety and dosage, when some drugs reach market, some individuals have serious adverse reactions, which in rare cases can be lethal. Others see no benefit from the drug.
Why does this happen? The answer in large part comes from genetics. Like a computer program that codes for some task, DNA codes for many traits – including a person's susceptibility to disease and response to drugs.
Each person's DNA sequence encodes millions of variations compared to another person, unless that person has an identical twin. Cost-effective sequencing of all or part of a person's DNA now enables scientists to look at the potential relationship between one or more of these genetic variations and disease diagnosis, prognosis or treatment. In fact, about 8 percent of all approved drugs now recommend a specific genetic test on their label to identify the right drug and dosage.
The large number of participants in All of Us will give researchers enough data to detect links between treatments, lifestyles and health outcomes.
Risks to your data
One should be aware of the amount of genetic information you are disclosing in a research study, whether it's in a clinical trial or a more generalized study.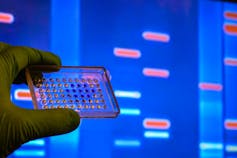 Some studies are genotyping based, examining about 1 to 100 genetic variations, often in a specific gene or set of genes, called a panel. Other studies may use a microarray that has 0.5 to 1 million common genetic variants. This is typically the technology used by recreational genetic companies like 23andMe and Ancestry. Even more data comes from whole exome sequencing. It's not yet clear what type of tests All of Us will use.
What are your risks of giving away your genetic information? Research has shown that you and your relatives can likely be identified from your DNA, so your privacy could potentially be compromised.
In a clinical trial, you will not have ownership or even access to your genetic data. In a company-driven trial, data might be shared with third parties and protections against a data breach are not regulated. If you have used a recreational genetics company, you should review the websites and company policies for the protections afforded.
However, if a dangerous mutation in one of the 59 genes defined by the American College of Medical Genetics is identified in a research study, the participant will be informed of this incidental finding. This screening is an added benefit for the participant.
Weighing the costs
A number of laws protect against the misuse of participant genetic data, especially in a trial sanctioned by the National Institutes of Health, such as All of Us.
Three laws protect Americans against discrimination based on genetics: the Genetic Information Nondiscrimination Act, Health Insurance Portability and Accountability Act and Affordable Care Act.
Insurance companies cannot access clinical trial results. Nevertheless, there's little legal protection in many situations, including life insurance, the military and companies with fewer than 15 employees.
As part of a trial, you will be asked to sign an informed consent form, which lets you know the risks and how your information will be used. The trial and consent form must be approved by an Institutional Review Board that monitors human subject research. Read these documents.
The NIH requires that any genetic data resulting from their funding be shared through secure web systems such that your contribution maximizes impact. That means the use of your genetic data is strictly controlled and protected.
Genetic data can undoubtedly lead to more drugs with more focused targeting and better health care for all. High-quality studies with strong statistical power, like All of Us, may need millions of participants. Clearly, a system that lets scientists comprehensively share genetic and clinical data, yet maintains acceptable privacy, is desperately needed.

By sharing medical records and having the large data set accessible to other scientific researchers, All of Us is a key step in the right direction.
Martin Schiller, Executive Director of the Nevada Institute of Personalized Medicine, University of Nevada, Las Vegas
This article was originally published on The Conversation. Read the original article.
Privacy rights group demands answers from Trump administration on 'coercive' DNA testing at border crossings
The Electronic Frontier Foundation on Tuesday demanded the Trump administration hand over documents regarding its use of DNA tests to verify parent-child relationships among immigrants who cross the U.S.-Mexico border.
Critics say the tests are coercive and invade families' privacy.
EFF filed a Freedom of Information Act complaint in a federal court in San Francisco to obtain information about the Rapid DNA technology which has been in use at an unknown number of border crossings for at least five months.
"Families are presented with consent forms that say that opting out of the Rapid DNA testing could factor into ICE's decision to separate families in immigration detention. This practice is coercive, and does not take into account families with children not biologically connected to parents, like adopted children and stepchildren."—Electronic Frontier Foundation"Congress has never authorized ICE to conduct Rapid DNA testing on migrant families at the border, yet DHS has deployed this privacy-invasive technology without explaining how accurate the testing is, whether families can challenge the results, or how the program may be expanded in the future," said EFF attorney Saira Hussain in a statement.
Venice underwater as exceptional tide sweeps through canal city
Venice was hit by the highest tide in more than 50 years late Tuesday, with tourists wading through flooded streets to seek shelter as a fierce wind whipped up waves in St. Mark's Square.
The exceptionally intense "acqua alta," or high waters, peaked at 1.87 metres (six feet) as the flood alarm sounded across the Italian city of canals, the tide monitoring centre said.
"We're currently facing an exceptionally high tide. Everyone has been mobilised to cope with the emergency," Venice's mayor Luigi Brugnaro tweeted.
Only once since records began in 1923 has the water crept even higher, reaching 1.94 metres in 1966.
Five takeaways from a year of French yellow vest protests
France's yellow vest protesters have had a profound effect on the country since they burst onto the scene a year ago, occupying roundabouts and staging weekly demonstrations that have sometimes ended in violence.
Here are five takeaways from a movement that rocked Emmanuel Macron's presidency and acted as an inspiration for other leaderless revolts worldwide.
- Concessions won through violence -
France has a long tradition of violent protest, but the ferocity of the demonstrations held in Paris and other big cities last winter shocked even the most jaded French demonstration watcher.