US and Europe face an 'increasingly loveless marriage' after Trump's Iran deal withdrawal
Beyond its potentially dramatic consequences for Middle East stability, Trump's May 8 decision to withdraw from the Iran nuclear deal has also damaged the United States' relations with its European allies.
France, Germany and the United Kingdom worked with the Obama administration to barter the United Nations-approved Iran agreement in 2015. Now, the three European signatories must figure out how to save that deal and continue working with a U.S. president who has mostly shown them contempt.
As a scholar of transatlantic relations who has followed the Iran deal for years, I am frankly skeptical that Europe can manage either.
Last-minute negotiations
The United Kingdom, France and Germany tried desperately to convince the U.S. not to withdraw from the Iran deal, which is a signature achievement of EU foreign policy that took a decade of painful diplomatic efforts to seal.
Starting in January, senior European officials began meeting frequently with their American counterparts to address Trump's objections to the deal, which is designed to prevent Iran from developing nuclear weapons.
Since his 2016 presidential campaign, Trump has scorned restrictions in the deal that diminished over time, condemned Iran's ballistic missile program and criticized Iran's generally bellicose behavior across the Middle East.
In Europe's view, the nuclear deal is working. The International Atomic Energy Agency has confirmed that Tehran has complied with the terms of the accord, halting uranium-enrichment activities and submitting to invasive international inspections.
British Prime Minister Theresa May asked Congress to stand by the deal in January. In late April, French President Emmanuel Macron and German Chancellor Angela Merkel even traveled to Washington to personally urge Trump not to abandon it.
Their efforts came to naught.
How to save the deal
The remaining signatories – Russia, China and the three European nations – are now in flurry of diplomatic activity trying to salvage their agreement.
An American withdrawal endangers its survival because of the country's sheer economic muscle. Trump's threat to impose "the highest level of sanctions" – targeting both Iran and nations that do business there – could easily make the deal unworkable.
The Iran agreement is essentially a quid pro quo. Signatories lifted sanctions, offering Iran the prospect of economic opportunities, in exchange for Tehran agreeing to scale back its nuclear program. If European powers cannot deliver real economic benefits, Iran may declare the deal dead.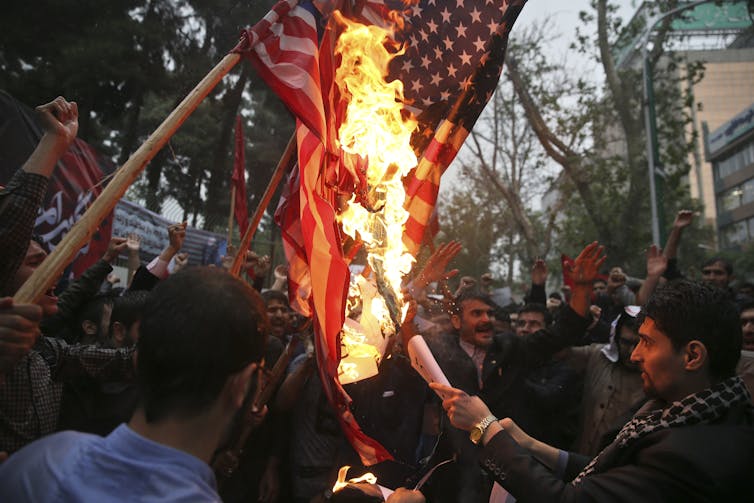 If that happened, Iran would most likely resume uranium enrichment. That step, analysts say, could trigger more violence in the already volatile Mideast – a region just a stone's throw from southern Europe.
Defending European business interests
In addition to re-imposing sanctions on Iran, the White House has given foreign firms operating in Iran up to 180 days to wind down business there or else be barred from the U.S. banking and financial system.
These measures could hit several major European firms particularly hard. The French oil company Total and German industrial manufacturer Siemens, to name a few, both recently signed major contracts in Iran. They may be able to appeal to the U.S. government for exemptions on a case-by-case basis.
To protect European businesses from punitive U.S. sanctions, one option would be to revive and amend the EU's 1996 blocking regulation. That rule, passed after the U.S. Congress levied sanctions against Iran and Libya, shielded European firms from U.S. secondary sanctions by declaring them unenforceable within the EU.
The European Investment Bank could also consider providing smaller firms – those without a stake in the U.S. market, say – credit lines and financing to create a safer, more stable environment for doing business with Iran.
The most extreme retaliatory option would be for the EU to levy sanctions on U.S. assets in Europe.
As Jeremy Shapiro of the European Council on Foreign Relations recently commented in The New York Times, Europe must now decide "not if they stick with the deal but will they stand up to the American effort to unravel it."
What next for transatlantic relations?
Ultimately, I believe that European companies would be wary of risking U.S. sanctions. Trade with Iran has rapidly increased since the deal went into effect in 2016, but it still represents less than 1 percent of the EU's global trade. The U.S. is the EU's largest trading partner, responsible for nearly 17 percent of all trade.
Diplomatic slights aside, in purely business terms, France, Germany and the U.K. know that the U.S. can take away far more than Iran can give.
Macron, Merkel and May thus face a dilemma: how to salvage their relationship with a U.S. president who has just demonstrated exactly how little he thinks of them.
Trump's jettison of the nuclear accord is the latest in a series of rebukes to Europe. Since taking office, Trump has moved the U.S. Embassy in Israel to Jerusalem – which the EU opposed – and withdrawn from the Paris climate agreement. He also wants to impose tariffs on European steel and aluminum imports.
European leaders could limit discord by appeasing Trump, while waiting out his administration. Europe remains dependent on the U.S. for its security. And, in any case, getting all 28 members of the EU to agree to take any punitive measures against the U.S. would be a tall order.
In the meantime, the president's "America First" foreign policy could significantly damage the multilateral international order to which the Europeans are committed.
My best guess is that the U.S.-Europe relationship will become an increasingly loveless marriage.

These old allies will cooperate on a transactional basis on areas of common interest, such as counterterrorism and trade. But the shared world vision that has defined this partnership since World War II could very well be lost.
Garret Martin, Professorial Lecturer, American University School of International Service
This article was originally published on The Conversation. Read the original article.
Texas governor busted sending racist call-to-arms a day before El Paso attack: 'take matters into our own hands'
On Thursday, Gov. Greg Abbott (R-TX) tweeted out a message of unity and promised to work to reduce violence in his state, in the wake of the shooting in El Paso that left 22 dead and dozens more injured:
Today we had hearings responding to the tragic shooting in El Paso.
We focused on community healing, combating domestic terrorism, reducing hateful ideologies, & keeping guns out of hands of deranged killers while respecting 2nd Amendment rights.
We'll keep TX safe.#txlege pic.twitter.com/ymct4aiSgK
Facebook bans far-right website from pro-Trump advertising after they try to skirt transparency rules
On Thursday, NBC News reported that Facebook has banned the Epoch Times from placing political advertisements, after the right-wing website tried to conceal its multimillion-dollar dark money streams and get around the social network's political advertising transparency rules in its propaganda supporting President Donald Trump.
The Epoch Times had tried to skirt rules by running ads under puppet names like "Honest Paper" and "Pure American Journalism," confusing users about who was really behind the ads.
Former Overstock CEO tells Fox News the Feds wanted him to sleep with Russian spy Maria Butina
Longtime Overstock CEO Patrick Byrne resigned on Thursday after issuing a bizarre press release that caused the company's stock to tank.
Byrne then went on Fox News to claim that federal officials urged him to have a romantic relationship with Russian spy Maria Butina.
He claimed that the government told him they never asked citizens to engage in romantic relationships, but it was "such a national security risk" that the government asked Byrne, then in his fifties, to sleep with Butina, who was at the time in her twenties and half his age.