Here's how being born in the wrong US zip code can shorten your life
Newly released data on life expectancy across the U.S. shows that where we live matters for how long we live.
A person in the U.S. can expect to live an average of 78.8 years, according to the most recent numbers from the Centers for Disease Control and Prevention (CDC).
However, life expectancy varies widely across geography. A child born in Mississippi today could expect to never reach his or her 75th birthday. But a child born in California, Hawaii or New York could expect to reach their expect to live into the early 80s.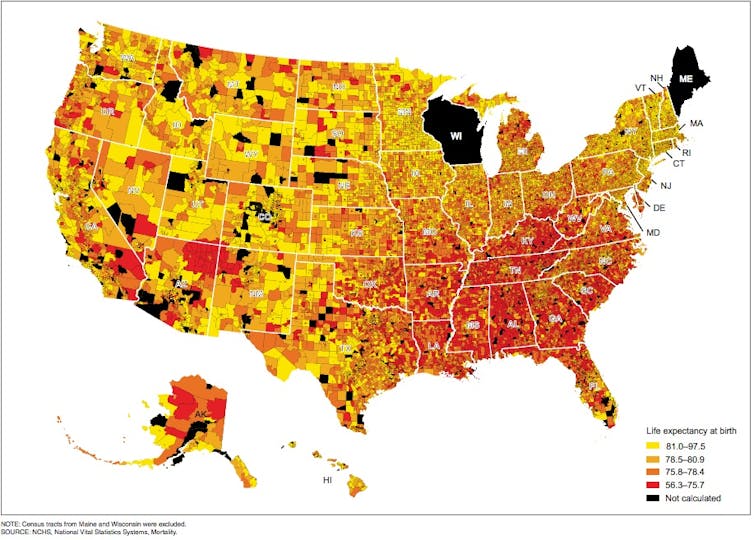 At the neighborhood level, these differences are sometimes even more drastic, appearing even when communities are only a few miles apart. In Washington, D.C., for example, people living in the Barry Farms neighborhood face a life expectancy of 63.2 years. Yet, less than 10 miles away, a baby born in Friendship Heights and Friendship Village can expect to live 96.1 year, according to CDC data.
Just 10 miles represent a life expectancy difference of almost 33 years, a generation lost due to premature deaths. Overall, any two census tracts in the U.S. can differ in expected life expectancy by 41.2 years, a staggering range. These missing lives have important social and economic costs, for families, communities and workplaces.
The opioid epidemic and increases in suicide rates are partially responsible for premature deaths and a decline in life expectancy, especially among working-class, middle-age whites. But these causes fail to explain long-standing differences in life expectancy across place, race and class.
Neighborhoods with large black populations tend to have lower life expectancies than communities that are majority white, Hispanic or Asian. Such racial differences reflect the places in which different races live, not the individual characteristics of people themselves. Research shows that black communities are less likely to have access to resources that promote health, like grocery stores with fresh foods, places to exercise and quality health care facilities. This is true even in middle-class neighborhoods.
These communities also have less opportunities for economic prosperity, with higher unemployment rates and fewer opportunities to work and quality education, all of which shape health outcomes across a lifespan.
How well a place is doing economically affects how long people who live there can expect to live. Places that are economically distressed, for example, tend to have the lowest life expectancies. As new research from the Census Bureau and researchers at Harvard and Brown universities shows, children from places that are economically disadvantaged tend to have worse outcomes as adults.
People who earn less also tend to die sooner. One study from Raj Chetty, a leading researcher on economic opportunity and health, and colleagues suggests that lower incomes are associated with shorter lifespans in the U.S. Income is not distributed evenly across the country. Uneven income patterns may reflect unequal public investments in social programs that help people earn more, like education.
Place, race and class shape how well, and how long, people live. But state and local governments could play a role in increasing life expectancies. Research shows that where local government spending is higher, life expectancies increase among those with lower incomes.
From my perspective of a public health researcher, investments that could improve health behaviors – such as building grocery stores, increasing exercise opportunities and discouraging smoking – could also increase life expectancy. Policies that promote economic prosperity and address the impacts of racial segregation – such as investments in quality education, safe and affordable housing, and improved public transportation – could also help.
Life expectancy is not the only or the best way to measure health and well-being in the U.S. But it is a good way to measure the country's progress toward good health for all populations, regardless of where they live.

Jessica Young, Assistant Professor of Health Studies, American University
This article is republished from The Conversation under a Creative Commons license. Read the original article.
Bill Barr denies giving the order to gas protesters for Trump photo-op
America's top law enforcement office on Friday denied giving the highly-controversial order to gas protesters prior to a photo-op with President Donald Trump holding a Bible.
"Attorney General William Barr says law enforcement officers were already moving to push back protesters from a park in front of the White House when he arrived there Monday evening, and he says he did not give a command to disperse the crowd, though he supported the decision," The Associated Press reports.
"Barr's comments in an interview with The Associated Press on Friday were his most detailed explanation yet of what unfolded outside the White House earlier this week. They come after the White House and others said repeatedly that the attorney general ordered officers to clear the park," the AP reported. "Shortly after officers aggressively pushed back demonstrators, President Donald Trump — accompanied by Barr, Pentagon leaders and other top advisers — walked through Lafayette Park to pose for a photo at a nearby church that had been damaged during the protests."
Steve Schmidt breaks down why Joe Biden should be an 'easy' choice for moderate Republicans
On MSNBC Friday, former GOP strategist Steve Schmidt criticized Sen. Lisa Murkowski's (R-AK) claim that she was struggling over whether to support the president — and laid out why she should unequivocally decide she doesn't.
"We saw the president direct violence against peaceful protesters this week, and seen the president lie to the country nearly 20,000 times," said Schmidt. "We've seen the president divide the country and incite violence. And we've seen a level of ineptitude in this historic pandemic that defied description, but included standing in front of the nation when tens of thousands are dead, talking about his ratings or telling the American people that it is a good idea to ingest or household disinfectants. We've seen a president preside over the shattering of an economy. We have seen a president race-bait, demean, disgrace his office, to desecrate the bonds of affection that exist between us as Americans."
Jeb Bush wonders why Republicans are not 'stepping up' to condemn racism
Former Gov. Jeb Bush (R-FL) wondered on Friday why more Republicans were not standing publicly against racism.
"I have said it before and I will say it again now: the GOP must not tolerate racism. Of any kind. At any time," his son, George P. Bush, the Texas Land Commissioner posted on Twitter.
He urged local GOP officials in Texas to resign for sharing racist posts on Facebook.
Jeb Bush praised the post.
"Proud of my son," he posted on Twitter.
"Are other Republican elected officials stepping up?" he wondered.
https://twitter.com/JebBush/status/1269057568015605761