An economist talks turkey: 5 facts about Thanksgiving pricing
Few foods are tied as closely to one holiday as turkey is to Thanksgiving. At almost every Thanksgiving feast an enormous turkey is one of the central attractions.
In fact, the typical whole turkey sold in the U.S. weighs about 15 pounds, is 70 percent white meat and has more protein than chicken or beef. But the more important question is how much will it cost?
So before shelling out your hard-earned money for a large bird, there are five fast financial facts I think you should know.
Your're getting a bargain if you buy frozen
Frozen turkeys do not provide much, if any, profit for your local store.
The U.S. Department of Agriculture monitors both the wholesale and retail price of turkeys throughout the year. The wholesale price – what grocery stores have to pay for an item – during the first full week of November was about 81 cents per pound for a frozen turkey. The USDA found the national retail price was about 83 cents per pound a week later, which is about the time needed to get the bird from a wholesaler to your store.
This means the typical store in the U.S. is selling a frozen turkey about two cents over its cost. In other words, that 15-pound bird earns the retailer just 30 cents, which doesn't begin to cover the cost of taking it from the delivery truck to the shelf, ringing it up for sale or keeping it frozen through the whole process.
Why are stores willing to make so little money on such a big seller?
Stores know that people coming in to buy turkeys are likely to purchase other items, too, such as seasonings, disposable roasting pans and soda. The other items are where stores make their money since the profit margins on these items are much higher than on frozen turkeys.
Fresh turkeys are a lot more profitable
While stores do not make money on frozen turkeys, fresh turkeys are a different bird altogether.
The USDA weekly report from early November shows that the wholesale price for a fresh turkey is US$1.12 per pound. The current retail price for fresh hens, which is the bird most people like to serve, is $1.51 per pound, 68 cents more than frozen. This means stores will make $5.85 for a 15-pound bird before factoring in other expenses.
Tom turkeys, which have larger bones and less edible meat, were selling for a more modest $1.25 a pound.
Stores understand that people looking to buy fresh turkeys are less price sensitive than those buying frozen birds. This makes fresh birds a more profitable item.
On a side note, is a fresh turkey worth it? I'll leave that non-economic question to the foodies to figure out, since I don't really like turkey either fresh or frozen.
Where you buy your turkey matters
Many people travel from one part of the U.S. to another to celebrate Thanksgiving with distant friends or family.
Is it worth buying a turkey in one place and lugging it in a cooler across the country?
Maybe. Turkey prices vary greatly depending on where they are purchased.
Right now, USDA data show the cheapest place in the country to buy frozen turkeys is in the Southeast, where the average price of a frozen hen from Virginia to Florida is just 72 cents per pound.
But if you don't live in that region – or plan to visit someone there – I wouldn't recommend making a special trip just to buy a turkey. The price difference isn't that large. In the most expensive parts of the continental U.S., frozen turkeys cost about $1.06 per pound. These high prices are found in the South Central states, which stretch from New Mexico to Arkansas.
Why the difference? It's not because of shipping costs. Arkansas is among the states with the highest average price even though it raises roughly 1 out of every 10 turkeys eaten in the U.S.
The more likely reason is because of store competition. There seem to be a lot more stores fighting for consumer dollars in the Southeast than in other parts of the country. The USDA tracks turkey prices in 7,400 supermarkets in the Southeast. But it is able to track prices in just 4,900 stores in the South Central part of the country.
No need to stockpile turkeys
There is no need to stock up at Thanksgiving if you want to serve Turkey in December. That's because the retail price for frozen turkey is typically lower in December than it is in November.
The Bureau of Labor Statistics has been tracking the price of a few specific brands and weights of frozen turkey for decades as part of its effort to determine rates of inflation in the U.S.
Over the last 10 years, the price of the turkeys the bureau tracks was lower in December than in November six times. The other four times the price in December was only 2 or 3 cents per pound higher.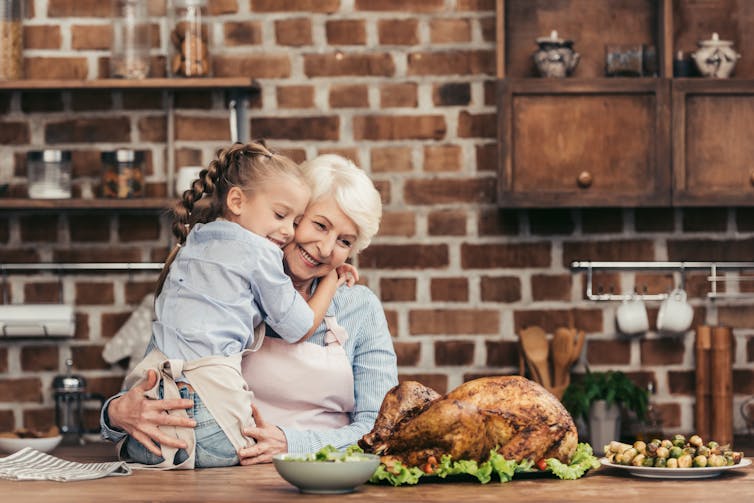 Cheaper over time
Last, turkey has gotten a lot cheaper over time compared to other items people buy.
In November 1980, the year the bureau began tracking turkeys, it found the price was almost $1 per pound. That would equate to almost $3 after adjusting for inflation, which is almost double the bureau's current average of $1.58.
In simple terms the per pound retail price of frozen turkeys has fallen by almost half since Jimmy Carter was president.
Thanksgiving is a wonderful holiday to spend with family and friends. Perhaps more importantly, since turkeys are getting cheaper, my family has more money to spend on the best part of the meal: dessert.

Jay L. Zagorsky, Adjunct associate professor, Boston University
This article is republished from The Conversation under a Creative Commons license. Read the original article.
Law enforcement files discredit Brian Kemp's accusation that Democrats tried to hack the Georgia election
It was a stunning accusation: Two days before the 2018 election for Georgia governor, Republican Brian Kemp used his power as secretary of state to open an investigation into what he called a "failed hacking attempt" of voter registration systems involving the Democratic Party.
But newly released case files from the Georgia Bureau of Investigation reveal that there was no such hacking attempt.
The evidence from the closed investigation indicates that Kemp's office mistook planned security tests and a warning about potential election security holes for malicious hacking.
Kemp then wrongly accused his political opponents just before Election Day — a high-profile salvo that drew national media attention in one of the most closely watched races of 2018.
Brooklyn 88 Precinct 'overrun' — one night after Minneapolis police station was burned to the ground: report
Protesters have overrun a police station in New York City, according to a CNN law enforcement analyst.
"NYPD source informs me 88 Pct in Brooklyn just been overrun," former FBI Agent James Gagliano reported Friday evening.
"Police Commissioner Shea has called a Level 3 mobilization. Requires all special units respond and four cars from every command in the city to location," he explained.
He said 84 Precinct and Brooklyn North are also "under siege."
https://twitter.com/JamesAGagliano/status/1266546781569142784
Brooklyn 88 precinct overrun pic.twitter.com/rCyV41XKmN
WATCH: Prisoners at Chicago correctional facility bang on the walls in solidarity with protesters
On Friday, as protests raged across the nation over the police killing of George Floyd in Minneapolis, Minnesota, Chicago protesters were joined by the inmates of a correctional facility, who audibly banked on the walls in solidarity.
Watch below:
Not sure if you can hear...but the people locked inside the correctional center are banging on the walls like crazy. #chicagoprotest pic.twitter.com/e4bMxtiAh9