El Chapo trial shows why a wall won't stop drugs from crossing the US-Mexico border
The trial of Mexican drug kingpin Joaquín "El Chapo" Guzmán Loera has exposed just how powerful Mexico's cartels really are.
The trial has now run for two months. On Jan. 15, a Colombian drug trafficker who worked for Guzmán's Sinaloa Cartel from 2007 to 2013 testified that Guzmán paid former Mexican president Enrique Peña Nieto a US$100 million bribe while he was in power, a charge Peña Nieto' office denies.
It was just the latest allegation of the cartels paying off high-ranking politicians in Mexico, presumably to exert influence over the government.
Guzmán is charged with drug trafficking, murder, kidnapping and money laundering – crimes he allegedly committed over the past quarter-century as head of the Sinaloa cartel, the Western Hemisphere's most powerful organized crime syndicate.
With its witness accounts of extreme violence, political corruption, international intrigue and entrepreneurial innovation, Guzmán's trial is a telenovela-style explainer on why a wall is unlikely to stop the lucrative U.S.-Mexico drug trade.
The Sinaloa cartel
Founded in Mexico's Sinaloa state in the 1990s, the Sinaloa cartel now distributes drugs to some 50 countries, including Argentina, the Philippines and Russia.
Determining the scale of Guzmán's global empire is difficult, since gangsters usually don't keep books and charts of accounts. But his 2016 indictment in the U.S. sought forfeiture of more than US$14 billion in proceeds and illicit profits from decades of narcotics sales in the U.S. and Canada.
The Sinaloa cartel controls perhaps half of Mexico's drug market, with annual earnings of around $3 billion. Mexican estimates suggest that each month it moves two tons of cocaine and 10,000 tons of marijuana – plus heroin, methamphetamine and other substances.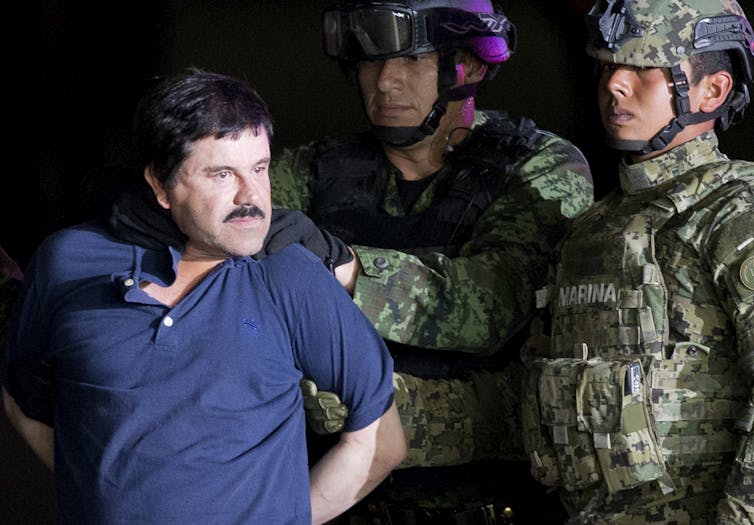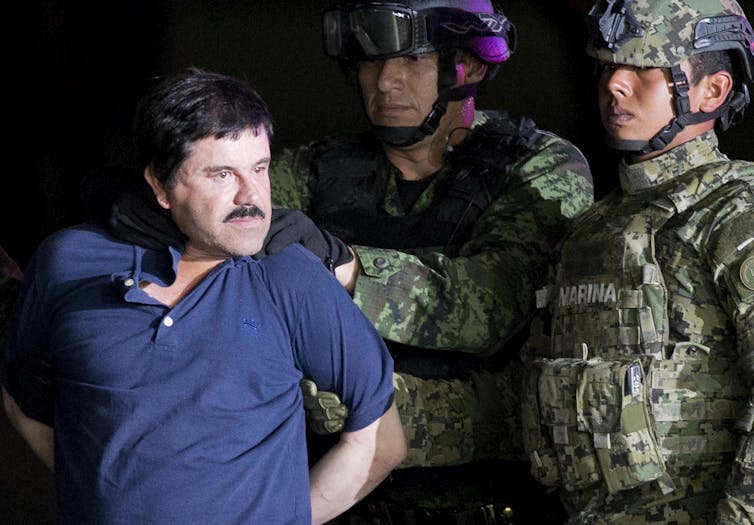 The drug business
Illegal drugs are a highly lucrative business.
In 2016, the year El Chapo was captured in Mexico, the wholesale price for a gram of cocaine was approximately $2.30 in Colombia and $12.50 in Mexico. The same gram had a wholesale cost of $28 by the time it got to the United States. In Australia, that same gram of cocaine fetched $176.50 wholesale.
Drug prices rise significantly during transit as intermediaries demand compensation for the risk they assume in getting the product to consumers.
Retail prices per gram of cocaine are even higher, reflecting the addition of even more middlemen: $82 in the U.S. in 2016 and $400 in Australia.
This liability markup is one reason why some prominent policy experts and even conservative economists call for legalizing and regulating illicit narcotics. Keeping drugs illegal is what makes them so profitable for the people who traffick them.
Bribes, violence and threats
Illegality is also what makes the drug business so violent.
Running an illicit operation, cartel leaders must both enforce their own business agreements and protect themselves from authorities and competitors.
They do so using a combination of violence, threats and bribes.
At least eight armed groups worked under Guzmán's command in Mexico, according to Mexican government reports, attacking competitors and killing defectors.
Guzmán also bribed as many politicians, police officers and prison guards to stay in business.
His elaborate disappearances from Mexican high-security prisons are the stuff of legend. In 2015, Guzmán escaped jail by riding a motorcycle through a lit, ventilated mile-long tunnel constructed underneath his cell.
American demand
The Sinaloa cartel didn't become the world's biggest supplier of illicit drugs by coincidence. It has flourished because the United States is the world's biggest consumer of illicit drugs.
Mexican cartels serve Americans' "insatiable demand for illegal drugs," as Hillary Clinton once said.
Despite President Donald Trump's focus on Mexican drug traffickers, his former chief of staff, John Kelly, has admitted that the U.S. is part of the problem.
"We're not even trying," he told Congress in 2017, calling for more drug-demand reduction programs.
Kelly added that Latin American countries chide American authorities for "lecturing [them] about not doing enough to stop the drug flow" while the U.S. does nothing to "stop the demand."
Trump's wall
Trump's continued insistence on securing the southern border with a wall seems to disregard the economic forces driving the drug trade and diminish Mexican cartels' innovative distribution strategies.
A high-tech border fence constructed in Arizona long before Trump's inauguration has proven virtually useless in stopping drugs from crossing into the U.S.: Mexican smugglers just use a catapult to fling hundred-pound bales of marijuana over to the American side.
"We've got the best fence money can buy," former DEA chief Michael Brown said to The New York Times in 2012, "and they counter us with a 2,500-year-old technology."
Then there's the other ancient technology perfected by Guzmán: the tunnel.
Officials have discovered about 180 cleverly disguised illicit passages under the U.S.-Mexico border. Many, like the one Guzmán used to escape prison, are equipped with electricity, ventilation and elevators.
Trump has admitted that anyone could use "a rope" to climb over his wall, but believes that more border guards and drone technology would prevent infiltration.
Corruption in the US
Corruption is not an exclusively Mexican trait.
Over the past decade some 200 employees and contractors from the Department of Homeland Security have accepted nearly $15 million in bribes to look the other way as drugs were smuggled across the border into the United States, The New York Times has reported.
Some U.S. officials have also given sensitive law enforcement information to cartels members, according to the Times.
"Almost no evidence about corrupt American officials has been allowed at [El Chapo's] trial," New York Times reporter Alan Feuer said recently on Twitter.
This article is an updated version of a story originally published on Feb. 19, 2017.

Luis Gómez Romero, Senior Lecturer in Human Rights, Constitutional Law and Legal Theory, University of Wollongong
This article is republished from The Conversation under a Creative Commons license. Read the original article.
Trump's Labor Department wants to 'weaponize' right-wing discrimination and bigotry
Just in case you wanted to believe that the Trump administration isn't on a campaign to trample rights for Americans, here comes the Labor Department to shove a grapefruit in your face.
Labor officials have made public a new rule—no Congress, needed, thank you—to allow companies contracting with the federal government who are "religion-exercising organizations" to ignore federal laws protecting the rights of gays, transsexuals, and who knows who else in hiring or workplace practices. Religious employers and companies with "closely held" religious ties now will be shielded from claims of bias in court or other law enforcement actions, says the rule.
Trump warns media 'treading in very dangerous territory' for reporting bad poll numbers
President Donald Trump hurled new warnings at the news media for reporting damaging stories and negative poll numbers.
The president's approval rating was measured at 43 percent by two new surveys by NBC/Wall Street Journal and Fox News, and polls continue to show him losing to various Democratic challengers.
Trump insisted Monday that his "new internal polls" show the strongest support he's had so far, and also complained that unfair media coverage kept his approval ratings low -- and he retweeted those claims with a new threat against the media.
The LameStream Media is far beyond Fake News, they are treading in very dangerous territory! https://t.co/J60JgSFhcx
Trump unleashes bizarre stream of gobbledygook when reporter asks him to describe his health care plan
President Donald Trump has vowed multiple times over the past two-and-a-half years to unveil his own replacement plan for the Affordable Care Act, but so far no actual plan has come to light.
As noted by CNN fact checker Daniel Dale, Trump was asked by a reporter in New Hampshire this week to describe his health care plan, and the president responded with a stream of gobbledygook.
"So, we have a great plan coming out," the president began when asked about his plan. "It's going to be -- if we can take back the House because we're not going to get the Democrats to vote for it, because they're doing Medicare for all, which is going to take away your freedom, take away your doctors, take away everything that you should be able to have, and most importantly, it's going to take away -- we have 180 million people right now that have private insurance and they love it, and all of that's going to be taken away. It's absolute craziness."