Trump's reference to Wounded Knee evokes the dark history of suppression of indigenous religions
President Trump evoked the Wounded Knee massacre in a recent tweet. He was reacting to an Instagram video that Sen. Elizabeth Warren posted on New Year's Eve.
If Elizabeth Warren, often referred to by me as Pocahontas, did this commercial from Bighorn or Wounded Knee instead of her kitchen, with her husband dressed in full Indian garb, it would have been a smash! pic.twitter.com/D5KWr8EPan

— Donald J. Trump (@realDonaldTrump) January 14, 2019
There's been considerable criticism of the president's inaccurate portrayal of Native American history, including from members of his own party. Two Republican senators from South Dakota, Mike Rounds and John Thune, spoke out against the tweet.
Wounded Knee is among the worst massacres in Native American history. It was also one of the most violent examples of the repression of indigenous religion in American history.
Religious suppression
Religion historian Tisa Wenger explains that before the 20th century, many Americans believed that "indigenous practices were by definition savage, superstitious and coercive." They did not consider them to be religion.
In part because of this belief, the U.S. government decided not to recognize Native Americans as citizens of sovereign governments in the 19th century, but as colonial subjects. In 1883, the Department of Interior enacted the first "Indian Religious Crimes Code" making the practice of Native American religions illegal. These codes remained in place until 1934.
In response, Wenger writes, some Native American groups tried to convince government agents that their gatherings were places of "prayer and worship" similar to Christian churches. Others claimed that their gathering were "social," not religious.
But this kind of masking of religious practices did not stop the U.S. government from using violence to suppress these Native American ceremonies.
In 1890, the U.S. military shot and killed hundreds of unarmed men, women and children at Wounded Knee, South Dakota, in an effort to suppress a Native American religious ceremony called the "ghost dance."
Historian Louis Warren explains that the ghost dance developed as a religious practice in the late 19th century after Native Americans witnessed the devastating environmental change of their homelands from American settlement. The dance envisioned a return to their unspoiled natural world.
The U.S. military, however, viewed it differently. They believed the Native Americans at Wounded Knee were gathering for war.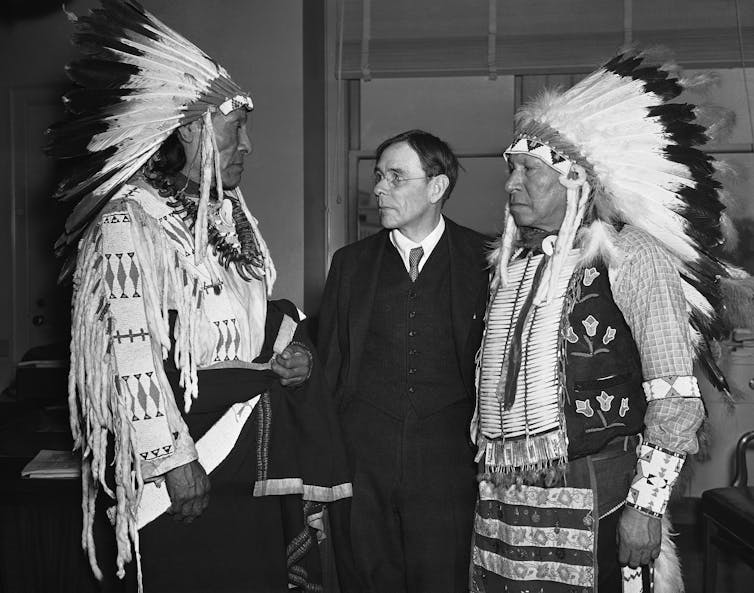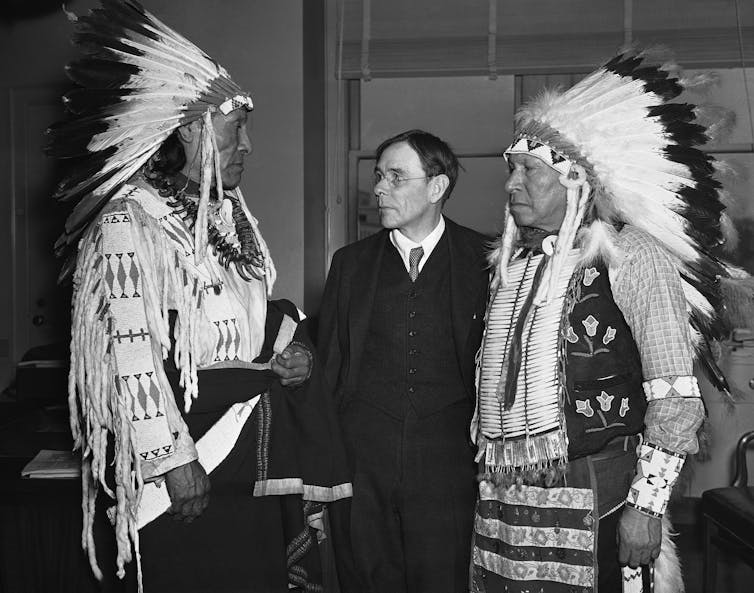 The darkest moment
The U.S. government changed its policies of openly suppressing indigenous religions in 1934. But it would take another 44 years before the U.S. fully committed "to protect and preserve" religious rights of American Indians through the American Indian Religious Freedom Act in 1978.
As a Native American scholar of religion and environment history, I agree with Republican Sen. Mike Rounds – the Wounded Knee massacre "should never be used as a punchline."

Rosalyn R. LaPier, Associate Professor of Environmental Studies, The University of Montana
This article is republished from The Conversation under a Creative Commons license. Read the original article.
Carl Bernstein: There are 7-9 'wobbly' Republicans who want witnesses but Mitch McConnell is trying to block them
In a CNN panel discussion Wednesday, notorious Watergate reporter Carl Bernstein revealed that there are seven to nine Republican senators who are wavering after the compelling argument that the House has provided for the impeachment. The problem, however, is that Senate Majority Leader Mitch McConnell (R-KY) is refusing to allow any break from the party line.
"I think this is a hugely damaging narrative that was laid out today, and that Mitch McConnell understands, and has understood for a while that this hugely damaging narrative was going to affect his members," said Bernstein. "And that his strategy -- I've talked to some Republicans about this -- #MidnightMitch is to wear out his own members so that they don't vote for more witnesses because there are six, seven, eight, nine wobbly Republicans."
Republican Kevin McCarthy gets taken down by former top GOP colleague
Rep. Kevin McCarthy (R-CA) was attacked by a former Republican colleague who alleged McCarthy and his fellow members of Congress have allowed the House GOP to become the official shill for the White House.
In a profile for the New York Times, former Oversight Committee Chairman Tom Davis (R-VA) shamed the GOP House for the way that a once-respectable institution has fallen.
"Congress no longer operates as an independent branch of government, but as an appendage of the executive branch," said Davis. "He is made for that role."
Former senator reveals to Maddow how one brave Democrat can reveal key document in impeachment trial
Near the end of Wednesday's impeachment trial, Chief Justice John Roberts announced that an agreement had been made to allow senators to read supplemental testimony from Vice President Mike Pence aide Jennifer Williams.
The document will remain classified, despite claims that there is no classified material in the document, only evidence that is damning to the president.
"In terms of this document potentially being improperly classified, which is something that has been raised in writing by Rep. Adam Schiff (D-CA) and raised on the floor of the Senate tonight by Rep. Zoe Lofgren (D-CA)," MSNBC anchor Rachel Maddow noted. "Obviously, it was the vice president's office that said it was classified, they are getting publicly criticized for that. If it has been improperly classified and it should be something that the public can see, who adjudicates that?"