Trump's reference to Wounded Knee evokes the dark history of suppression of indigenous religions
President Trump evoked the Wounded Knee massacre in a recent tweet. He was reacting to an Instagram video that Sen. Elizabeth Warren posted on New Year's Eve.
If Elizabeth Warren, often referred to by me as Pocahontas, did this commercial from Bighorn or Wounded Knee instead of her kitchen, with her husband dressed in full Indian garb, it would have been a smash! pic.twitter.com/D5KWr8EPan

— Donald J. Trump (@realDonaldTrump) January 14, 2019
There's been considerable criticism of the president's inaccurate portrayal of Native American history, including from members of his own party. Two Republican senators from South Dakota, Mike Rounds and John Thune, spoke out against the tweet.
Wounded Knee is among the worst massacres in Native American history. It was also one of the most violent examples of the repression of indigenous religion in American history.
Religious suppression
Religion historian Tisa Wenger explains that before the 20th century, many Americans believed that "indigenous practices were by definition savage, superstitious and coercive." They did not consider them to be religion.
In part because of this belief, the U.S. government decided not to recognize Native Americans as citizens of sovereign governments in the 19th century, but as colonial subjects. In 1883, the Department of Interior enacted the first "Indian Religious Crimes Code" making the practice of Native American religions illegal. These codes remained in place until 1934.
In response, Wenger writes, some Native American groups tried to convince government agents that their gatherings were places of "prayer and worship" similar to Christian churches. Others claimed that their gathering were "social," not religious.
But this kind of masking of religious practices did not stop the U.S. government from using violence to suppress these Native American ceremonies.
In 1890, the U.S. military shot and killed hundreds of unarmed men, women and children at Wounded Knee, South Dakota, in an effort to suppress a Native American religious ceremony called the "ghost dance."
Historian Louis Warren explains that the ghost dance developed as a religious practice in the late 19th century after Native Americans witnessed the devastating environmental change of their homelands from American settlement. The dance envisioned a return to their unspoiled natural world.
The U.S. military, however, viewed it differently. They believed the Native Americans at Wounded Knee were gathering for war.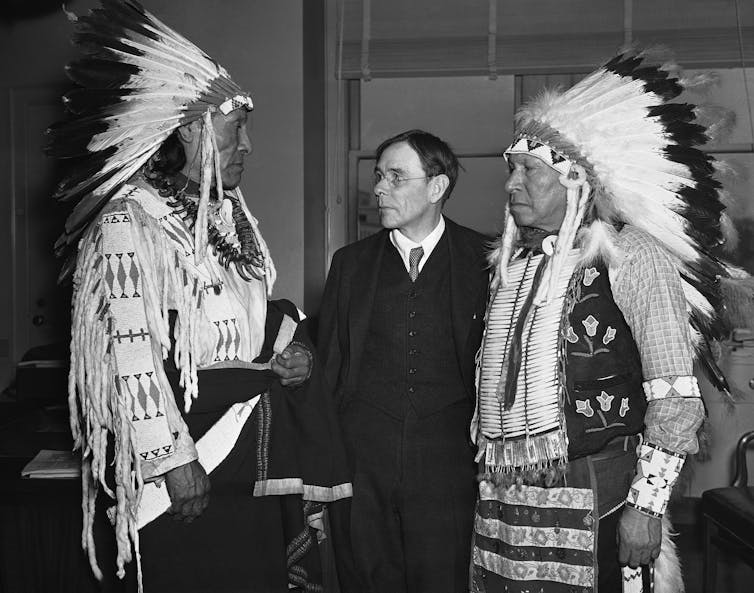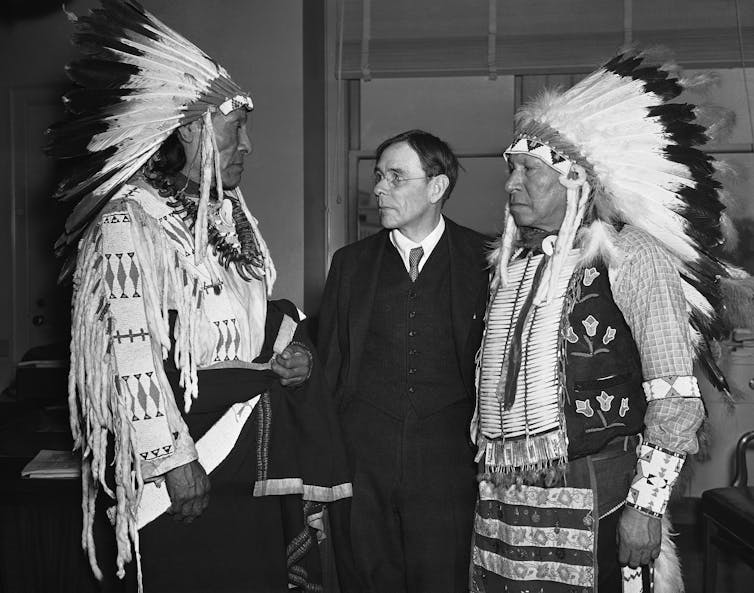 The darkest moment
The U.S. government changed its policies of openly suppressing indigenous religions in 1934. But it would take another 44 years before the U.S. fully committed "to protect and preserve" religious rights of American Indians through the American Indian Religious Freedom Act in 1978.
As a Native American scholar of religion and environment history, I agree with Republican Sen. Mike Rounds – the Wounded Knee massacre "should never be used as a punchline."

Rosalyn R. LaPier, Associate Professor of Environmental Studies, The University of Montana
This article is republished from The Conversation under a Creative Commons license. Read the original article.
Trump-loving "hate group" leader struggles to defend chauvinism during CNN interview on Portland chaos
Portland, Oregon on Saturday was the scene of another far-right mobilization by groups such as the Proud Boys and Patriot Prayer.
CNN's Sara Sidner interviewed Enrique Tarrio, who succeeded Gavin McInnes as the chairman of the Proud Boys. The group is listed as a hate group by the Southern Poverty Law Center.
Tarrio had traveled from Miami to take part in the far-right rally in Portland and appeared to be wearing body armor.
'Go back to Harlem!': Florida woman has n-word laced meltdown after bumping black woman's shopping cart
On Saturday, the Atlanta Black Star reported an incident in Florida, in which a white woman screamed racial slurs at a black woman at a Publix supermarket in Miami after their shopping carts jostled each other.
After the woman allegedly banged into Nicki Johnson's cart, she refused to apologize, saying, "I didn't hit you with my cart, and f**k you,  you f**king n****r."
Johnson whipped out her cell phone camera, and began recording the incident, saying "You, why don't you call me a n****r again?"
"You thinking I'm sorry?" snapped the woman. "Let me tell you something, I don't have to call you anything. Get away from me, I will call security and there are surveillance videos. Get away from me!"
'I'm a nurse, what are you?': Tennessee lawmaker humiliates anti-choice activists in brutal public grilling
Anti-choice activists in Tennessee were unprepared for the grilling they got from a Democratic Party lawmaker when making the case for a bill that would outlaw abortion before many women knew they were pregnant.
One of the speakers in favor of the fetal heartbeat bill was Baptist Pastor Randy Davis, who was questioned by state Sen. Katrina Robinson (D-Memphis).
"How many women executive pastors do you have in your convention?" Robinson asked Davis. "Or senior pastors."
"None," Davis replied.
"So is it the same ideology that restricts access to women being able to lead a congregation that leads you all to support women not being able to make a medical decision about their body?" Robinson asked.