A report claims koalas are 'functionally extinct' – but what does that mean?
Today the Australian Koala Foundation announced they believe "there are no more than 80,000 koalas in Australia", making the species "functionally extinct".
While this number is dramatically lower than the most recent academic estimates, there's no doubt koala numbers in many places are in steep decline.
It's hard to say exactly how many koalas are still remaining in Queensland, New South Wales, Victoria, South Australia and the Australian Capital Territory, but they are highly vulnerable to threats including deforestation, disease and the effects of climate change.
Once a koala population falls below a critical point it can no longer produce the next generation, leading to extinction.
---


Read more:
Koalas sniff out juicy leaves and break down eucalypt toxins – it's in their genome


---
What does 'functionally extinct' mean?
The term "functionally extinct" can describe a few perilous situations. In one case, it can refer to a species whose population has declined to the point where it can no longer play a significant role in their ecosystem. For example, it has been used to describe dingoes in places where they have become so reduced they have a negligible influence on the species they prey on.
Dingoes are top predators, and therefore can play a significant role in some ecosystems. Our innocuous, leaf-eating koala cannot be considered a top predator.
For millions of years koalas have been a key part of the health of our eucalyptus forests by eating upper leaves, and on the forest floor, their droppings contribute to important nutrient recycling. Their known fossil records date back approximately 30 million years so they may have once been a food source for megafauna carnivores.
Functionally extinct can also describe a population that is no longer viable. For example in Southport, Queensland, native oyster reef beds are functionally extinct because more than 99% of the habitat has been lost and there are no individuals left to reproduce.
Finally, functionally extinct can refer to a small population that, although still breeding, is suffering from inbreeding that can threaten its future viability. We know that at least some koala populations in urban areas are suffering in this way, and genetic studies on the Koala Coast, located 20kms south-east of Brisbane, show that the population is suffering from reduced genetic variation. In South East Queensland, koalas in some areas have experienced catastrophic declines
---


Read more:
Safe passage: we can help save koalas through urban design


---
We also know that koala populations in some inland regions of Queensland and New South Wales are affected by climate extremes such as severe droughts and heatwaves and have declined by as much as 80%.
Exhaustive multi-disciplinary koala research continues apace in an effort to find ways of protecting wild koala populations and ensuring that they remain viable now and into the future. Habitat loss, population dynamics, genetics, disease, diet and climate change are some key areas being studied.
How many koalas are there?
Koala researchers are often asked "how many koalas are in the wild?" It's a hard question to answer. Koalas are not stationary, are patchily distributed throughout an extremely wide range encompassing urban and rural areas in four states and one territory, and are usually difficult to see.
To determine whether each population of koalas scattered across eastern Australia is functionally extinct would require a gargantuan effort.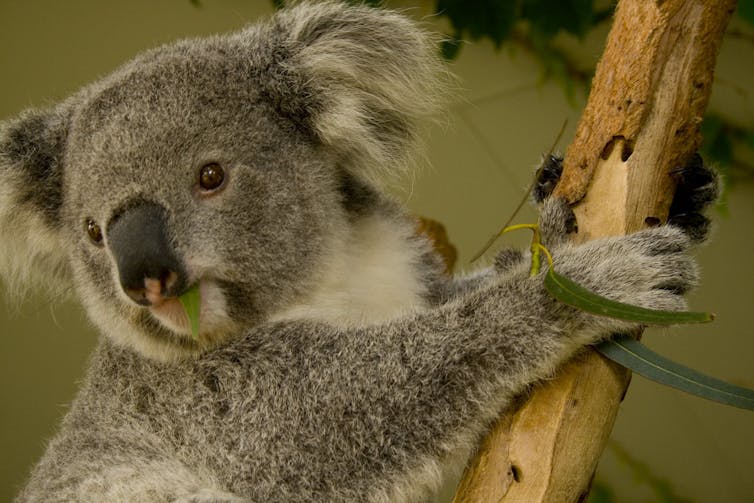 In 2016, in an attempt to determine population trends for the koala within the four states, a panel of 15 koala experts used a structured, four-step question format to estimate bioregional population sizes of koalas, and changes in those sizes.
The estimated percentage of koala population loss in Queensland, New South Wales, Victoria and South Australia was 53%, 26%, 14% and 3%, respectively. The estimated total number of koalas for Australia was 329,000 (within a range of 144,000–605,000), with an estimated average decline of 24% over the past three generations and the next three generations.
Since May 2012, koalas have been listed as vulnerable in Queensland, New South Wales and the Australian Capital Territory because populations in these regions have declined significantly or are at risk of doing so.
In the southern states of Victoria and South Australia, koala populations vary widely from abundant to low or locally extinct. Although not currently listed as vulnerable, these koalas are also experiencing a range of serious threats, including low genetic diversity.
To date, the present "vulnerable" listing has not achieved any known positive results for koala populations in Queensland and New South Wales. In fact, recent research invariably shows the opposite.
---


Read more:
Koalas can learn to live the city life if we give them the trees and safe spaces they need


---
This is because the key threats to koalas remain, and are mostly increasing. The primary threat is habitat loss. Koala habitat (primarily eucalyptus woodlands and forests) continues to rapidly diminish, and unless it is protected, restored, and expanded, we will indeed see wild koala populations become "functionally extinct". We know what comes after that.

Christine Adams-Hosking, Honorary Research Fellow, The University of Queensland
This article is republished from The Conversation under a Creative Commons license. Read the original article.
How Teach for America evolved into an arm of the charter school movement
When the Walton Family Foundation announced in 2013 that it was donating $20 million to Teach For America to recruit and train nearly 4,000 teachers for low-income schools, its press release did not reveal the unusual terms for the grant.
Documents obtained by ProPublica show that the foundation, a staunch supporter of school choice and Teach For America's largest private funder, was paying $4,000 for every teacher placed in a traditional public school — and $6,000 for every one placed in a charter school. The two-year grant was directed at nine cities where charter schools were sprouting up, including New Orleans; Memphis, Tennessee; and Los Angeles.
Why do conservatives hate Oberlin College so much?
When I was an undergraduate at Oberlin in the mid-Aughts, there was a student in my class year who was obsessed with 19th-century British Royal Naval culture. Every Friday evening, he would host a sing-along in a dorm lounge, for which he would bring xeroxes of historical sea shanty lyrics and pass them around so that we could sing along, waving our glasses of "grog." This was a semi-established event — he had distributed flyers around campus advertising the weekly British Royal Naval sea-shanty singalong and grog-drinking event, which would extend late into the night. Though he was not a resident of the dorm where it took place, he was welcomed into the lounge by its members, and became a fixture of sorts.Like many well-endowed liberal arts schools in rural areas, Oberlin College functions as a sort of de facto social welfare state, and is designed to encourage and cultivate one's passions, even if they are not strictly academic. Thus, after writing up a proposal for the student-run activities board, the same student, the British Royal Navy culture guy, was able to plan, organize and execute a ticketed Royal Naval Ball, held in the atrium of the science center. The event featured 20 dishes of authentic British era-appropriate cuisine, cooked by student chefs, several courses of wine and port, and a violinist present to play period-specific music. The whole affair culminated with a traditional, British partner line dance — its sole inauthenticity the fact that we didn't pay attention to our dance partners' genders the way the Brits would have.
Here are 5 reasons why 2020's down-ballot races could reshape America's future
The political press always tends to focus mostly on the marquee race for the White House but that's especially true this cycle, as Donald Trump runs for a second term. He demands attention and his antics enrage his opponents and delight his supporters in equal measure.
But national reporters risk missing the big picture by centering so much of their reporting at the top when many of the most important political battles in 2020 will take place further down the ballot.
Trump is catnip for reporters and their editors, but the dearth of coverage of downballot races didn't begin with his election. As the news media in general faces structural changes—with print circulation declining and much of their work moving into digital spaces that are more difficult to monetize--publishers have cut back on reporters assigned to the state and local government beat. Nevertheless, Trump has arguably worsened the trend by getting so much airtime— one estimate suggested that over the past four years, Trump has taken up, on average, 15 percent of the entire daily news cycle on the three leading cable networks, nearly three times what Obama did.