Boris Johnson's threat to not pay Britain's Brexit bill is dangerous for the UK economy
The frontrunner in the Conservative Party leadership contest, Boris Johnson announced that, if elected to be the UK's next prime minister, he would refuse to pay the UK's Brexit divorce bill unless better withdrawal terms are on offer from the EU. This £39 billion bill is the amount agreed to settle the UK's obligations towards the EU budget and includes future spending commitments by the EU in Britain, beyond any exit date.
Johnson's intention took most people – colleagues and EU counterparts alike – by surprise. Europe responded immediately to say that such an action would be considered a sovereign default by financial markets. While it's hard to say if this will be the legal outcome of not paying, it's safe to say it would seriously affect the UK's finances and international standing.
Not honouring payment commitments isn't something that developed countries are known for – especially not a G7 economy and leading financial centre like the UK. Not all debts are the same, however, and not all defaults have the same consequences.
Missing a payment owed by a state could technically be considered a sovereign default. But the answer as to what really happens as a result would be hidden in thousands of contractual terms and conditions and in the rules of credit reference agencies. Reneging on the Brexit divorce bill may be similar to the experience of the last developed country economy to experience a default event: Greece.
Lessons from Greece
At the end of June 2015 Greece became the first developed country in history to default to the International Monetary Fund, by failing to make a €1.5 billion payment. Before the missed payment, rating's agency Fitch had downgraded Greece, citing the country's breakdown in talks with the EU and the threat of a disorderly and permanent break from the eurozone's payment system.
Nonetheless, default to the IMF did not constitute a "sovereign default" in the eyes of rating agencies and did not trigger a series of cross-default clauses on the country's other outstanding debt. So if the Greeks got away with it, why shouldn't the UK?
Unlike frequent attempts to explain state finances through the lens of home economics, a nation's balance sheet is not like one's personal bank account. Nations owe large sums to a variety of private and institutional creditors, and this is normal. It is also normal to run significant budget deficits and finance a large volume of public debt.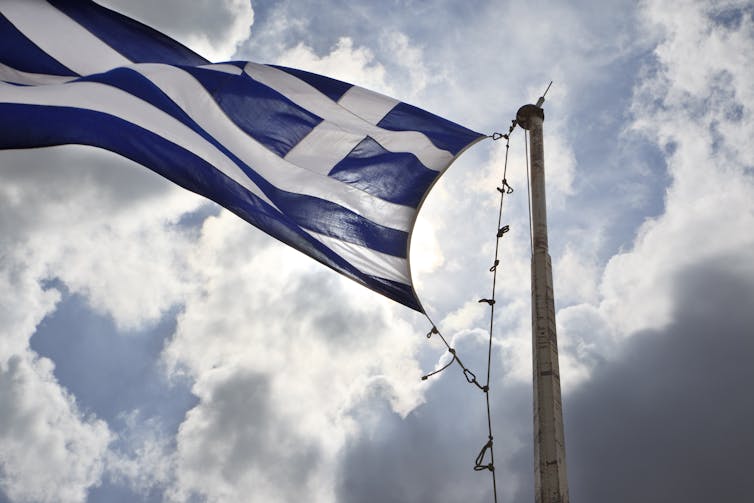 General UK government gross debt was £1,837.5 billion at the end of 2018, equivalent to 86.7% of its gross domestic product (GDP). And the UK deficit (or net borrowing) was £32.3 billion in 2018, equivalent to 1.5% of its GDP.
While these amounts sound frightening, the UK has no problem borrowing money from markets, paying a mere 1% interest on its five year bonds, for example. But these low borrowing rates are a consequence of the UK's good credit rating, which has been largely unaffected by uncertainty over Brexit.
Junk status
Where Johnson's new government would run into trouble is that, by defaulting on its Brexit bill payment, it would likely suffer a blow to its credit rating. Greece's drop from the top to the junk status of credit ratings during 2015 led it to complete reliance on institutional lenders for its funding needs. When a country is in tense negotiations with the same institutions on which it entirely relies on for its everyday funding, you can imagine what this means in terms of negotiating power.
Whether a default on the Brexit divorce bill would merely put pressure on UK ratings, or whether it would plunge them to junk status is hard to predict. Yet, what is known is that any type of default event makes borrowing more costly, sucking funds away from public spending. This cannot be good for the UK treasury or the country.
In a worst case scenario, not paying the Brexit bill could result in a sovereign default and trigger cross-default clauses on a variety of financial products. Then the UK would face an immediate funding gap and be called to pay back immense amounts of money – this would severely hurt the economy. Just ask anyone from Argentina, which has gone through numerous defaults and is struggling to recover.
Considering that almost everyone acknowledges the difficulties created by the austerity drive of Conservative governments since 2010, it is unlikely that a sharp contraction in public spending due to borrowing difficulties would be positively received by the British public. Add to this the disruption to trade and manufacturing caused by a no-deal Brexit (which would accompany not paying the divorce bill), and the UK could face a very unpleasant Autumn indeed.

Ioannis Glinavos, Senior Lecturer in Law, University of Westminster
This article is republished from The Conversation under a Creative Commons license. Read the original article.
Trump brutally fact-checked by CNN host for lying and blame-shifting about shortages of US pandemic supplies
The morning after Donald Trump held yet another coronavirus press conference where he said that the country is about to enter into a week with a sharp increase in COVID-19 deaths, CNN's Victor Blackwell brutally dissected the president's lies that the government is helpless because of a shortage of medical supplies because former President Barack Obama left the shelves bare.
Using clips of the president's ever-evolving excuses and contradictions, the CNN host took apart Trump's blame-spreading.
"This morning, a fact check," the CNN host began. "Hospitals across the country are desperate to find the gowns and the gloves and the face shields. And some states have received millions of pieces of that personal protective equipment and the N95 masks from the federal government, but now President Trump says that the strategic national stockpile is nearly depleted of those supplies."
Trump faces backlash after US tries to take medical supplies intended for other countries: report
As the coronavirus pandemic continues to inflict misery all around the world, officials in the United States and other countries realize that they will need a plentiful supply of respirators and personal protective equipment (PPE) such as N-95 masks and latex surgical gloves. And the U.S., according to The Guardian, is 
competing with other countries
 when it comes to obtaining those items.An article published in The Guardian on Friday and written by four different reporters (Orée-de-Puisaye, Oliver Holmes, Bethan McKernan and Lorenzo Tondo) describes the type of competition taking place. At an airport in Shanghai, China, for example, some masks were about to be shipped to France — a country that has been hit hard by the pandemic (John Hopkins University in Baltimore reported more than 5300 coronavirus-related deaths in France, as of early Friday afternoon). But according to The Guardian, U.S. buyers showed up and offered three times what France had offered to pay for the masks.French politician Jean Rottner, president of the Regional Council of Grand Est, told The Guardian, "On the tarmac, they arrive, get the cash out.… So, we really have to fight." And Rénaud Muselier, another French official, told France's BMFTV, "The icing on the cake: there is a foreign country that paid three times the price of the cargo on the tarmac."
Two missing members of Kennedy family now presumed dead
Two members of the Kennedy political dynasty, including a grand-niece of John F. Kennedy, are now presumed dead after they went missing during a canoe trip, the family said Saturday.
It looks to be the latest chapter of heartbreak for a family that has suffered tragedy after tragedy, in the form of untimely deaths, since President Kennedy himself was assassinated in Dallas in 1963.
This time it involves a grand-niece of the late president, Maeve Kennedy McKean, 40, and her eight-year-old son Gideon. They disappeared Thursday while canoeing in the South River in Maryland, near the vast Chesapeake Bay, Governor Larry Hogan said Friday.