Why tyranny could be the inevitable outcome of democracy
Plato, one of the earliest thinkers and writers about democracy, predicted that letting people govern themselves would eventually lead the masses to support the rule of tyrants.
When I tell my college-level philosophy students that in about 380 B.C. he asked "does not tyranny spring from democracy," they're sometimes surprised, thinking it's a shocking connection.
But looking at the modern political world, it seems much less far-fetched to me now. In democratic nations like Turkey, the U.K., Hungary, Brazil and the U.S., anti-elite demagogues are riding a wave of populism fueled by nationalist pride. It is a sign that liberal constraints on democracy are weakening.
To philosophers, the term "liberalism" means something different than it does in partisan U.S. politics. Liberalism as a philosophy prioritizes the protection of individual rights, including freedom of thought, religion and lifestyle, against mass opinion and abuses of government power.
What went wrong in Athens?
In classical Athens, the birthplace of democracy, the democratic assembly was an arena filled with rhetoric unconstrained by any commitment to facts or truth. So far, so familiar.
Aristotle and his students had not yet formalized the basic concepts and principles of logic, so those who sought influence learned from sophists, teachers of rhetoric who focused on controlling the audience's emotions rather than influencing their logical thinking.
There lay the trap: Power belonged to anyone who could harness the collective will of the citizens directly by appealing to their emotions rather than using evidence and facts to change their minds.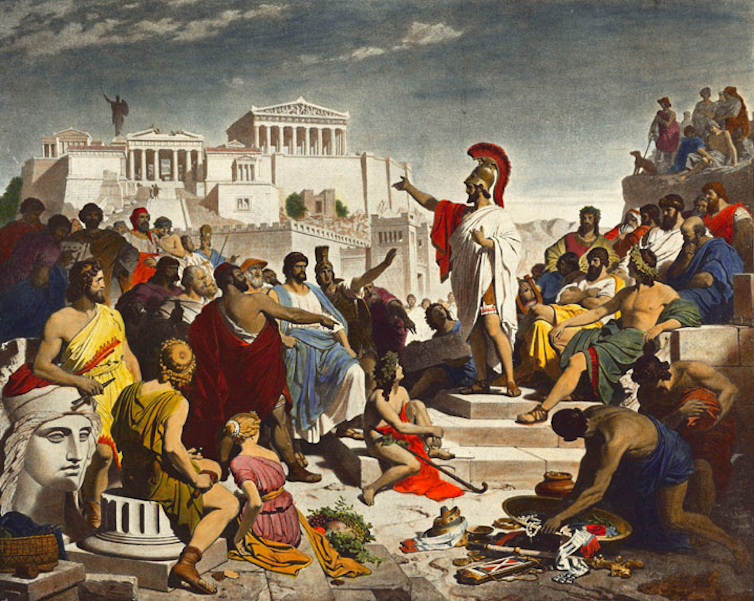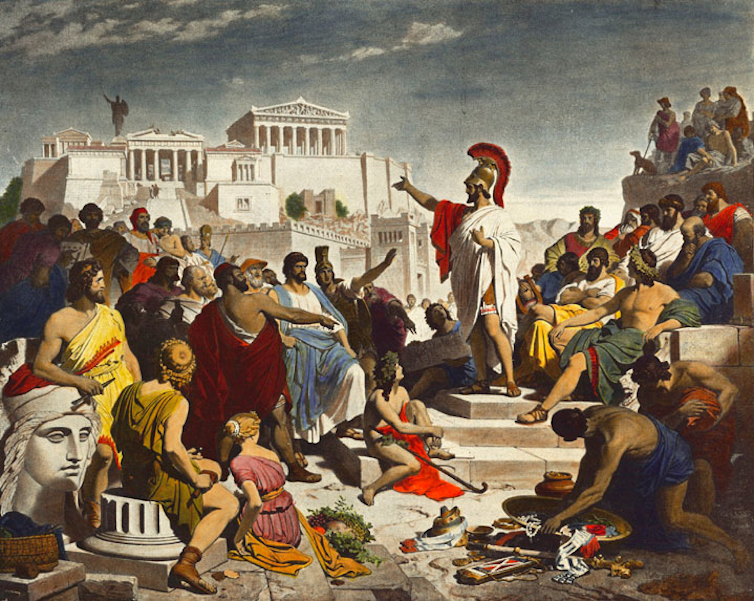 Manipulating people with fear
In his "History of the Peloponnesian War," the Greek historian Thucydides provides an example of how the Athenian statesman Pericles, who was elected democratically and not considered a tyrant, was nonetheless able to manipulate the Athenian citizenry:
"Whenever he sensed that arrogance was making them more confident than the situation merited, he would say something to strike fear into their hearts; and when on the other hand he saw them fearful without good reason, he restored their confidence again. So it came about that what was in name a democracy was in practice government by the foremost man."
Misleading speech is the essential element of despots, because despots need the support of the people. Demagogues' manipulation of the Athenian people left a legacy of instability, bloodshed and genocidal warfare, described in Thucydides' history.
That record is why Socrates – before being sentenced to death by democratic vote – chastised the Athenian democracy for its elevation of popular opinion at the expense of truth. Greece's bloody history is also why Plato associated democracy with tyranny in Book VIII of "The Republic." It was a democracy without constraint against the worst impulses of the majority.

Lawrence Torcello, Associate Professor of Philosophy, Rochester Institute of Technology
This article is republished from The Conversation under a Creative Commons license. Read the original article.
The View's Meghan McCain turns on Fauci after blaming him for resurgence of COVID-19 — then gets schooled by Whoopi Goldberg
"The View's" Meghan McCain confessed that she has "turned" on Dr. Anthony Fauci.
During Thursday's show, the co-hosts addressed the new InStyle profile on Fauci, who has been barred from appearing on TV. Joy Behar loved the photo because it showed off his Italian heritage and how tough he is.
"I thank god every day that there are some adults left who are looking out for us," she said. "So, I thank Fauci. I thank even Mitt Romney for standing up when every coward in that Republican leadership has said nothing. Radio silence about every sin committed by [Trump]. I thank Chuck Schumer and Nancy Pelosi. I'm so happy there are a few adults left, and Fauci is one of them, and I want him to speak out more. Let's not -- this is worth repeating: Are you going to trust an ivy league educated epidemiologist like Fauci or somebody who tells you to drink bleach and face the sunlight to kill the virus? I mean, really."
Johnny Depp's bodyguard admits giving wrong photo to court
Johnny Depp's head of security admitted Thursday he submitted the wrong photo to court to show how the Hollywood star's ex-wife Amber Heard had abused her husband and not the other way around.
The "Pirates of the Caribbean" star is suing the publisher and executive editor of Britain's The Sun newspaper over a 2018 story calling him a "wife-beater" who had repeatedly attacked the 34-year-old model and actress.
Both sides are trying to cast the other as the villain in a rocky two-year marriage that ended in an ugly 2017 divorce and several expensive lawsuits.
But eight days of hearings in London's High Court have so far shown the couple fighting almost ceaselessly after extravagant parties filled with copious amounts of drugs.
Trump 'knows he's losing' – but can't entirely fire Brad Parscale because 'he knows too much': report
President Trump demoted his campaign manager Brad Parscale as new polling shows him losing in five swing states. According to an analysis from Axios, it's a significant development because it signifies that Trump knows that he's losing.
Parscale played a large role in Trump's 2016 win as the architect of his digital strategy. According to Axios' report, there's a reason that Parscale will remain on Team Trump despite his demotion.
"Trump really can't fire Brad: He knows too much, and he built the digital infrastructure the campaign relies on," Axios states.
As Axios points out, Bill Stepien, a Trump loyalist and longtime GOP operative, will be taking Parscale's place. "Stepien worked on Trump's 2016 campaign, then was White House political director before moving to the campaign."