Scientists re-counted Australia's extinct species, and the result is devastating
It's well established that unsustainable human activity is damaging the health of the planet. The way we use Earth threatens our future and that of many animals and plants. Species extinction is an inevitable end point.
It's important that the loss of Australian nature be quantified accurately. To date, putting an exact figure on the number of extinct species has been challenging. But in the most comprehensive assessment of its kind, our research has confirmed that 100 endemic Australian species living in 1788 are now validly listed as extinct.
Alarmingly, this tally confirms that the number of extinct Australian species is much higher than previously thought.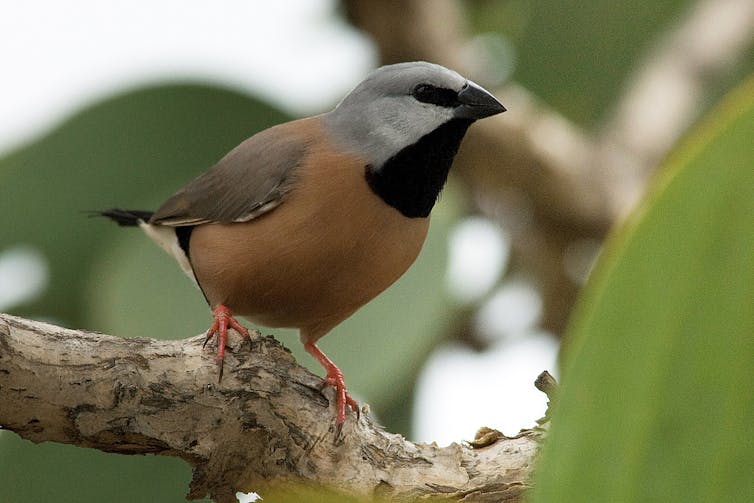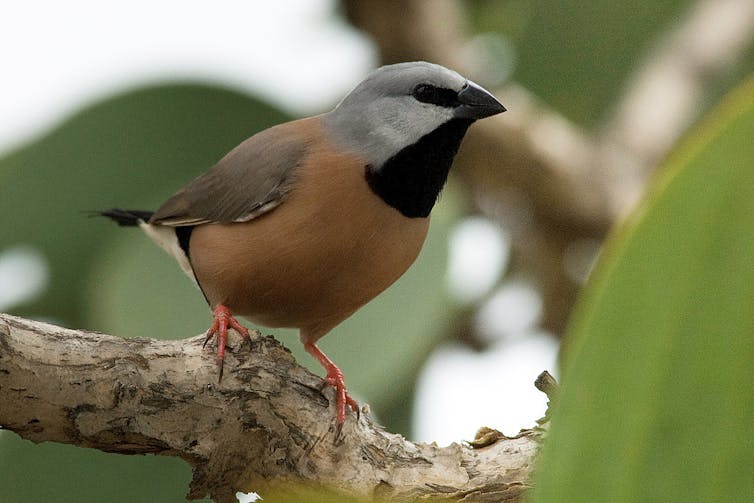 The most precise tally yet
Counts of extinct Australian species vary. The federal government's list of extinct plants and animals totals 92. However 20 of these are subspecies, five are now known to still exist in Australia and seven survive overseas – reducing the figure to 60.
An RMIT/ABC fact check puts the figure at 46.
The states and territories also hold their own extinction lists, and the International Union for Conservation of Nature keeps a global database, the Red List.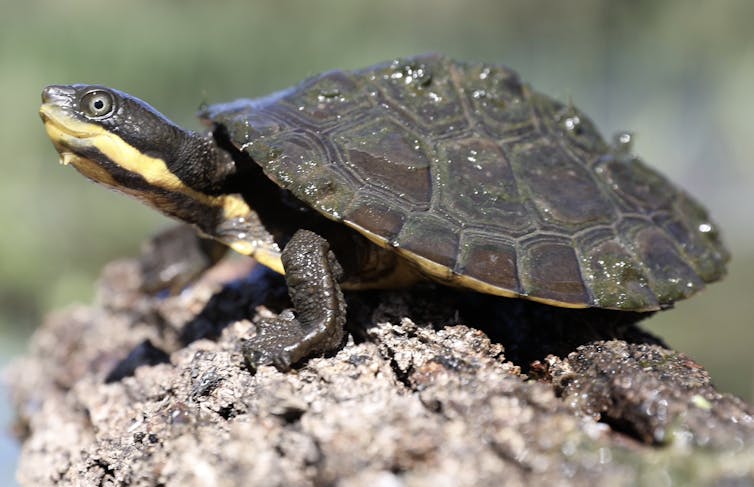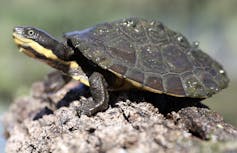 Our research collated these separate listings. We excluded species that still exist overseas, such as the water tassel-fern. We also excluded some species that, happily, have been rediscovered since being listed as extinct, or which are no longer recognised as valid species (such as the obscure snail Fluvidona dulvertonensis).
We concluded that exactly 100 plant and animal species are validly listed as having become extinct in the 230 years since Europeans colonised Australia:
38 plants, such as the magnificent spider-orchid
1 seaweed species
34 mammals including the thylacine and pig-footed bandicoot
10 invertebrates including a funnel-web spider, beetles and snails
9 birds, such as the paradise parrot
4 frogs, including two species of the bizarre gastric-brooding frog which used its stomach as a womb
3 reptiles including the Christmas Island forest skink
1 fish, the Pedder galaxias.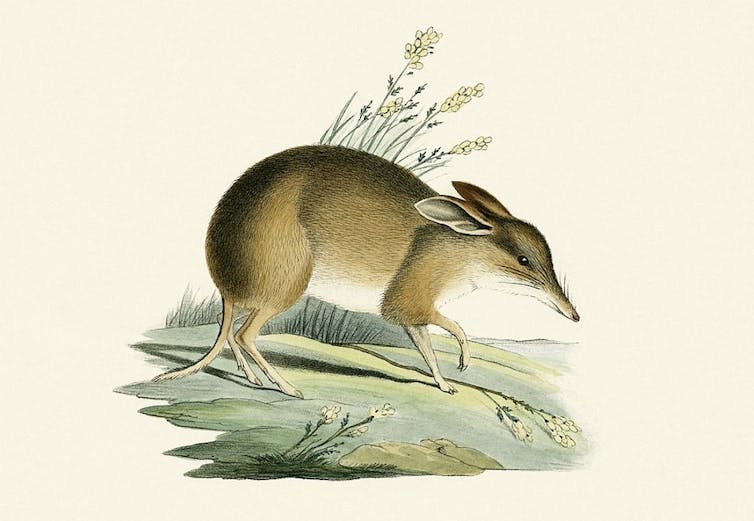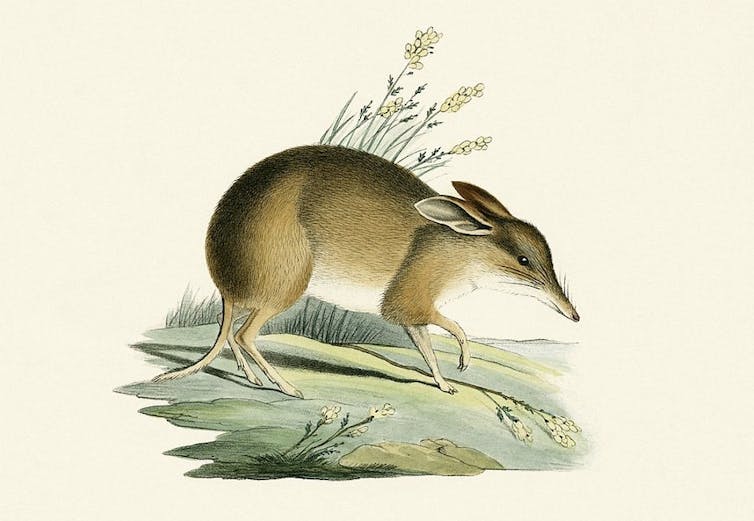 Our tally includes three species listed as extinct in the wild, with two of these still existing in captivity.
The mammal toll represents 10% of the species present in 1788. This loss rate is far higher than for any other continent over this period.
The 100 extinctions are drawn from formal lists. But many extinctions have not been officially registered. Other species disappeared before their existence was recorded. More have not been seen for decades, and are suspected lost by scientists or Indigenous groups who knew them best. We speculate that the actual tally of extinct Australian species since 1788 is likely to be about ten times greater than we derived from official lists.
And biodiversity loss is more than extinctions alone. Many more Australian species have disappeared from all but a vestige of their former ranges, or persist in populations far smaller than in the past.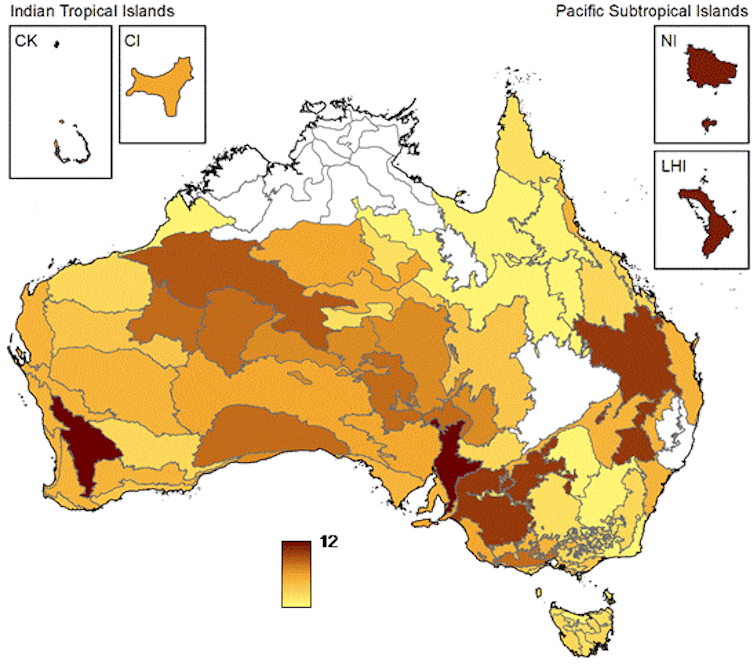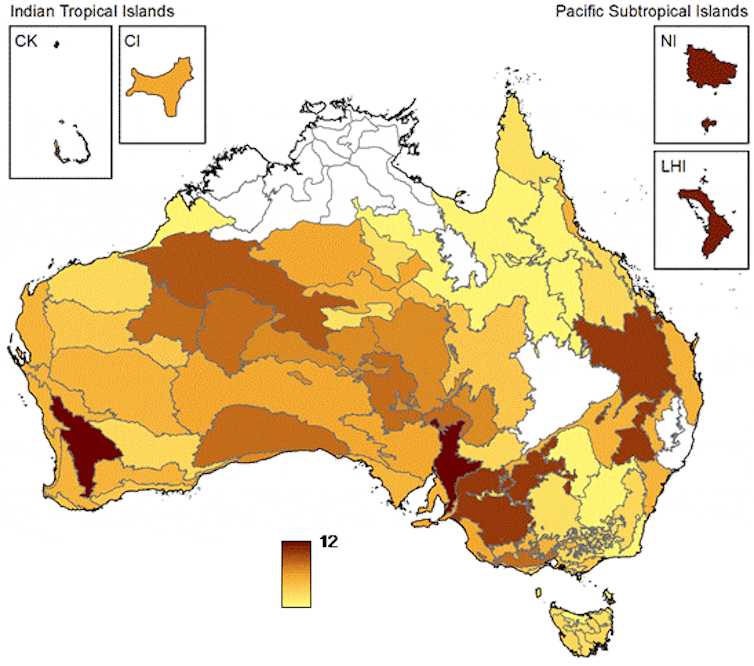 Dating the losses
Dating of extinctions is not straightforward. For a few Australian species, such as the Christmas Island forest skink, we know the day the last known individual died. But many species disappeared without us realising at the time.
Our estimation of extinction dates reveals a largely continuous rate of loss – averaging about four species per decade.
Continuing this trend, in the past decade, three Australian species have become extinct – the Christmas Island forest skink, Christmas Island pipistrelle and Bramble Cay melomys – and two others became extinct in the wild.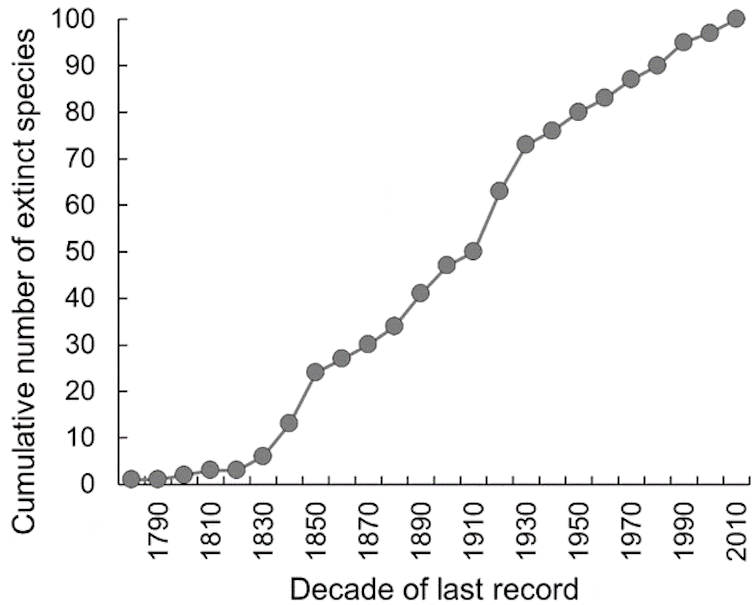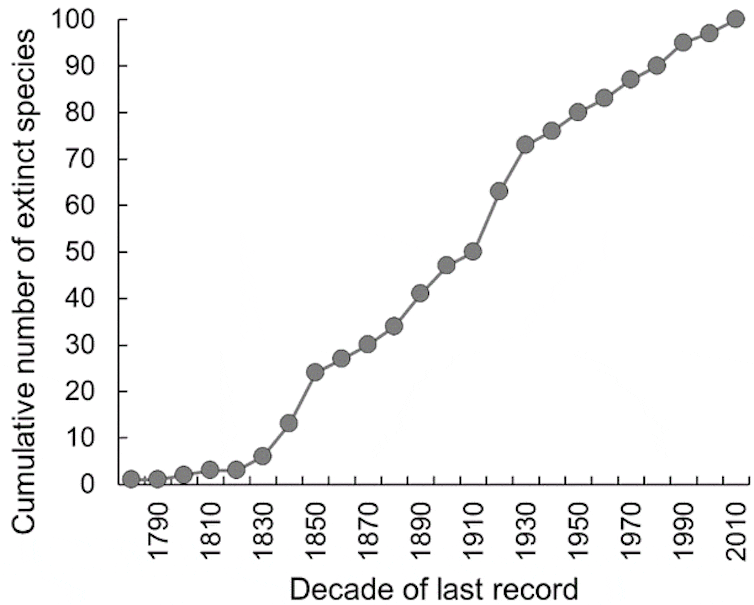 The extinctions occurred over most of the continent. However 21 occurred only on islands smaller than Tasmania, which comprise less than 0.5% of Australia's land mass.
This trend, repeated around the world, is largely due to small population sizes and vulnerability to newly introduced predators.
We must learn from the past
The 100 recognised extinctions followed the loss of Indigenous land management, its replacement with entirely new land uses and new settlers introducing species with little regard to detrimental impacts.
Introduced cats and foxes are implicated in most mammal extinctions; vegetation clearing and habitat degradation caused most plant extinctions. Disease caused the loss of frogs and the accidental introduction of an Asian snake caused the recent loss of three reptile species on Christmas Island.
The causes have changed over time. Hunting contributed to several early extinctions, but not recent ones. In the last decade, climate change contributed to the extinction of the Bramble Cay melomys, which lived only on one Queensland island.
The prospects for some species are helped by legal protection, Australia's fine national reserve system and threat management. But these gains are subverted by the legacy of previous habitat loss and fragmentation, and the ongoing damage caused by introduced species.
Our own population increase is causing further habitat loss, and new threats such as climate change bring more frequent and intense droughts and bushfires.
Environment laws have demonstrably failed to stem the extinction crisis. The national laws are now under review, and the federal government has indicated protections may be wound back.
But now is not the time to weaken environment laws further. The creation of modern Australia has come at a great cost to nature – we are not living well in this land.
---
The study on which this article is based was also co-authored by Andrew Burbidge, David Coates, Rod Fensham and Norm McKenzie.

John Woinarski, Professor (conservation biology), Charles Darwin University; Brett Murphy, Associate Professor / ARC Future Fellow, Charles Darwin University; Dale Nimmo, Associate professor/ARC DECRA fellow, Charles Sturt University; Michael F. Braby, Associate Professor, Australian National University; Sarah Legge, Professor, Australian National University, and Stephen Garnett, Professor of Conservation and Sustainable Livelihoods, Charles Darwin University
This article is republished from The Conversation under a Creative Commons license. Read the original article.
Tucker Carlson's ex-lead writer has a history of racist, homophobic and misogynistic social media posts
Blake Neff, the lead writer of The Tucker Carlson Show on FOX News, resigned on Friday after CNN uncovered a trove of disgustingly racist, homophobic and misogynist social media posts that Blake published under the handle "CharlesXII" on AutoAdmit (aka. XOXOhth), a largely unmoderated message board used by lawyers and law school students.
Among Neff's most telling posts are a reference to "foodie faggots," a comment stating, "Black doods staying inside playing Call of Duty is probably one of the biggest factors keeping crime down," and another comment stating that Democratic U.S. House Representatives Alexandria Ocasio-Cortez, Ilhan Omar, Ayanna Pressley, and Rashida Tlaib, all women of color, want to "MAKE YOUR COUNTRY A DUMPING GROUND FOR PEOPLE FROM THIRD WORLD SHITHOLES."
Supreme Court decision on Trump's taxes handed Democratic lawmakers a powerful new weapon: law professor
According to a law professor writing for Politico, Donald Trump earned a small victory this past week when the Supreme Court did not allow Congress to have his tax returns that prosecutors in New York will receive, but it did set a precedent for more Congressional power over the president that can be used in further conflicts.
In her column for Politico, Kimberly Wehle of the University of Baltimore School of Law, wrote that "Congress emerged with more clarity about its oversight powers, and how to enforce them, than it had before the Supreme Court weighed in," in its 7/2 decision.
Trump campaign workers ducking wearing masks over fears of mockery: 'You get made fun of'
According to Politico, Trump campaign officials at the re-election headquarters in Arlington, Virginia are too embarrassed to follow the president's own CDC guidelines about wearing masks and practicing physical distancing — because the president himself has done so much to politicize the coronavirus pandemic.
"The campaign's headquarters — located on the 14th floor of an Arlington, Va., office building that shares space with multiple businesses — is normally packed with dozens of staffers, often sitting in close proximity to conduct phone calls and other urgent campaign business, said three people with knowledge of its operations," wrote Dan Diamond. "But the office was shut down for its first deep cleaning in weeks after a senior campaign official tested positive for the virus. The decision to conduct the cleaning came after two months of flouting the Trump administration's own public health guidance: There are no face coverings or temporary barriers between desks at headquarters, and leaders have limited efforts to implement social distancing."