A coronavirus vaccine that wouldn't require a shot
As labs around the world race to develop a vaccine, my colleagues and I are trying to find a better way to deliver it than the standard, cringe-inducing shot.
I am an immunologist and dermatologist, and my colleagues and I have been working on vaccines against the very related coronaviruses that cause MERS and SARS. We were able to use the resources and systems we had already developed to very rapidly create a vaccine candidate for this new SARS-CoV-2 coronavirus that we have tested in mice.
Called the PittCoVacc vaccine, it is a simple protein vaccine that is made from a small piece of one of the virus's proteins, much like some of the flu vaccines that are now on the market.
There are currently many groups around the world working to develop a vaccine. What's different with our design is the way the vaccine is delivered to people. Rather than inject the vaccine via a traditional shot, we use a small patch which has hundreds of small needles. We hope this delivery device will be simpler to produce in large numbers and administer to people.
Band-Aid with 'microneedles'
Like traditional vaccines, our vaccine uses a small piece of the virus as an antigen, or "target" to stimulate the body's immune response to make antibodies that recognize and bind to that target on the virus.
In this case, the target is from the virus's S1 spike protein. This is the critical part of the virus that recognizes a protein receptor on our own human cells – and works much like putting the virus's key in our own cells' lock. Once the spike protein attaches to our cells, it enables the virus to enter our cells and cause the infection.
Our team at the University of Pittsburgh hopes that the antibodies our patients make after receiving the vaccine will bind to this key, and block it from fitting into the lock. That would prevent the infection.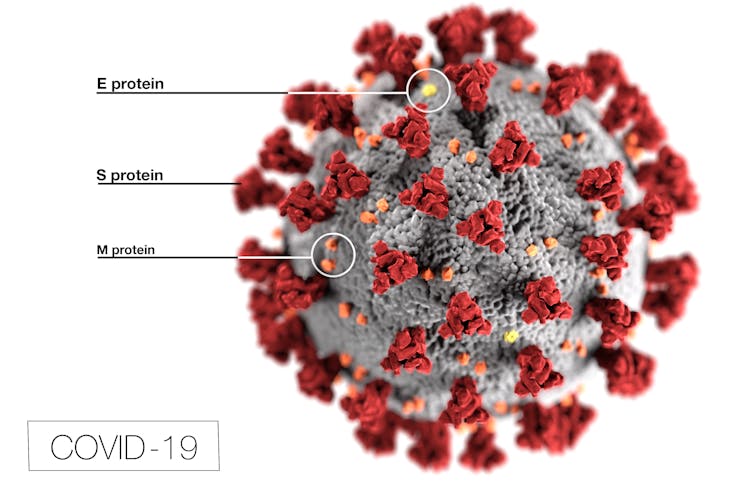 Using a simple protein antigen is common in vaccine design. What is new in this vaccine is the way we deliver that antigen: through a new delivery platform called a dissolvable microneedle array.
This is like a Band-Aid, but with hundreds of small needles, roughly the width of a human hair and just over half a millimeter in length. In this case, the microneedles are made out of a sugar-like substance mixed with the antigen.
When the vaccine patch is stuck on the skin, the microneedles poke into the skin and dissolve, releasing the antigen without causing pain or bleeding. This delivers the vaccine to a region of the skin that has specialized "scout" cells known as dendritic cells that recognize foreign invaders, and carry that information to the body's immune system factories where antibodies are made.
Potential to scale quickly
When we tested this microneedle coronavirus vaccine in mice, we saw that it helped trigger the production of many antibodies which can then respond to the target protein on the virus.
Our team of Pitt and UPMC scientists hope to be able to test this vaccine in people very soon. Our next step is to obtain approval from the Food and Drug Administration to start these clinical trials. The entire clinical testing process can take a year to 18 months in normal times. But there is nothing about this pandemic that is "normal." Very intelligent and hard-working scientists at the FDA are doing their best to assure that a vaccine which is both safe and effective will be available as soon as possible. Safety is everyone's primary concern.
The advantage of our microneedle delivery system is that it is relatively straight forward to make and uses very little antigen. That means that production can be scaled up very quickly. In addition, unlike most vaccines that need to be kept cold from when they are made until they are given to the patient, this vaccine does not require this "cold chain" and can be distributed and stored at room temperature like Band-Aids. Cutting out this cold chain – a goal researchers have been pursuing for years – reduces cost and should facilitate global vaccine distribution.
Of course, we never know how well a vaccine will work until it's tested in patients, but progress with this vaccine and others like it give us a reason for hope.
[You need to understand the coronavirus pandemic, and we can help. Read The Conversation's newsletter.]

Louis Falo, Professor of Dermatology , University of Pittsburgh
This article is republished from The Conversation under a Creative Commons license. Read the original article.
Trump is 'a soulless man with a broken mind': George Conway calls out his wife's boss in scathing op-ed
George Conway, the prominent Republican attorney married to White House counselor Kellyanne Conway, blasted his wife's boss in a new Washington Post op-ed published online on Friday evening.
"Until three brief months ago, President Trump never faced a serious crisis, at least one not of his own making. But now he has faced two, and is failing two, in short order: the covid-19 pandemic, with its concomitant economic devastation; and now social unrest, and rioting, stemming from the killing of George Floyd in Minneapolis police custody," Conway wrote. "Lacking in humanity, Trump has had no idea how to handle either one."
A historian details Trump's surprising and peculiar relationship with America's Puritan legacy
Whatever one feels about it, the 'Trump phenomenon' is often described as the US version of a populist trend that has impacted on many areas of contemporary global politics.  However, despite the global political similarities, Donald Trump's success is also rooted in a peculiarly American experience, since a very large and influential part of his support base lies among Christians of the so-called 'evangelical right'.
The presidential inauguration, in 2017, featured six religious leaders, more than any other inauguration in history.  Since then many evangelical leaders have (controversially) claimed that God has placed Trump in the White House, despite his character flaws, because he is the man who will get God's work done at this – in their  view – critical point in US and world history. As a result, the influence of evangelical Christians on American politics has never been more pronounced. From the appointment of Supreme Court judges to US relations with Israel, from support for 'The Wall' to abortion legislation, the power of this extraordinary lobby is seen in the changing politics and policies of the nation. A veritable culture war appears to be occurring over the future direction of the USA; a battle for the 'soul of America'.
Trump supporters desperately grasp at a new 'gotcha' to discredit a national social justice uprising
Unable to defend the extrajudicial killing of black people by the police or the viciousness of police assaults on peaceful protesters, conservatives are grasping desperately at a new gotcha to discredit the recent national uprisings: Liberals are a bunch of hypocrites. This time, however, it's got a coronavirus twist, as progressives are being accused of hypocrisy for supporting the protests while allegedly opposing all other social gatherings in the name of "public health."