Marjorie Taylor Green (Erin Scott/Pool/AFP)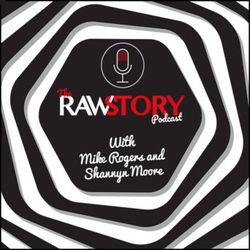 Follow us on Twitter: @rawstorypodcast
Welcome to the Raw Story Podcast! This week we welcome the man who keeps Marjorie Taylor Greene awake at night. Military veteran Marcus Flowers served in the US Army, spending time in Iraq and Afghanistan... And when he had enough of Greene's shenanigan's that he quit his job and focused on bringing sense back to the 14th district of Georgia. Mike and Shannyn talk about big stories of the day and share the Word of the Week.
Visit Marcus Flowers's Website, Twitter, and Facebook.
Listen to The Raw Story Podcast on your favorite podcast platform: Apple Podcasts, Google Podcasts, Spotify, or others.

For past episodes of The Raw Story Podcast, visit our archives here.

(The Raw Story Podcast is a production of Raw Story Media and is editorially independent from RawStory.com.)