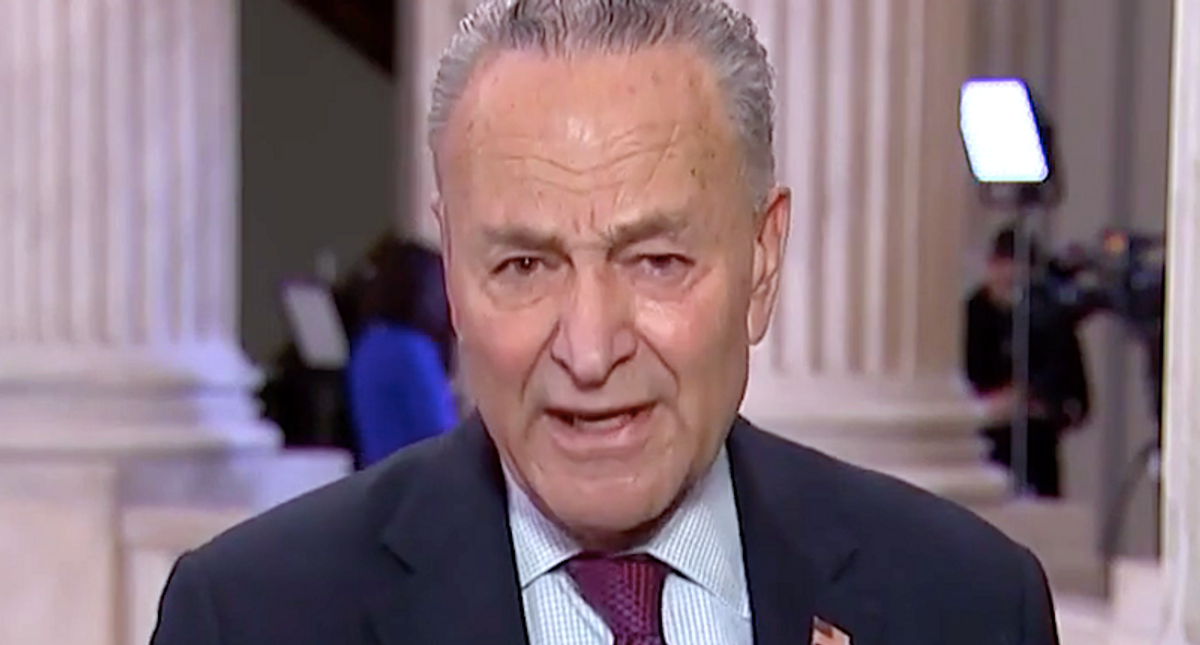 Senate Minority Leader Chuck Schumer (MSNBC)
Senate Majority Leader Chuck Schumer (D-NY) let Sen. Mitch McConnell (R-KY) know that he won't have a role in controlling the impeachment trial for President Donald Trump.
Schumer granted Republicans an extra two weeks to prepare for the trial against Trump, but the GOP took it a step further on Sunday, prompting the Democratic leader to shut McConnell down, BBC reporter Hugo Lowell reported.
"The only way to bring healing is to actually have real accountability. So we will move forward with the trial," Schumer explained.
It's a sentiment that Sen. Elizabeth Warren also expressed on CNN Sunday morning with Abby Phillip. She too, said that unity begins with accountability.
President Joe Biden's team has maintained that leaders can do more than one thing at once, legislating and doing impeachment. With 100 members in the U.S. Senate and 20 committees to navigate a transportation bill and COVID relief bill while the Senators hear the facts behind the Capitol insurrection.
Senate Majority Leader Chuck Schumer now comes down hard at GOP for standing in the way of the organizing resolutio… https://t.co/vQaRHwEcTx

— Hugo Lowell (@Hugo Lowell)1611510771.0
Senate Majority Leader Chuck Schumer trashes GOP calls to scrap Senate trial against Trump: "The only way to bring… https://t.co/JuPCmWO1nQ

— Hugo Lowell (@Hugo Lowell)1611510964.0