Pandagon is daily opinion blog covering feminism, politics, and pop culture. Come for the politics, stay for the complete lack of patience for the B.S. and bad faith coming from conservative leaders and pundits.
Don't miss stories. Follow Raw Story!
Here we go folks, the frustration of the right wing is in full flower. This one has manifested itself specifically as a defense of the hatemongering McCain/Palin crowds, excusing the behavior as equal somehow to anti-Bush or anti-Palin rhetoric out there. Judge for yourself, from "The Libertarian Conservative," who posted "Enough!" with this image: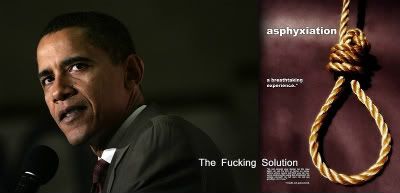 "The Fucking Solution and "Asphyxiation: a breathless experience."
It was accompanied by equally heinous text, but I didn't get a screenshot of this call for violence before the racist human garbage proprietor of Political Byline took it down. UPDATE: Glory be — the entire post is preserved up here at Washington Scandal. Read and weep.
BTW, it's clearly not because he's sorry:
I never, ever wished any harm come to Obama, at all. I was simply making a point and doing exactly what the left is doing to Sarah Palin. That is all, nothing more to see, move along…
In fact, he's actually angry that his crosspost at Say Anything was taken down (calling the moderator a coward, that's rich). Look at this – he's calling this election a war:
We're at war folks, and I intend to fight this war until my dying breath. We're at war against terrorists that want to destroy this country and everything it stands for and we are war against godless liberals who hate the very values and freedoms that this Nation was founded upon.

I will not submit to a "Political Correct" fascist agenda, which wishes to restrict my freedoms.

You have been warned.
And as for his fellow conservatives, they are simply wimps.
I will not be intimidated by Communist liberals nor Crybaby "politically correct" so-called Conservatives.
This is the America that John McCain and Sarah Palin has unleashed. When will they own it?
The state of the blogosphere conservatives has obviously tossed into disarray; the co-founder of Red State, Joshua Trevino, just blogged that he couldn't bring himself to vote for McCain at this point (he wrote in Bobby Jindal).
Maryscott O'Connor has more.
And below the fold, a Pennsylvania bigot who also wanted to own it — until the MSM cameras were on him.. Take a look at this footage by Keystoneprogress.org of the idiot with the monkey doll that I posted about yesterday. Here he's having a grand old time outside the Palin rally.

Waving the monkey doll with the Obama sticker around its head he says "This is little Hussein; little Hussein will deceive truth and good Americans." (laughs with gusto). He then waves and taunts protestors at the Johnstown, PA Palin rally with the monkey.
Later, this bigot wasn't nearly as boastful when he noticed that the MSM was videotaping him, then he took the sticker off. Too late, you SOB.
You know, the question I have is what are these people going to do if Obama wins? That scares me.
H/t Fritz, who found some additional knee-slappers from the Base.