Pandagon is daily opinion blog covering feminism, politics, and pop culture. Come for the politics, stay for the complete lack of patience for the B.S. and bad faith coming from conservative leaders and pundits.
Don't miss stories. Follow Raw Story!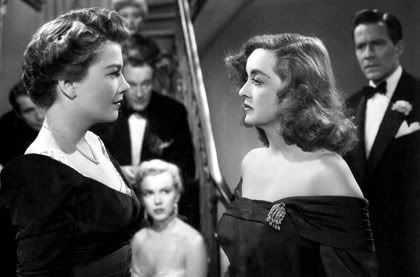 I don't know how many of you all are fans of the 1950 classic film All About Eve…
The film stars Bette Davis as Margo Channing, a highly regarded but aging Broadway star. Anne Baxter plays Eve Harrington, a willingly helpful young fan who insinuates herself into Channing's life, ultimately threatening Channing's career and her personal relationships.
It's pretty clear that the absurdity of the disintegrating McCain/Palin relationship looks remarkably like that of Margo Channing and Eve Harrington. Take this CNN article about a rally today in Polk City Florida:
At a boisterous Sarah Palin rally in Polk City, Florida on Saturday afternoon, one name was surprisingly absent from the campaign décor – John McCain's

Looking around the Fantasy of Flight aircraft hangar where the rally took place, one could see all the usual reminders that it was a pro-McCain event. There were two large "Country First" banners hung on the walls along with four enormous American flags meant to conjure the campaign's underlying patriotic theme. Many of the men and women in the audience wore McCain hats and t-shirts.

But on closer inspection, the GOP nominee's name was literally nowhere to be found on any of the official campaign signage distributed to supporters at the event.
Perhaps it's really not apt to compare the situation with the Academy Award-winning film. In this case it's more than just Bible Spice who has the knives out for the 72-year-old McCain – it looks like the GOP is an accomplice.