Pandagon is daily opinion blog covering feminism, politics, and pop culture. Come for the politics, stay for the complete lack of patience for the B.S. and bad faith coming from conservative leaders and pundits.
Don't miss stories. Follow Raw Story!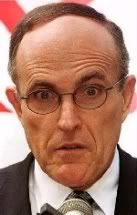 Rudy's gay friends, particularly the couple who let the former NY mayor bunk in their pad when his marriage was going south (Howard Koeppel and his partner, Mark), must think this bloviating is pathetic. (NYP):
The former mayor, in an extended interview with The Post, also predicted that Gov. Paterson's high-profile effort to legalize gay marriage would anger many New Yorkers and spark a revolt that could help sweep Republicans into office in 2010.

"This will create a grass-roots movement. This is the kind of issue that, in many ways, is somewhat beyond politics," said Giuliani, a two-term mayor who unsuccessfully sought the GOP presidential nomination last year.

"I think gay marriage will obviously be an issue for any Republican next year because Republicans are either in favor of the position I'm in favor of, civil unions, or in many cases Republicans don't even favor civil unions," he continued.
The hypocrisy is astounding. Let's just say you really want to be governor badly if you're willing to expose yourself to extreme mockery. The Post's Fredric Dicker couldn't resist.
Giuliani, who is slated to address a Republican fund-raising gala in Albany tonight in what is widely described as further proof of his interest in running for governor, said he's committed to the traditional definition of marriage.

"Marriage, I believe, both traditionally and legally, has always been between a man and a woman and should remain between a man and woman," said Giuliani, who has been married three times.
Giuliani's position looks so retro, petty, and quite frankly hilarious in its hypocrisy now, particularly in the wake of Iowa and Vermont. If he thinks he can ride this homo-hate wave into office given his well-documented history of flip-flopping all over the place on equality, he's smoking something strong.
UPDATE: His gay friends plan to marry in Connecticut, and apparently don't think Rudy's biased. Oy, Log Cabin Republican madness:
While Rudy Giuliani is waging war on gay marriage, his pals Howard Koeppel and Mark Hsaio are planning to go to Connecticut next month to tie the knot.

They see no contradiction in the ex-mayor's opposition to gay marriage and the fact he roomed with them for six months in 2001.

"Rudy doesn't discriminate. I should know. I lived with him for six months," Koeppel, 68, a car dealer, said yesterday outside his West Side apartment.

Koeppel, a Republican, said he believes that Giuliani's opposition to gay marriage stems from his religious and political beliefs, not his personal ones.
Uh, what can you say behind that? I'm still trying to take in the statement that suggests religious beliefs
aren't personal
. As one of my readers
said
: "
What the hell does that even mean? Are there some beliefs that you believe and some beliefs you don't believe??! Perhaps that makes sense to Republicans, but I only hear the crazy talking
." I'm sure you all have plenty to say…
Also:
* Flashback: Rudy Said He Would Personally Marry His Gay Roommates
* Giuliani now opposes civil unions
* Listen to lying adulterer Giuliani on OutQ radio supporting civil unions
* The homosexual agenda Rudy is running from
* Rudy flip-flops on marriage amendment — and still fails to win over Values Voters
* Pro-Rudy purge at Freeperland
* Rudy used NYPD as mistress's 'personal taxi service'