Extra…Extra…Bush Campaign Chief and Former RNC Chair Ken Mehlman: "I'm gay"
"Ken Mehlman is not gay," Steve Schmidt, a senior official of the Bush campaign and a friend of Mehlman's told Jake Tapper, an ABC News correspondent who wrote the piece for the magazine.

…One staffer tells Tapper a fact known inside the beltway but not widely reported-that some members of Congress posture as being more anti-gay than they actually are to please constituents. "We're a representative democracy," the staffer told GQ. "And while members may not have personal problems with having gay staff, they vote the way their constituents want them to."
— GQ Magazine, 2005
How quaint that quote is! This the worst kept secret in DC. I've been blogging about Ken Mehlman being gay for several years now. That he's just "coming to the conclusion fairly recently" is, to put it mildly, challenging.
Ken Mehlman, President Bush's campaign manager in 2004 and a former chairman of the Republican National Committee, has told family and associates that he is gay.

Mehlman arrived at this conclusion about his identity fairly recently, he said in an interview. He agreed to answer a reporter's questions, he said, because, now in private life, he wants to become an advocate for gay marriage and anticipated that questions would arise about his participation in a late-September fundraiser for the American Foundation for Equal Rights (AFER), the group that supported the legal challenge to California's ballot initiative against gay marriage, Proposition 8.

"It's taken me 43 years to get comfortable with this part of my life," said Mehlman, now an executive vice-president with the New York City-based private equity firm, KKR. "Everybody has their own path to travel, their own journey, and for me, over the past few months, I've told my family, friends, former colleagues, and current colleagues, and they've been wonderful and supportive. The process has been something that's made me a happier and better person. It's something I wish I had done years ago."
While it's nice that Ken has finally come out of the closet as an advocate, it's really hard to forgive him for the damage he did to the community by working actively against it for pay for years. That he can coast on the gains for our community by supporting AFER's stellar work on Prop 8 on the backs of many during his tenure at the RNC who bore the brunt of homophobia, those who died as a result of hate crimes, the activists who were assailed professionally is unbelievable. Yet here we are in 2010 watching it unfold.
As a human being Mehlman owes the community a serious apology for fomenting homophobia for political gain. This is how he addressed that point:
Mehlman acknowledges that if he had publicly declared his sexuality sooner, he might have played a role in keeping the party from pushing an anti-gay agenda.

"It's a legitimate question and one I understand," Mehlman said. "I can't change the fact that I wasn't in this place personally when I was in politics, and I genuinely regret that. It was very hard, personally." He asks of those who doubt his sincerity: "If they can't offer support, at least offer understanding."
Mike Rogers hasn't forgotten; he has awarded the former head of the RNC the Roy Cohn Award.
If I had to say what one thing really moved me to create this site it would be the 2004 reelection campaign of George W. Bush, the most homophobic national campaign in history. That campaign was run by one of the nation's worst closeted individuals, Ken Mehlman.

It's always nice to know that my reporting is validated as correct, even if the media has been hiding it for six years.

…The three people most responsible for the anti-gay actions of the Bush reelection campaign are Mehlman, Karl Rove and Bush. In addition to his role at the RNC, Mehlman served in the first Bush Administration as White House Political Director. In 2004 he was the general chairman of the Bush reelection campaign.

…In 2006, Mehlman told the New York Daily News, "I am not gay, but those stories did a number on my dating life for six months."

It's so nice to be proven right, me that is, not Ken.

If this move doesn't call for a Roy Cohn Award, I don't know what does. Ken Mehlman is horridly homophobic and no matter how orchestrated his coming out is, our community should hold him accountable for his past.
Mehlman, as is typical for quite a few gay Republicans, attempts to focus on the fact that he is not a single issue voter or activist. I find this view, particularly by someone who worked every day to make life for LGBTs in this country intolerable on so many levels, a position that is hard to defend.
He said that he plans to be an advocate for gay rights within the GOP, that he remains proud to be a Republican, and that his political identity is not defined by any one issue.

"What I will try to do is to persuade people, when I have conversations with them, that it is consistent with our party's philosophy, whether it's the principle of individual freedom, or limited government, or encouraging adults who love each other and who want to make a lifelong committment to each other to get married."

"I hope that we, as a party, would welcome gay and lesbian supporters. I also think there needs to be, in the gay community, robust and bipartisan support [for] marriage rights."
I'm willing to move forward and appreciate that change can come, no matter whether personally or politically motivated. We need both parties to be strongly pro-LGBT. Witness the ineffective, lame-ass, slow-mo "support" for LGBT rights shown by the Dems in charge (in the WH and on the Hill). The power of Mehlman's coming out and the recent desire by prominent conservatives to move away from gay-bashing in the wake of the Prop 8 ruling should concern the DNC about keeping a slice of LGBTs in the fold over the long haul.
Only time will tell if and when Mehlman and the rest of the pro-equality conservatives can truly boot the hardline anti-gay leadership — as well as show willingness to jeopardize losing the base that mans the phone banks, responds to direct mail appeals re: social issues, and uses the church to get out the vote.
I'm not certain they can do this anytime soon; we know we are going to win this fight, it's another thing for a party to turn itself around to attract the very demographic it sh*t on for years based on a few powerful homos and conservatives with little to lose and the legal wind behind their backs deciding to come out for marriage equality.
NOTE – My pad was cited by the swamps of the Free Republic today in its reactions to Ken's coming out.<
NOTE 2: Look at this shite, the twisting of history begins. The media is running from the truth – it covered for Mehlman and is trying to whitewash his record. Word's getting around on Twitter:
RT @msignorile: It's clear: Media will downplay Mehlman's role in antigay efforts to cover for their own refusal to expose his hypocrisy for years. NYT already puffing up Mehlman, claiming he "avoid[ed]" social issues (!!!), is now "working his thick Rolodex" for gays http://nyti.ms/9T85Du
The quote in question:
Mr. Mehlman was in Mr. Bush's inner circle in both presidential campaigns, and ran his campaign in 2004. But Mr. Mehlman, in his work as chairman of the Republican National Committee and as head of Mr. Bush's campaign, tended to avoid social issues, arguing that they would undercut the Republican Party's efforts to expand its appeal.
NOTE #3: From Change.org — Mehlman, as he says, is not a one-issue voter. And he proves it by supporting anti-gay Republican candidates for office. To truly show he's for equality, he's going to have to make some changes in his donation targets.
Look him up on opensecrets.org, and you'll see that Kenneth Mehlman has given money to a wide range of politicians working to take away rights for LGBT Americans.

There's $2,400 to Missouri Republican Roy Blunt, who has voted to add a marriage amendment to the U.S. Constitution banning gay marriage, as well as to ban gay adoption.

There's $2,400 to Sen. John McCain, who wants to keep gay servicemembers out of the military.

There's $1,000 to Ben Quayle, who is running for Congress in Arizona and who just labeled Barack Obama the worst President in history, and who just sent out a mailer to voters touting his opposition to marriage equality.

There's $2,400 to Illinois Republican Mark Kirk, who voted to keep "Don't Ask, Don't Tell" in place (and who himself is subject to lots of rumors about his sexual orientation).

There's $2,400 to Utah Republican Sen. Robert Bennett, who tried to stop marriage equality from becoming a reality in Washington, D.C.

And the list goes on and on and includes Republicans like Rob Portman, Kelly Ayotte, Bob Corker, Richard Shelby, and Johnny Isakson, all of whom have taken positions completely contrary to full equality for LGBT Americans.
Flashbacks – The "Best" of Ken Mehlman:
* Ken Mehlman has no fear — he's gay-baiting Harry Reid
* Closeted Heterosexual Deputy Chief of Staff Ken Mehlman?
* Ken Mehlman speaks: on "Realignment" of U.S. Politics
* Have you visited Blogactive today? (Missing Person Alert! Where is Ken Mehlman? He's been MIA since Foleygate broke. Hmmmmm.)
Ken Mehlman, practicing some 'hot moves'
Tuesday, November 29, 2005
You may want to put whatever you are drinking down before you click this link to a series of pix on Capitol Buzz, where the RNC head is showing the ladies his groovy hetero vibe in a DC bar/club called the Guards.
Reactions, including that of National Organization for Marriage's pathetic Brian Brown, are below the fold. From the Log Cabin Republicans:
"Log Cabin Republicans is very supportive and appreciative of Ken's coming out. Being gay and being conservative are not mutually exclusive," said Log Cabin Republicans Executive Director R. Clarke Cooper. "As a fellow Bush alumnus, I look forward to Ken helping me and our colleagues build a stronger and more inclusive Republican Party. Nothing presents a better argument for the equality of gay and lesbian citizens than the reality of our lives as responsible members of society. I am happy that Ken has come to a place where he can take a stand with integrity, and I welcome him as yet another conservative, common-sense voice to join with Log Cabin Republicans and all Americans in this important dialogue."

"The process of coming out, and certainly coming out in the public eye, is never an easy one, but I am glad that Ken has decided to take this step and am glad that he is doing so on behalf of the fight for equality," said former Republican Congressman Jim Kolbe. "As somebody who took my own journey and came out later in life, I have a great deal of respect for him doing this on his own terms. Ken joins a chorus that includes Laura Bush, Dick Cheney, Ted Olson, and countless others advocating for the American value of inclusion. This is not a time for playing politics; it is a time for us all to join together–Republicans and Democrats–to repeal the failed 'Don't Ask, Don't Tell' policy, to pass workplace non-discrimination, and to recognize all committed relationships. The responsibility for making this happen lies with the Democratic leadership in Congress and in the White House who set the legislative agenda."
Gay & Lesbian Victory Fund President and CEO Chuck Wolfe issued the following statement tonight regarding an announcement by the former chair of the Republican National Committee, Ken Mehlman, that he is gay:

"Coming out is a personal decision, and it can have a profound impact on families, friends, colleagues and constituents. We hope the fact that Ken Mehlman has reached this level of honesty will now encourage other political leaders to reject divisive anti-gay campaign tactics which, as Mr. Mehlman now admits, are purely cynical attempts to manipulate the American public," Wolfe said. "We look forward to the day when all political leaders, regardless of party, are able to be honest about themselves and their families, and still rise to positions where they can lead by example
GOProud:
"Poll after poll shows the most powerful thing we can do to change hearts and minds about gay issues is to come out. I applaud Ken for having the courage to take this important step. I think everyone should remember that each of us has our own personal journey as it relates to coming to terms with our own sexuality and coming out," – GOProud's Board Chairman, Christopher R Barron
National Stonewall Dems:
National Stonewall Democrats' Statement on Former RNC Chairman Ken Mehlman's Coming Out

"It is a start illustration of how damaging the closet can be when one puts ideology over personal integrity."

National Stonewall Democrats Executive Director, Michael Mitchell released this statement on the news of Ken Mehlman's coming out earlier today, "The coming out process is a very personal and sacred one, regardless of one's party, class or position of power and we're glad that Mehlman has taken the opportunity to live his life openly and authentically. It is a stark illustration, however, of how damaging the closet can be when one puts ideology over personal integrity. Mehlman presided over the Republican Party at a time when the lives of lesbian, gay, bisexual and transgender Americans were used to ill ends – marriage amendments in dozens of states, vitriolic attacks on our families, our soldiers, our very lives – all for political expediency, votes at the ballot box, and power. Imagine what a different America it would be if Mehlman had drawn a line in the sand and said, "No. The lives of fellow Americans – an American like me – should not be used in this bigoted way."

"Ultimately, Mehlman's story is a cautionary tale of the damage that can be visited on literally millions of people at the intersection of power and the closet. We recognize that this might have been a difficult decision for Mehlman. It's ironic that he had to make this decision in an environment that is even more difficult and painful because of the policies and politics overseen and sanctioned by him."

"The next chapter of Mehlman's life could be about the good that someone can accomplish when authenticity and integrity wins out. We look forward to working with Mr. Mehlman now on issues that many of us have been working on for decades."
And now…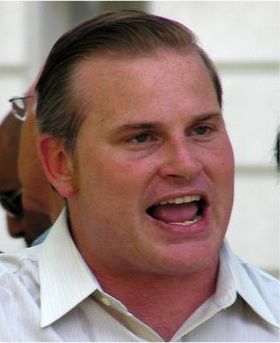 I guess it's all a matter of how you define "core," Brian. He's desperately trying to spin former RNC head and Bush campaign honcho Ken Mehlman's coming out as both insignificant and minimizing the history of the GOP in fomenting anti-gay efforts in past political cycles. (The Advocate):
Brian Brown, president of the National Organization for Marriage, told The Advocate that Mehlman was "abdicating core Republican beliefs" in his support for AFER's legal effort in challenging Prop. 8. "But it's never been about the leaders. It's always been about the people, based on an overwhelming majority of Republican voters — 85, 86 percent — who support marriage as a union between a man and a woman," he said. "That a few folks within the Republican Party are questioning a party platform and have personal positions on same-sex marriage is a reality of political parties. [Mehlman] is no longer a major party leader, so I don't know how influential he is, to be honest with you."

Marriage equality advocates, Brown said, are using high-profile conservatives now supporting marriage equality — from Ted Olson to vice president Dick Cheney — in order to "create an impression that there is an inevitability to same-sex marriage. The facts strongly go against that idea."

Brown asserted that the RNC played a limited role in rallying the anti-gay marriage vote during the 2004 presidential elections, when Mehlman served as Bush-Cheney campaign manager. Eleven states passed constitutional amendments banning marriage rights for same-sex couples that year, including Ohio, which gave Bush a margin of victory over Democratic Sen. John Kerry.

"These [amendments] were pushed by people on the state level," Brown said. "The whole notion that it was some top-down, Machiavellian ploy by the Republican Party is a farce."
Come on, Brian, you need Maggie to help you out with a better line of spin. As Mike Signorile pointed out to WorldNetDaily's unraveling Joseph Farah on the air, those polls on marriage equality are basically 50/50 and moving in the wrong direction from the fundie POV, so using that as the fig leaf for continuing the "save marriage" movement isn't going to last much longer.
And as Jesus' General Tweeted to me this evening:
@msignorile, @Pam_Spaulding, I have a feeling NOM's Brian Brown will be "abdicating core Republican beliefs" at some point.
BTW, whatever you think about Mehlman's pain-inducing past, the fundraiser for AFER is drawing big buck in for equality in the present:
Indeed, Mehlman's first act as an out gay man will be hosting an AFER fundraiser next month to help support the case, which likely carries a price tag in the millions of dollars (the group has declined to disclose exactly how much).

Although the invitations have yet to be mailed, Mehlman told The Advocate Wednesday evening that just through pre-selling the event, they had already helped to raise about $750,000.
***
Some additional thoughts on Mehlman's little coming out party…
* What does this mean for those of you out there who are still gagging about Mehlman officially "now on the team?" We are now moving into unchartered political territory, where strange political bedfellows have to decide what is in each other's best interest.
As I've noted elsewhere, I'm a fan of GOProud's positioning it needs to receive credit for making aggressive moves to point out the hypocrisy of the religious right and to take out the fakers and players like Joe Farah, who cannot stand up to real scrutiny. The fact is that LCR was working "on the inside" and never had a strong impact says more about the org than the GOP. Jimmy LaSalvia and GOProud put the org out there early and often to challenge the right wing bible beaters, and it brought on board prominent conservatives to take the lead to show you can be pro-equality and Republican.
Seeing how little the LCR accomplished when it was the only game in town and GOProud pushing in the door to break the logjam so quickly is good news for us all, despite the differences we may have on non-LGBT policy. To acknowledge that is to simply state the obvious – our rights shouldn't be a partisan endeavor; we've only had to see it that way because only one party was even making an attempt to move in the right direction. We need both parties doing so
* Does this change how you view AFER? Its success is due precisely because it addressed Prop 8 as a non-partisan issue with a conservative case for marriage to be opened to gay and lesbian couples. It's only natural that marriage equality supporters of all political stripes should be welcome to support its work.
* Accountability: Just holding a coming out PR event and raising cash for AFER does not let Mehlman off of the hook. As I mentioned in an earlier post, he has, in 2009/2010, not changed his donation pattern, still giving generously to anti-gay Republicans, ostensibly because he's "not a single issue voter."
There's $2,400 to Missouri Republican Roy Blunt, who has voted to add a marriage amendment to the U.S. Constitution banning gay marriage, as well as to ban gay adoption.

There's $2,400 to Sen. John McCain, who wants to keep gay servicemembers out of the military.

There's $1,000 to Ben Quayle, who is running for Congress in Arizona and who just labeled Barack Obama the worst President in history, and who just sent out a mailer to voters touting his opposition to marriage equality.

There's $2,400 to Illinois Republican Mark Kirk, who voted to keep "Don't Ask, Don't Tell" in place (and who himself is subject to lots of rumors about his sexual orientation).

There's $2,400 to Utah Republican Sen. Robert Bennett, who tried to stop marriage equality from becoming a reality in Washington, D.C.

And the list goes on and on and includes Republicans like Rob Portman, Kelly Ayotte, Bob Corker, Richard Shelby, and Johnny Isakson, all of whom have taken positions completely contrary to full equality for LGBT Americans.
WTF? That's got to stop pronto, Ken. As we've learned with the Dems, the only thing they respond to is withholding the dough. But perhaps this will be a slow lesson for him to learn. Use your power to support and cajole candidates who are not personally anti-equality but are not yet willing to step out from behind their curtain of anti-gay positions. That's how you can be effective. Will you take that role?
* Where do you think Ken stands on ENDA? Will he be speaking out on other issues?
* How will groups like the Human Rights Campaign, which has been tied to the Democrat booty call for years, adapt to a diversifying political landscape? What about the DNC? I'm no clairvoyant, but at some point in the not-so-distant political future, you may see a significant number of wealthy LGBT donors breaking off and going GOP if it goes socially libertarian fiscal conservative. We already have a class divide in the LGBT community that largely goes undiscussed because it's a third rail topic, but it does profoundly affectss what issues are given priority and the literal complexion of the faces of leadership. What will this mean for the movement?
No answers here, of course, just random thoughts I had as news trickled in. What are your thoughts?
There's no respite from Trump's vindictiveness and foolishness
As we know, even in the midst of a national emergency, Donald Trump could find time and bandwidth to continue his retribution campaign.
He dismissed Michael Atkinson, the inspector general for the intelligence agencies, for doing "a terrible job," satisfying his own thirst for vengeance for anyone who actually adhered to law and practice over blind loyalty to Trump himself. Indeed, asked about it the next day, Trump underscored his action by saying, Atkinson "was no Trump supporter, that I can tell you."
It was an act that we once would have labeled corruption, by Democrats and Republicans – that is using the office for personal purposes – if Congress and too many Americans had not since become inured by so many like instances.
This is how Taiwan and South Korea bucked the global lockdown trend
As the coronavirus pandemic sparks global lockdowns, life has continued comparatively unhindered in places like Taiwan, South Korea and Hong Kong after their governments and citizens took decisive early action against the unfolding crisis.
At first glance Taiwan looks like an ideal candidate for the coronavirus. The island of 23 million lies just 180 kilometres (110 miles) off mainland China.
Yet nearly 100 days in, Taiwan has just 376 confirmed cases and five fatalities while restaurants, bars, schools, universities and offices remain open.
The government of President Tsai Ing-wen, whose deputy is an epidemiologist, made tough decisions while the crisis was nascent to stave off the kind of pain now convulsing much of the rest of the world.
Republican ex-lawmaker with coronavirus scolds Wisconsin GOP for forcing voters to risk their health
On CNN Tuesday, former Rep. Charlie Dent (R-PA), who is himself dealing with a bout of COVID-19, chastised the Wisconsin GOP for doing everything in their power to block the state elections from being moved — and forcing many voters to stand in line and risk exposure to the virus to cast their ballot.
"I have to tell you, here in Pennsylvania we have a Democratic governor and Republican legislature," Dent told host Don Lemon. "They postponed the election here from April 28 until June 2. Without any controversy. Everybody agreed it was the right thing to do and they moved on. I'm surprised Wisconsin took this risk, knowing they don't have to."