3 ways to be smart on social media
This past year, many people deleted their social media accounts following revelations about privacy violations on social media platforms and other concerns related to hate speech.
As people adopt their resolutions for the year, it is likely that many more will reconsider their social media use.
However, as a scholar of social media and religion, I'd argue that rather than just stop using social media, people could use it to improve their overall well-being. Here are three ways to do so.
1. Be active
Studies have shown that there is a big difference between passive social media use and active use. Scrolling through a newsfeed and merely looking at what others have posted is considered passive social media use.
Conversely, commenting on posts, sharing articles and creating posts constitute active social media use. Research has found that actively using social networking sites can contribute to feelings of social connectedness. This can contribute to a sense of overall well-being.
On the other hand, a study found that passive Facebook use increases feelings of envy. Researchers asked participants to sit in a laboratory and passively use Facebook by only browsing and not commenting, sharing or liking content. Participants passively using Facebook were found to have an increase in their feelings of envy.
2. Focus on meaningful engagement
Social media sites allow users to engage in various types of communication. There are impersonal forms of communication such as the single click "Like" button and more personal forms of communication such as direct messaging and comments.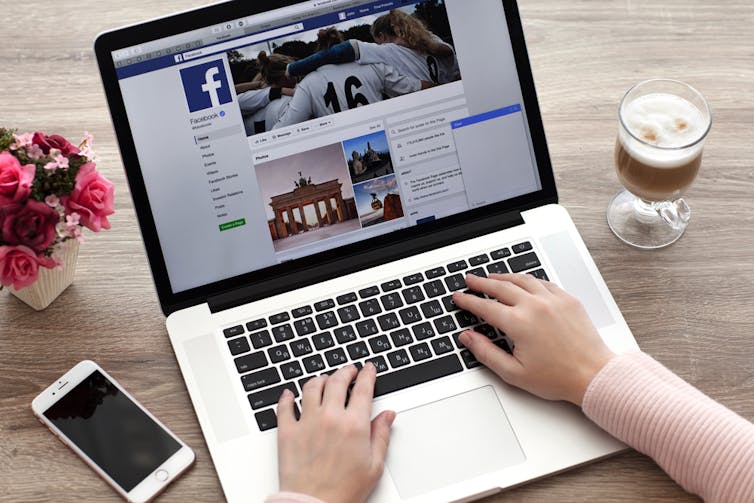 Research has found that direct communication on Facebook can have a positive psychological impact on individuals. A direct message can often lead to feelings of social support and encouragement. It has been found to be particularly helpful when people already share a connection. Direct messaging and personalized comments can provide a deeper level of engagement.
One of these studies showed that commenting on a post, instead of pressing the like button, could improve the mood of the person who made the original post. In one such example, a respondent in the study described how personalized comments, even trivial ones about funny cat videos, can result in feelings of support.
Similarly, research has shown that social networking sites can provide social support to those who have recently lost a job.
3. Use social media for professional purposes
According to researchers in Germany, Sonja Utz and Johannes Breuer, using social networking sites for professional purposes can result in "informational benefits" such as knowing what is happening in one's field and developing professional connections.
For example, these scholars found that people who use social networking sites for professional purposes report having greater access to information about timely innovations in their field than nonusers. A similar study of academics in the United Kingdom found that 70 percent of participants had gained valuable professional information through Twitter.
Researchers, however, have found that these professional benefits require active use of social networking sites. "Frequent skimming of posts," as Utz and Breuer explain, can lead to "short time benefits." What is more important, however, are "active contributions to work-related discussions."
Indeed, there are those who recommend curtailing use of social media and focusing instead on real-world relationships. But, as with everything else, moderation is vital.

A. Trevor Sutton, Ph.D. Student in Doctrinal Theology, Concordia Seminary
This article is republished from The Conversation under a Creative Commons license. Read the original article.
Jeffrey Epstein wasn't even a competent investor: report
There can be no doubt that high-powered hedge fund manager Jeffrey Epstein would rather the public know him for his prominence and success as an investor than for the allegations of child sex trafficking, for which he has now been indicted and faces life in prison. And there has for years been mystique surrounding Epstein's business — his wealth fund is so exclusive that it reportedly requires a billion dollars up front from clients.
But according to the Dow Jones' periodical Barron's, Epstein may not even be good at that.
Jon Stewart blasts 'abomination' of Rand Paul trying to 'balance the budget on the backs of' 9/11 responders
On Wednesday's edition of Fox News' "Special Report," comedian and activist Jon Stewart slammed Sen. Rand Paul (R-KY) for blocking unanimous consent for a bill to support health care for 9/11 first responders.
"Pardon me if I'm not impressed in any way by Rand Paul's fiscal responsibility virtue signaling," said Stewart to anchor Bret Baier, who appeared on the show with first responder and activist John Feal.
He added that Paul's complaint, that the bill was unfunded, rings hollow given that he "added hundreds of billions of dollars to our deficit" with the GOP tax cuts for billionaires. He castigated Paul for trying to "balance the budget on the backs of the 9/11 first responder community."
Trump supporters chant 'send her back' as president hurls racially-charged accusations at Rep. Omar
At a rally in Greenville, North Carolina, President Donald Trump on Wednesday accused Rep. Ilhan Omar (D-MN) of anti-American sentiments and speech. He said that she belittled 9/11, along with a slew of other accusations that were racially charged.
One-by-one, his rally supporters booed each thing he claimed she did or said. Then the booing turned into a chant: "Send her back! Send her back!"
Omar is an immigrant from Somalia who emigrated along with her parents when she was just 12-years-old. Her family claimed asylum from their war-torn country.
Trump said on Twitter that he believed she, along with three other Congresswomen of color, should be sent back to the countries they're from. Trump's campaign and Republicans proceeded to spend the days that followed claiming that Trump simply wanted them to leave the U.S. if they didn't like it.