3 ways to be smart on social media
This past year, many people deleted their social media accounts following revelations about privacy violations on social media platforms and other concerns related to hate speech.
As people adopt their resolutions for the year, it is likely that many more will reconsider their social media use.
However, as a scholar of social media and religion, I'd argue that rather than just stop using social media, people could use it to improve their overall well-being. Here are three ways to do so.
1. Be active
Studies have shown that there is a big difference between passive social media use and active use. Scrolling through a newsfeed and merely looking at what others have posted is considered passive social media use.
Conversely, commenting on posts, sharing articles and creating posts constitute active social media use. Research has found that actively using social networking sites can contribute to feelings of social connectedness. This can contribute to a sense of overall well-being.
On the other hand, a study found that passive Facebook use increases feelings of envy. Researchers asked participants to sit in a laboratory and passively use Facebook by only browsing and not commenting, sharing or liking content. Participants passively using Facebook were found to have an increase in their feelings of envy.
2. Focus on meaningful engagement
Social media sites allow users to engage in various types of communication. There are impersonal forms of communication such as the single click "Like" button and more personal forms of communication such as direct messaging and comments.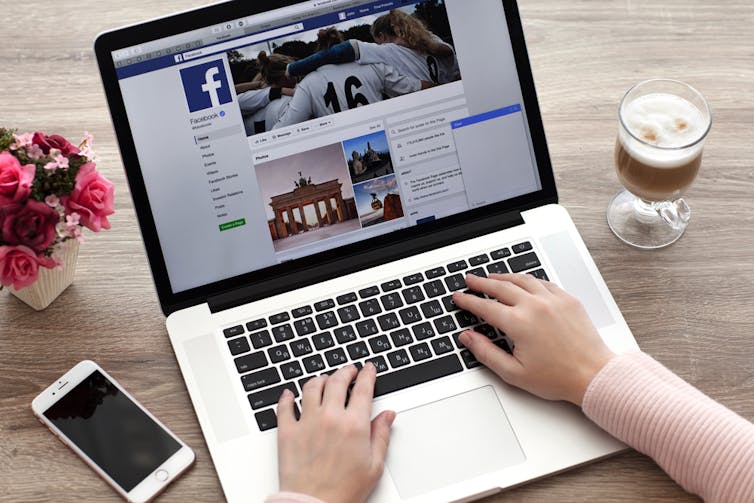 Research has found that direct communication on Facebook can have a positive psychological impact on individuals. A direct message can often lead to feelings of social support and encouragement. It has been found to be particularly helpful when people already share a connection. Direct messaging and personalized comments can provide a deeper level of engagement.
One of these studies showed that commenting on a post, instead of pressing the like button, could improve the mood of the person who made the original post. In one such example, a respondent in the study described how personalized comments, even trivial ones about funny cat videos, can result in feelings of support.
Similarly, research has shown that social networking sites can provide social support to those who have recently lost a job.
3. Use social media for professional purposes
According to researchers in Germany, Sonja Utz and Johannes Breuer, using social networking sites for professional purposes can result in "informational benefits" such as knowing what is happening in one's field and developing professional connections.
For example, these scholars found that people who use social networking sites for professional purposes report having greater access to information about timely innovations in their field than nonusers. A similar study of academics in the United Kingdom found that 70 percent of participants had gained valuable professional information through Twitter.
Researchers, however, have found that these professional benefits require active use of social networking sites. "Frequent skimming of posts," as Utz and Breuer explain, can lead to "short time benefits." What is more important, however, are "active contributions to work-related discussions."
Indeed, there are those who recommend curtailing use of social media and focusing instead on real-world relationships. But, as with everything else, moderation is vital.

A. Trevor Sutton, Ph.D. Student in Doctrinal Theology, Concordia Seminary
This article is republished from The Conversation under a Creative Commons license. Read the original article.
Donald Trump is gambling racism will win for him in 2020
Can we retire the phrases, "double-down" and "triple-down" please? Trump made them meaningless this week as he repeatedly made racist attacks on the four female Democratic members of congress who have become known as "The Squad." They are the four women who got themselves elected to congress and together represent 2.9 million Americans.
This article first appeared in Salon.
Just to put that in perspective, 15 states have populations smaller than the number represented by Alexandria Ocasio Cortez of New York, Ilhan Omar of Minnesota, Ayanna Pressley of Massachusetts, and Rashida Talib of Michigan. Trump's racist attacks on the four members of congress implied that they are not adequately "American." In fact, three of them are citizens born in this country, and one, Ilhan Omar, came here at the age of 10 and is a naturalized citizen. Trump's demand that they "go back" to their countries of origin, apart from its obvious racism, belies the fact that they symbolically represent a huge swath of the American population which Trump doesn't count among his supporters.
Stephen Miller wants zero refugee admissions in 2020 — and he might just get it
Trump adviser Stephen Miller, a hardline immigration hawk who has quietly taken over the administration's border policy, is pushing to stop all refugee admissions to the United States.
This article first appeared in Salon.
Miller allies urged the administration to slash refugee admissions to zero during a key meeting with security officials last week, Politico reported. U.S. Citizenship and Immigration Services official John Zadrozny and State Department refugee chief Andrew Veprek, whom Politico described as "proxies" for Miller, argued that the government needs to severely limit the number of refugees allowed to enter the U.S., due to unspecified "security concerns."
Trump keeps up racist attacks by promoting fan praising him for 'send her home' rally chant by his 'big and patriotic crowd'
In an early morning tweet where it appears Donald Trump is trying to have it both ways, the president writes he was not "particularly happy " with the racist "send her home" chant at his North Carolina rally, while at the same time retweeting a fan who encouraged him to make the attacks on immigrants his new 2020 campaign slogan.
The president wrote: "As you can see, I did nothing to lead people on, nor was I particularly happy with their chant. Just a very big and patriotic crowd. They love the USA!"
However the clip the president included came with the encouragement: "New Campaign slogan for #2020? 'Don't love it? Leave it!' Send her back is the new lock her up. Well done to #TeamTrump."