Remembering the US soldiers who refused orders to murder Native Americans at Sand Creek
Every Thanksgiving weekend for the past 18 years, Arapaho and Cheyenne youth lead a 180-mile relay from the Sand Creek Massacre National Historic Site to Denver.
The annual Sand Creek Massacre Spiritual Healing Run opens at the site of the Sand Creek Massacre near Eads, Colorado, with a sunrise ceremony honoring some 200 Arapaho and Cheyenne people who lost their lives in the infamous massacre. This brutal assault was carried out by Colonel John Chivington on Nov. 29, 1864.
While the Sand Creek massacre has been the subject of numerous books, much less attention has been given to two heroes of this horrific event: U.S. soldiers Captain Silas Soule and Lt. Joseph Cramer.
These were men who rejected the violence and genocide inherent in the "conquest of the West." They did so by personally refusing to take part in the murder of peaceful people, while ordering the men under their command to stand down. Their example breaks the conventional frontier narrative that has come to define the clash between Colonial settlers and Native peoples as one of civilization versus savagery.
This is a theme I've previously addressed as a scholar in the fields of American Indian studies and Colonial history, both in my book on the Indian captivity narrative genre, "Buried in Shades of Night," and more recently in writings on Sand Creek.
The letters of Soule and Cramer
Soule's noble act of compassion at Sand Creek is humbly conveyed in a letter to his mother included in the Denver Public Library Western History Collections: "I was present at a Massacre of three hundred Indians mostly women and children… It was a horrable scene and I would not let my Company fire."
Refusing to participate, Soule and the men of Company D of the First Colorado, along with Cramer of Company K, bore witness to the incomprehensible. Chivington's attack soon descended into a frenzy of killing and mutilation, with soldiers taking scalps and other grisly trophies from the bodies of the dead. Soule was a devoted abolitionist and one dedicated to the rights of all people. He stayed true to his convictions in the face of insults and even a threat of hanging from Chivington the night before at Fort Lyon.
In the following weeks, Soule and Cramer wrote letters to Major Edward "Ned" Wyncoop, the previous commander at Fort Lyon who had dealt fairly with the Cheyenne and Arapaho. Both harshly condemned the massacre and the soldiers who carried it out. Soule's letter details a meeting among officers on the eve of the attack in which he fervently condemned Chivington's plans asserting "that any man who would take part in the murders, knowing the circumstances as we did, was a low lived cowardly son of a bitch."
Describing the attack to Wynkoop, Soule wrote, "I refused to fire and swore that none but a coward would." His letter goes on to describe the soldiers as "a perfect mob."
This account is verified by Cramer's letter. Detailing his own objections to Chivington, whom he describes as coming "like a thief in the dark," Cramer had stated that he "thought it murder to jump them friendly Indians." To this charge, Chivington had replied, "Damn any man or men who are in sympathy with them."
In Soule's account, he writes, "I tell you Ned it was hard to see little children on their knees have their brains beat out by men professing to be civilized."
While few Americans – especially those living outside of Colorado – may know their names, Soule and Cramer are honored and revered by the descendants of the people they tried to save. According to David F. Halaas, former Colorado state historian and current historical consultant to the Northern Cheyenne, without their courage in disobeying Chivington's orders and keeping their men from the massacre, "the descendants probably wouldn't be around today," and there would be no one to tell the stories.
The horrific descriptions of Soule and Cramer prompted several official inquiries into the atrocity. Both men also testified before an Army commission in Colorado as witnesses. While the officers and soldiers responsible escaped punishment, their testimony brought widespread condemnation upon Chivington, who defended the massacre for the rest of his life.
These investigations also ended the political career of the Colorado territorial governor, John Evans, who had issued two proclamations calling for violence against Native people of the plains, and for organizing the 3rd Colorado Cavalry Regiment in which Chivington was placed in command.
Sites of reverence and healing
The Cheyenne and Arapaho will return to Denver this year to honor their ancestors and remember Soule's and Cramer's conscience and humanity. This will be done through an offering of prayers and blessings, along with the performance of honor songs.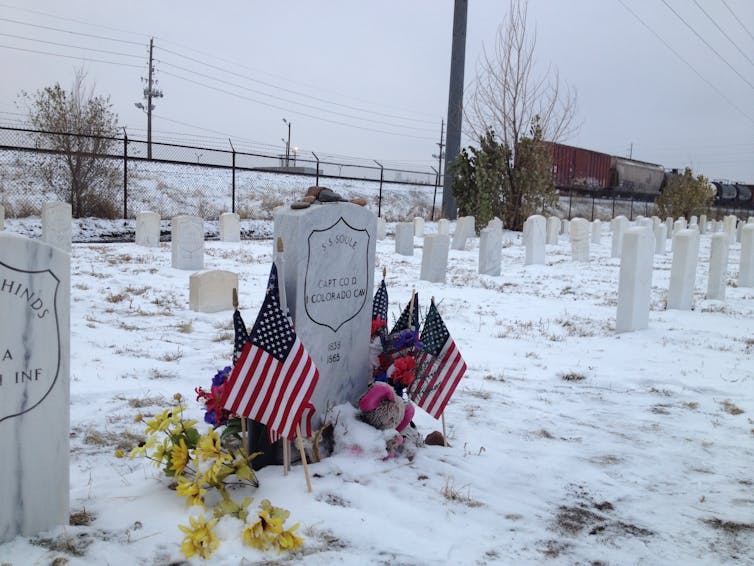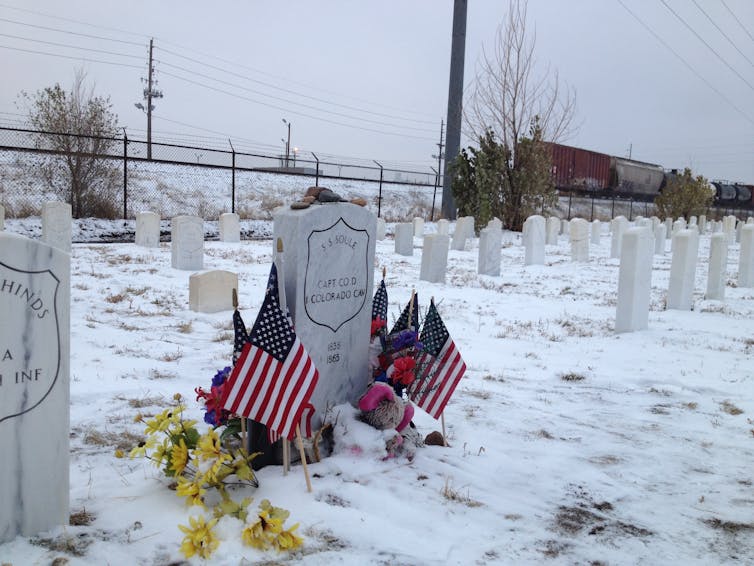 On the third and final day of the healing run, they will gather for a sunrise ceremony at Soule's flower-adorned grave at Denver's Riverside Cemetery. The participants will then continue on to 15th and Lawrence Street in downtown Denver. There, a plaque is mounted on the side of an office building at the place where Soule was murdered on April 23, 1865. His death, for which no one was ever brought to justice, occurred only two months after he testified against Chivington before the Army commission.
Over the last few decades, Soule's grave and place of death have been transformed into sacred sites of remembrance within a violent and traumatic frontier past.
The catastrophe of the Sand Creek Massacre is recognized by historians as among the most infamous events in the annals of the American West. Even now, it is the only massacre of Native people recognized as such by the U.S. government, with the land itself preserved as a national historic site for learning and reflection.
In Cheyenne and Arapaho stories, this event remains an ever-present trauma and persists as part of their cultural memory. In addition, it encapsulates the stark moment of betrayal against their ancestors and the theft of their lands.
The story of Soule's and Cramer's actions and their courage to say "no" to the killing of peaceful people at Sand Creek is an important chapter of U.S. history. I maintain that it is people like Soule and Cramer who truly deserve to be remembered through monuments and memorials, and can be a source for a different kind of historical understanding: one based not on abstract notions of justice and right, but upon the courage and integrity it takes to breathe life into those virtues.
On the 153nd anniversary of the Sand Creek Massacre, as we honor the memory of those who died at Sand Creek, may we also be inspired by the heroic actions of these two American soldiers.

Billy J. Stratton, Professor of American Literature and Culture; Native American Studies, University of Denver
This article is republished from The Conversation under a Creative Commons license. Read the original article.
CDC 'let the country down' on coronavirus testing: White House
Washington (AFP) - The White House rebuked the top US health agency on Sunday, saying "it let the country down" on providing testing crucial to the battle against the coronavirus outbreak.The Centers for Disease Control and Prevention has been under intense scrutiny since producing a faulty test for COVID-19 that caused weeks of delays in the US response.Critics have pointed out that it could simply have accepted kits made by the World Health Organization, which has been producing them since late January, instead of insisting on developing its own test."Early on in this crisis, the CDC, which ... (more…)
Pet advocates give tips on keeping pets safe from COVID-19
With the nation focused on COVID-19, the novel coronavirus that has infected more than 100,000 people that we know of and killed almost 3,500 around the world, many have become nervous about what it means for our beloved pets.The first thing to know, says Elena Bicker, executive director of Tony La Russa's Animal Rescue Foundation in Walnut Creek, is that there is no evidence that companion animals can spread the disease.There also is no evidence that pets are becoming infected, although it's wise to keep your pets away from people who have contracted COVID-19. A dog in Hong Kong apparently te... (more…)
GOP congressman confusedly asks if Trump sold wild pigs to Ukraine
Amid the flood of news Wednesday about President Donald Trump's scandal asking Ukraine to help in his election and allegedly withholding aid, one Texas congressman made a hilarious slip of the tongue.
Best slip of the tongue today," Dallas Morning News Washington Bureau Chief Todd Gillman tweeted. "[Rep. Will Hurd (R-TX)] says he wants to know if the US has, in fact, sold the "javelinas" to Ukraine. The FGM-148 Javelin is an anti-tank missile. The javelina is a nasty wild pig from Hurd's native West Texas."