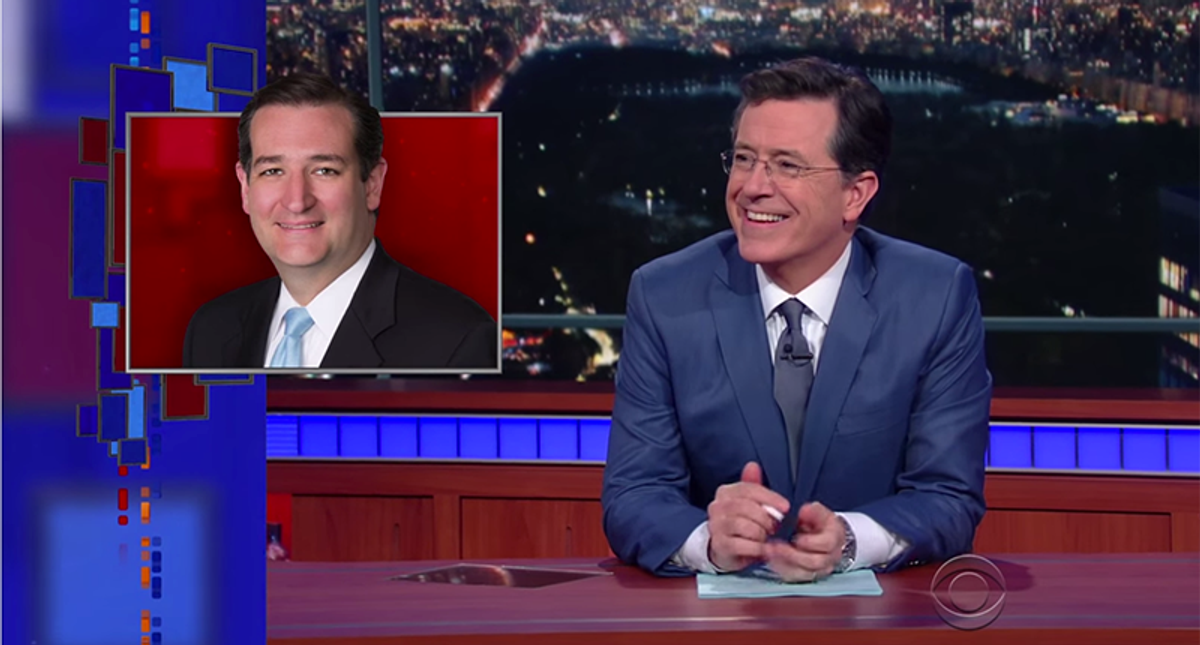 Stephen Colbert hilariously mocks Ted Cruz's New York loss (Photo: Screen capture)
If there's one thing Sen. Ted Cruz (R-TX) knows more than most, it's political theater. He has pushed a bill for term limits at the federal level that won't pass. He tried to steal the presidential election with an impossible stunt in the Senate that led to an attack on the Capitol. So, it turned Washington Post columnist Sonny Bunch to wonder, why Cruz would do something so politically foolish.
"Let's be absolutely clear," Bunch wrote, "Cruz isn't going to single-handedly fix the power grid. He's not going to climb to the top of Big Tex, the massive mascot of the Texas State Fair, and direct rebuilding efforts. But for someone with presidential aspirations — someone who wants desperately to be the commander in chief, someone whose America-first ideals form the backbone of his political identity — I cannot imagine a worse response."
While Cruz was on the beach and then racing through the Cancún airport, his former Democratic opponent, ex-Rep. Beto O'Rourke has been tweeting out places where people outside of the state can contribute help and places where those who need help around the state can go.
If you go to @BetoORourke's Twitter page, it's just completely full of constant tweets about resources and ways we… https://t.co/IeunZigrs0

— Charlotte Clymer 🏳️‍🌈 (@Charlotte Clymer 🏳️‍🌈)1613666303.0
The former congressman is also organizing wellness checks for senior citizens in the state. He recruited volunteers to conduct 150,000 wellness calls to seniors throughout the state, he said.
We made over 151,000 calls to senior citizens in Texas tonight. One of our vols talked to a man stranded at home w/… https://t.co/G9C3pTG0Yo

— Beto O'Rourke (@Beto O'Rourke)1613627841.0
Conservatives claimed that there's nothing Cruz could do anyway to help, which has been challenged by O'Rourke.
The fact that people think Ted Cruz, a United States Senator, can do anything about a state power grid, even his ow… https://t.co/MUkUE0nZzB

— Erick Erickson (@Erick Erickson)1613654335.0
"Again, it's not so much that people in Texas want Cruz to strap on a tool belt and help de-ice wind turbines and natural gas pipelines," Bunch explained. "But a key part of being a politician is understanding the world of political theater. Politics is performative. At a very basic level, the one thing that all voters want is to understand that the people they elect care about them. Constituents may not want politicians to care for them, to provide for all their needs and wants; constituents may disagree about the substantive policy choices that politicians should pursue in the hopes of helping."
He went on to write that people want to at least feel like politicians "give a damn" about them. That's never been Cruz's forte. It brings back the Iowa Caucus from 2016 when prominent Republicans, like former Sen. Bob Dole (R-KS), said that no one really likes Cruz.
Dole joined former President George W. Bush, Iowa Gov. Terry Branstad (R) and Sen. John McCain, who have all said that they don't like Cruz.