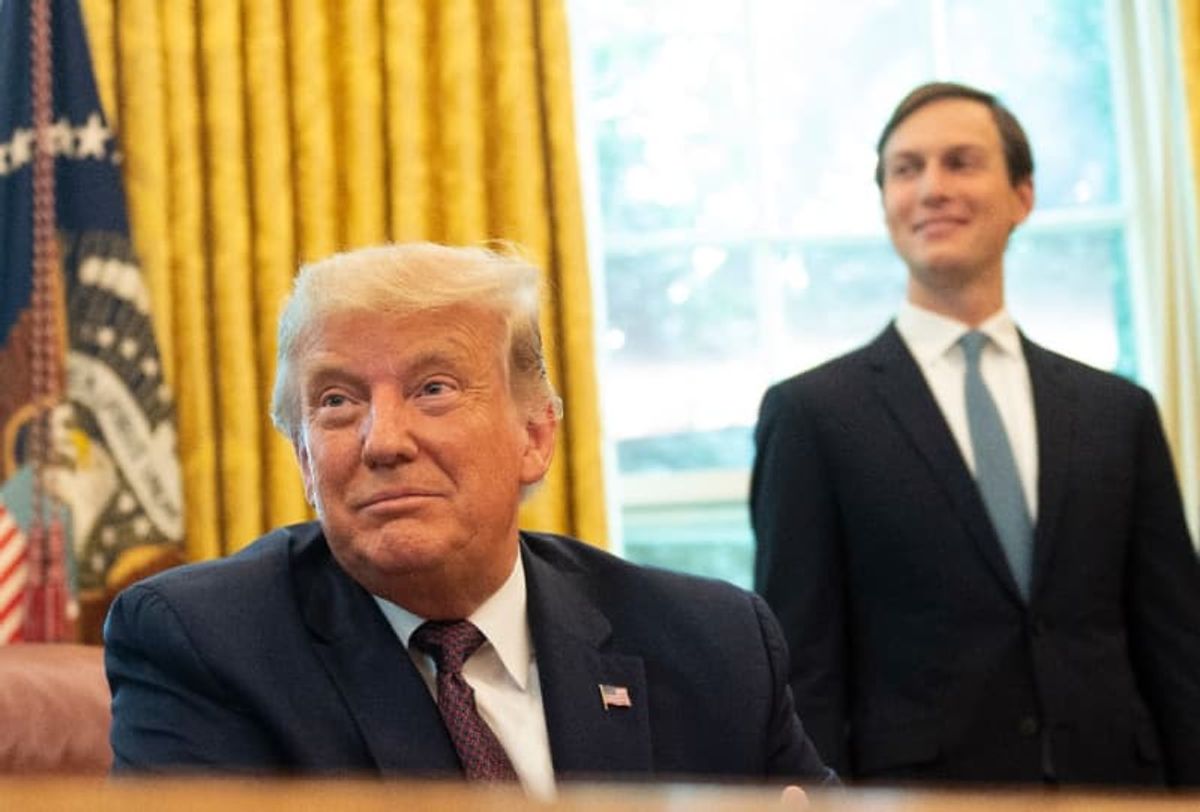 On Saturday, writing for The Daily Beast, Elizabeth Spiers zeroed in on what she considers to be one of the most "disturbing" 11th-hour pardons by former President Donald Trump: former New York Observer editor-in-chief Ken Kurson, a family friend of Trump's son-in-law Jared Kushner.
"Kurson, a longtime close friend of Jared Kushner's, had been arrested in October on charges of cyberstalking three people and harassing two in an elaborate revenge scheme to punish people he perceived as being responsible for the breakup of his marriage," reported Spiers, who held Kurson's job from 2011-2012. "Kurson, who has forcefully denied the allegations and had yet to go to trial, was one of the 74 people Donald Trump pardoned in the final hours of his presidency."
Kurson was accused of making false allegations of child molestation and infidelity against the victims under a number of pseudonyms like "Jayden Wagner" and "Eddie Train"; breaking into their social media accounts with a keystroke monitor, and taking pictures of the lobby of Mount Sinai Hospital, where one victim worked as a doctor, and making hangup calls from an internal phone system that would have required him to be inside a victims' building.
"When I first read about the charges, I was floored by the sheer amount of effort Kurson allegedly made to plot against and then pursue his victims on multiple fronts," wrote Spiers. "Then again, a lot of stalkers do this in part because it's easy to do. Anyone with an internet connection can conduct a campaign like this, and most people can do it without getting caught. Even if the perpetrators are caught, victims have very little recourse because cops and prosecutors are often ill-equipped to deal with activity of this nature, and sometimes dismissive when it's directed toward women."
A big problem with the Kurson pardon, noted Spiers, is that it gives him a green light to actively resume his behavior and put more people in danger.
Spiers continued, "On Wednesday, I spoke to Deborah Copaken" — who alleges sexual harassment by Kurson while he edited the Observer. "She ... spent inauguration day talking to two lawyers and a security expert wanting to know if she should be afraid, and asking for advice about what to do. She was waiting to hear back after emailing the FBI agent she had spoken with when Kurson was being investigated."
"Copaken hopes that being public about what she says Kurson did in the past might offer some protection if he acted the same way now," wrote Spiers. "That at least people would be more inclined to believe her. She says she's spoken since Kurson's pardon was announced to other women who allege that he harassed him, and that they have similar concerns."
You can read more here (requires subscription).