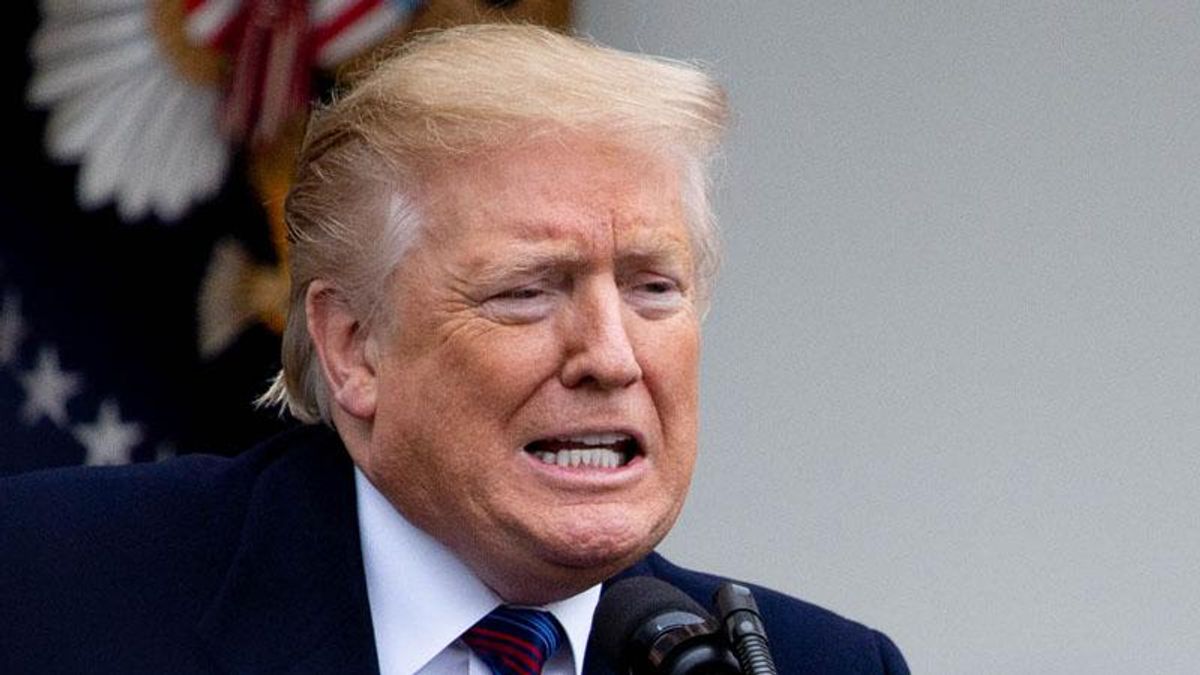 Trump speaks to the media in the Rose Garden at the White House. (Michael Candelori / Shutterstock.com)
On Monday, the hashtag #TrumpIsNotWell trended on Twitter — a trend that has made the rounds previously and been picked up by the Lincoln Project.
Commenters on social media ran with the hashtag, posting unflattering images of the outgoing president.
#TrumpIsNotWell and to think he once called himself a "young, vibrant man." pic.twitter.com/No8HbqlutP
— Scary Larry Says #ConcedeNowTrump 😡 🤬 (@StompTheGOP) December 28, 2020
#TrumpIsNotWell because he is a loser pic.twitter.com/VjmcSKZbAP
— 🇺🇸TrashRat🇺🇸 (@trashytrashrat) December 28, 2020
#TrumpIsNotWell Don't look too much into it. Trump is just a spoiled brat. pic.twitter.com/iL2OIuFesT
— The Joy of Trolling (@twelthavenue) December 28, 2020
It's obvious... #TrumpIsNotWell pic.twitter.com/xZ6iPVOSar
— Jake Lobin (@JakeLobin) December 28, 2020
#TrumpIsNotWell When the far right Christians spew prayers over him, and suddenly realize he has too many demons. pic.twitter.com/Pq0hRT15xg
— ~𝓣𝓮𝓷𝓪𝓬𝓲𝓸𝓾𝓼 𝓣𝓮𝓪𝓱~ (@TeahCartel) December 28, 2020
#TrumpIsNotWell Ya think? So who's going to stage an intervention? Because this riot he plans to incite is coming up pretty soon here.

Or...is he the kind of unwell that is useful to fascist movements, and a lot of bad people want him to carry on as he is?
— 🆘Rev Magdalen | Protect the Results (@revmagdalen) December 28, 2020
#TrumpIsNotWell, but lucky for him, just over three weeks to retirement! pic.twitter.com/wHLOh0NosG
— 🇺🇸TrashRat🇺🇸 (@trashytrashrat) December 28, 2020
#TrumpIsNotWell because he's about to become IRRELEVANT again lol! pic.twitter.com/KTbwZE06Xw
— tRUMP Virus! (@BaracksTanSuit) December 28, 2020
#TrumpIsNotWell

WHO, ME ? I'M JUST AFRAID OF THE OUTSIDE ! pic.twitter.com/1P4DmjfTd9
— Mt. Man (@MtMan85555381) December 28, 2020
Trump #TrumpIsNotWell : The Sharpie Chronicles pic.twitter.com/GQXQ7nFZoF
— cov (@911covfefe) December 28, 2020
He's not looking too good.#TrumpIsNotWell pic.twitter.com/rQGpPZotPE
— Jay Brumit 🏴☠️ Onto Georgia Warnock/Ossoff (@BrumitJay) December 28, 2020