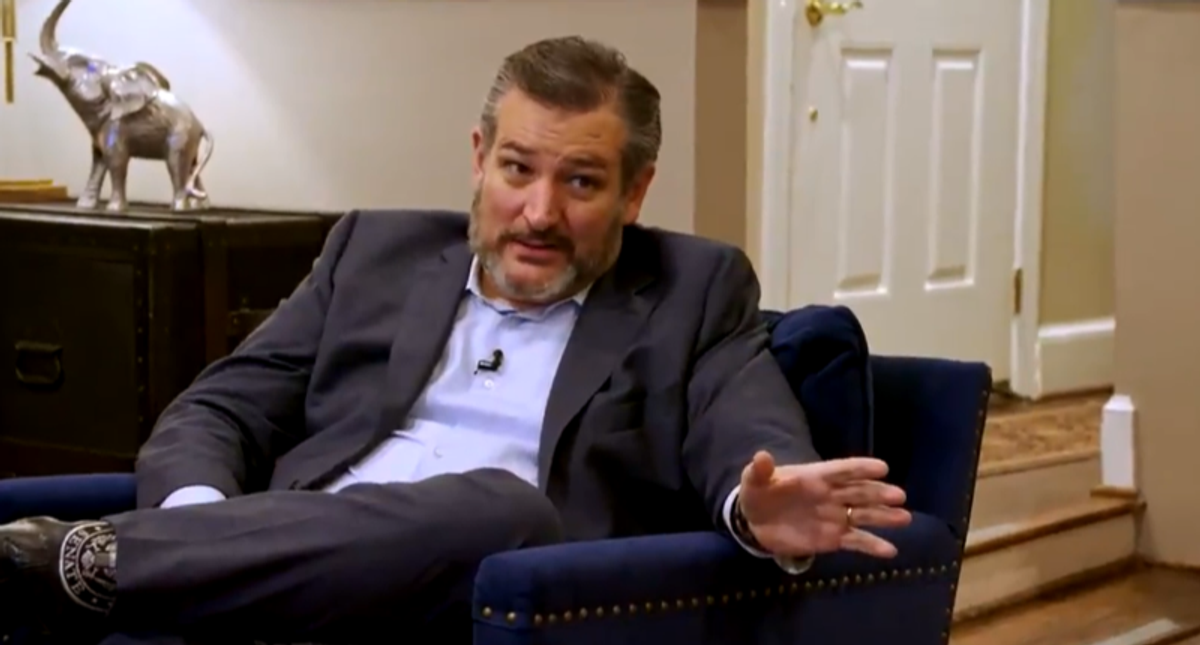 Sen. Ted Cruz. (Image via Twitter/Axios).
According to a report from the New York Times, Congressional lawmakers are finding the national media landscape in a post-Donald Trump presidency much more difficult to manage with the controversial ex-president no longer dominating the headlines and creating outrage on Twitter.

Before his ouster from Twitter -- and then from the White House -- Trump used up all the oxygen in the room with his antics, which allowed GOP lawmakers who made controversial claims or politically damaging missteps of their own disappear from the headlines almost immediately after Trump pulled another stunt or went off on a Twitter tirade.

Case in point, the Times' Lisa Lerer writes, is Texas Sen. Ted Cruz's Cancun vacation debacle which has dominated the airwaves after the Republican was busted for fleeing the winter storm in his home state while constituents lost power and water -- and then deaths began to mount.

Writing, "With millions of Texans freezing in their homes, Senator Ted Cruz fled to a Mexican beach, offering his constituents little more than the political cliché of wanting to be a 'good dad,'" the Times reports that Cruz -- along with fellow Texas Republicans Gov. Greg Abbott and former Gov Rick Perry became national punching bags for their failures related to the crisis.

With Trump mostly keeping to himself at his Mar-a-Lago resort, the three lawmakers are still being pummeled.

"For much of the past six years, former President Donald J. Trump has dominated the political conversation, prompting days of outrage, finger-pointing and general news cycle havoc with nearly every tweet. The audacious behavior of other politicians was often lost amid Mr. Trump's obsessive desire to dominate the coverage," Lerer wrote. "Well, the former president has now gone nearly silent, leaving a Trump-size void in our national conversation that President Biden has little desire to fill. That's been a rude awakening for some other politicians, who find themselves suddenly enmeshed in controversy that isn't quickly subsumed in a deluge of Trump news."

As the Time reports notes, current lawmakers may "pay a significant political price for their actions" that they haven't had to worry about for the previous four years -- knowing Trump would likely ride to their rescue with a new controversy.

You can read more here.