Tired of ads? Want to support our progressive journalism? Click to learn more.
GO AD-FREE FOR $1

Thanks for your support!
This article was paid for by reader donations to Raw Story Investigates.
This article was paid for by Raw Story subscribers. Not a subscriber? Try us and go ad-free for $1. Prefer to give a one-time tip? Click here.
What happens when you land your dream job but it turns out to be anything but.
Friends, career consultants and the media inundate us with a constant barrage of advice telling us to follow our dreams, find our bliss or pursue our passions in our professional lives. Yet this kind of advice is not always easily followed.
Even when it's heeded, the advice can come with downsides, especially when it turns out that those aforementioned passions involve jobs with routine, day-to-day tasks that people are less than passionate about. In short, work is often hard work.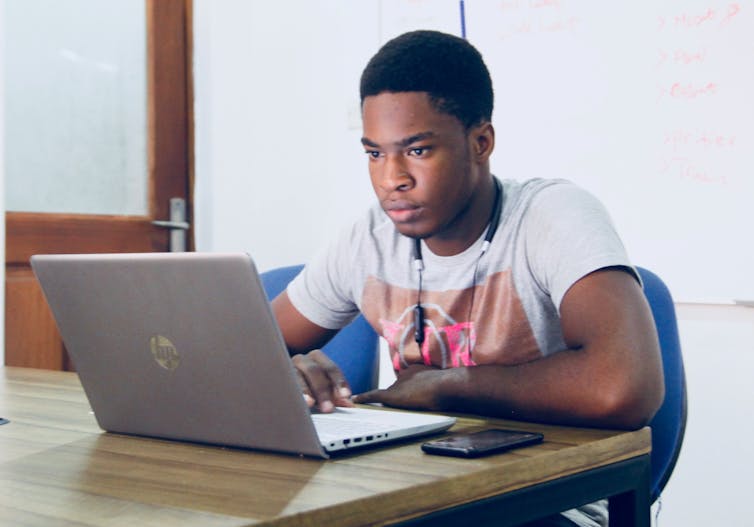 We're told to follow our passions in our careers. But what happens when the job you've clamoured for is mired in drudgery?
(Unsplash)
People land jobs in data science and artificial intelligence, for example, expecting to create brilliant algorithms that will solve big problems. But they often end up performing menial data collection and cleaning tasks. The excitement of working for a startup loses its lustre with difficult and boring work often outside an employee's primary areas of interest.
CONTINUE READING
Show less
Gaza militants have launched their
"Sword of Jerusalem" rocket war
with Israel by firing a symbolic salvo at Jerusalem and bigger ones elsewhere. Israel's
"Guardian of the Walls" operation
responded with Iron Dome interceptors at home and airstrikes in Gaza.
As someone who's researched Israeli missile defence systems for several years, the situation initially seemed to me like a repeat of their 2014 conflict, which showcased Israel's advanced defences. But militants in Gaza have enhanced their rocket technology and tactics. That's reminiscent of 2008, when Israel was more vulnerable to rockets and waged a three-week military offensive against Gaza.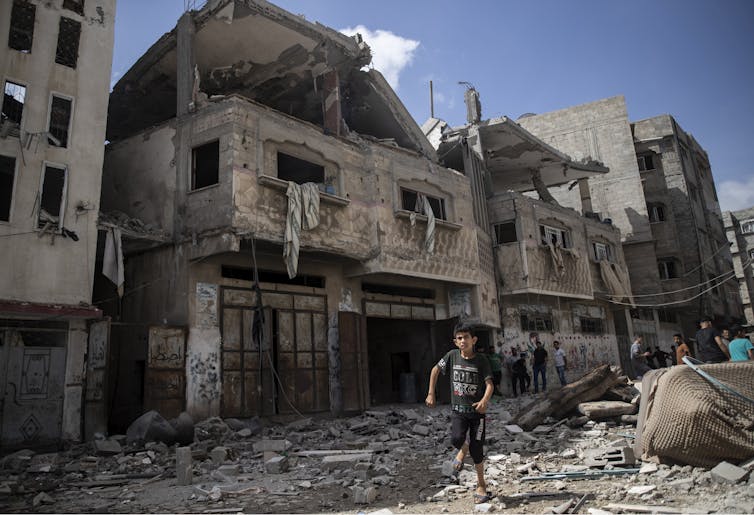 Palestinians inspect damaged houses that were hit in early morning Israeli airstrikes in Gaza City.
(AP Photo/Khalil Hamra)
According to the Israel Defense Forces, roughly 3,100 rockets have been fired from Gaza. That's about as many as during the seven-week battle in 2014. (All rocket numbers in this article were reported by the Israel Defense Forces or Israel Security Agency. There is no way to independently verify most of them.)
Israeli news reports say they've caused 10 civilian deaths and more than 564 injuries, while Israeli countermeasures have killed almost 200 Palestinians and resulted in scenes of carnage and devastation.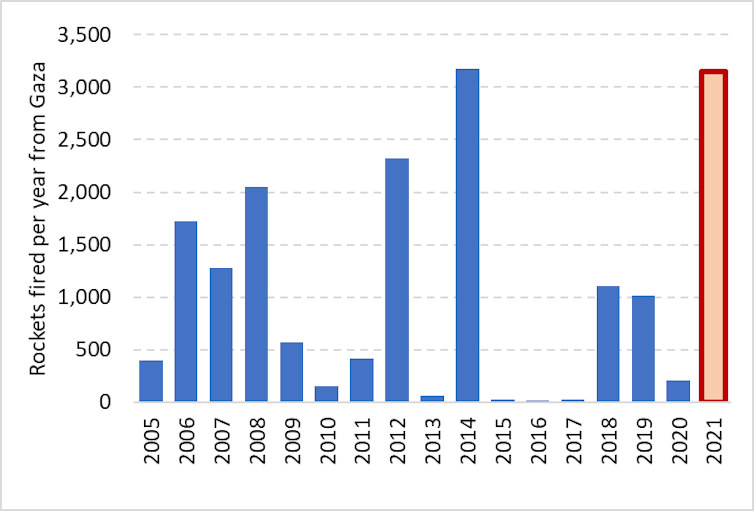 Rockets fired per year from Gaza toward Israel, from 2005 to 16 May 2021, according to Israel Defence Forces/Israel Security Agency.
Created by Michael Armstrong from published Israeli data.
The counts have risen so quickly because Gaza militants have improved their rockets and their usage of them.
Improved rocketry
The most noticeable change this year is larger quantities. Gaza militants fired 470 rockets during the first 24 hours and have averaged 408 per day. Those numbers easily beat the one-day maximums of 316 in 2012 and 192 in 2014.
The firing is also better co-ordinated. Rather than launching many small attacks spread across the day, they've unleashed larger salvos of up to 137 rockets within five minutes. That's much improved, though still far slower than regular army artillery units.
Accuracy has improved, too. About 50 per cent of the rockets arriving over Israel have threatened populated areas. That's up from 22 per cent in 2012 and 18 per cent in 2014. Fewer rockets land in empty fields after missing their targets.
Larger, longer-range rockets are also more common now. During previous conflicts, Israel's southern cities endured most of the fire. This time, Tel Aviv, in central Israel more than 55 kilometres from Gaza's border, is routinely targeted.
Rocket reliability, however, has dropped. About 15 per cent have failed at launch, versus under 10 per cent during previous conflicts.
Destructive impact
The improved technology and tactics make barrages more destructive. My calculations suggest at least 134 rockets have hit populated areas.
During the first four days of this conflict, one Israeli died for every 206 rockets reaching the country. That approaches the one-per-204 rate of 2008, when Israel's defences were weaker. By comparison, it took 270 rockets to kill a civilian in 2012 and 1,429 in 2014.
The injury rate, about one for every three rockets arriving overhead, also resembles 2008. And many buildings have been damaged.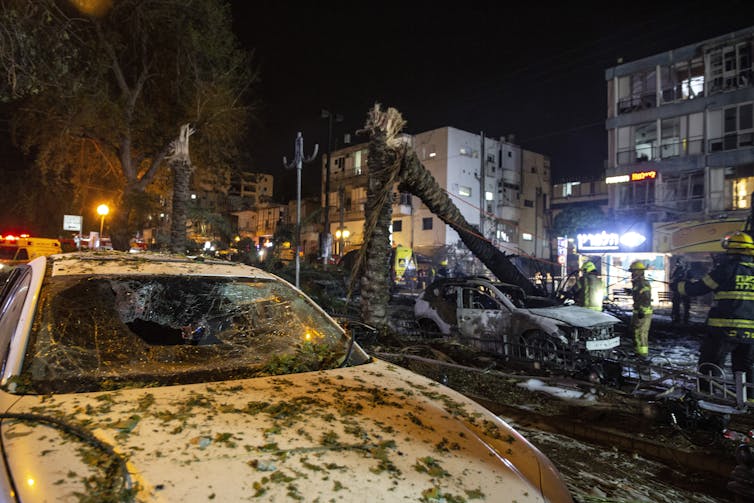 Israeli firefighters works at the site where a rocket fired from the Gaza Strip hit the central Israeli town of Holon, near Tel Aviv.
(AP Photo/Heidi Levine)
These results imply that shock-and-awe destruction is the 2021 strategy of Gaza militants. By comparison, the 2014 operation mostly featured economic attrition. Israel suffered relatively few civilian casualties but heavy financial costs from the prolonged disruption.
Both then and now, Israel has responded with several countermeasures.
Blocking (many) rockets
Iron Dome interceptors provide the best-known defence. Israel claims the systems intercepted 1,210 rockets last week, or 90 per cent of the rockets they engaged. That's about the percentage they achieved in 2014, too, though perhaps not in 2012.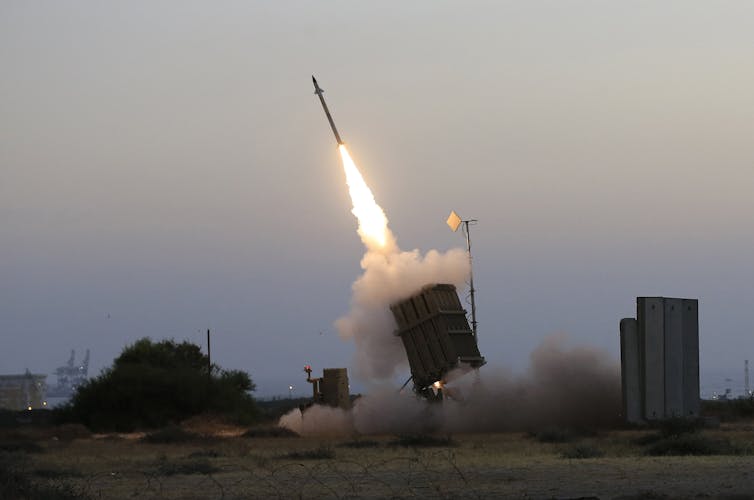 In this July 2014 photo, an Iron Dome air defence system fires to intercept a rocket from Gaza Strip in the costal city of Ashkelon, Israel.
(AP Photo/Tsafrir Abayov)
Are they always achieving it now?
With bigger barrages and greater accuracy, more rockets are arriving together above each target. That means there's more risk the interceptors will become overloaded and let some rockets through.
Suppose the systems sometimes block "only" 80 per cent of rockets. That's still impressive. But it means the portion penetrating then doubles from 10 to 20 per cent, causing twice the destruction.
My research seven years ago analyzed this tactic. It showed that high-performing interceptors can seem "fragile" — once their capacity is exceeded, damage on the ground soars.
That research also studied the idea of firing directly at interceptor systems to disable them. Sure enough, one barrage recently made such an attempt. That was likely a waste of ammo, as their rockets aren't accurate enough yet for such small targets.
Ironically, one Iron Dome system was briefly disabled two days earlier by an equipment malfunction. That let some extra rockets through.
Israel also has extensive warning systems and bomb shelters. Those prevent as many casualties as interceptors do, but don't stop property damage.
CONTINUE READING
Show less
Just about every indicator of drought is flashing red across the western U.S. after a dry winter and warm early spring. The
snowpack is at less than half
of normal in much of the region. Reservoirs are being drawn down, river levels are dropping and soils are drying out.
It's only May, and states are already considering water use restrictions to make the supply last longer. California's governor declared a drought emergency in 41 of 58 counties. In Utah, irrigation water providers are increasing fines for overuse. Some Idaho ranchers are talking about selling off livestock because rivers and reservoirs they rely on are dangerously low and irrigation demand for farms is only just beginning.
Scientists are also closely watching the impact that the rapid warming and drying is having on trees, worried that water stress could lead to widespread tree deaths. Dead and drying vegetation means more fuel for what is already expected to be another dangerous fire season.
U.S. Interior Secretary Deb Haaland and Agriculture Secretary Tom Vilsack told reporters on May 13, 2021, that federal fire officials had warned them to prepare for an extremely active fire year. "We used to call it fire season, but wildland fires now extend throughout the entire year, burning hotter and growing more catastrophic in drier conditions due to climate change," Vilsack said.
As climate scientists, we track these changes. Right now, about 84% of the western U.S. is under some level of drought, and there is no sign of relief.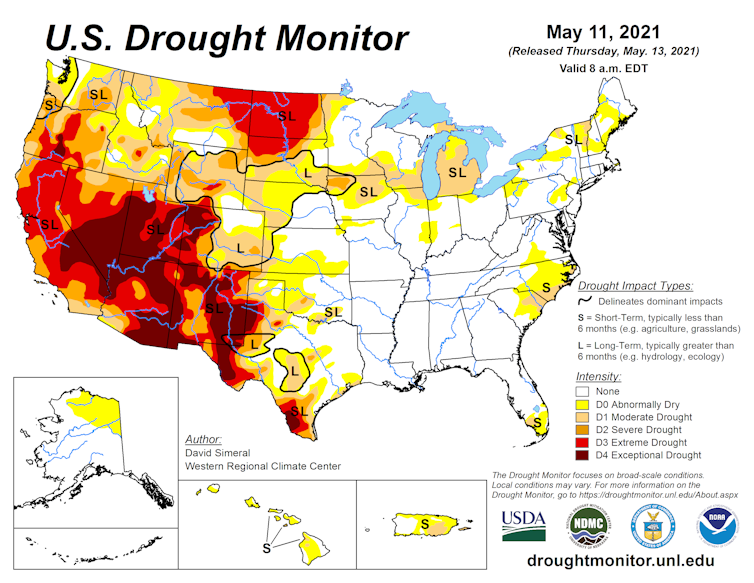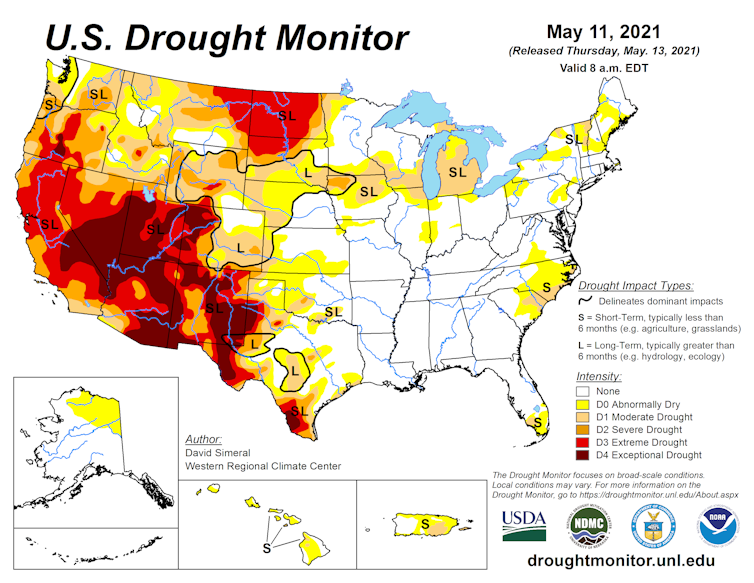 The U.S. Drought Monitor for mid-May shows nearly half of the West in severe or extreme drought.
National Drought Mitigation Center/USDA/NOAA
The many faces of drought
Several types of drought are converging in the West this year, and all are at or near record levels.
When too little rain and snow falls, it's known as meteorological drought. In April, precipitation across large parts of the West was less than 10% of normal, and the lack of rain continued into May.
Rivers, lakes, streams and groundwater can get into what's known as hydrological drought when their water levels fall. Many states are now warning about low streamflow after a winter with less-than-normal snowfall and warm spring temperatures speeding up melting. The U.S. Bureau of Reclamation announced it would cut off water to a canal serving farms in the Klamath Project on the Oregon-California border because of low water supplies. It also warned that Lake Mead, a giant Colorado River reservoir that provides water for millions of people, is on pace to fall to levels in June that could trigger the first federal water shortage declaration, with water use restrictions across the region.
Dwindling soil moisture leads to another problem, known as agricultural drought. The average soil moisture levels in the western U.S. in April were at or near their lowest levels in over 120 years of observations.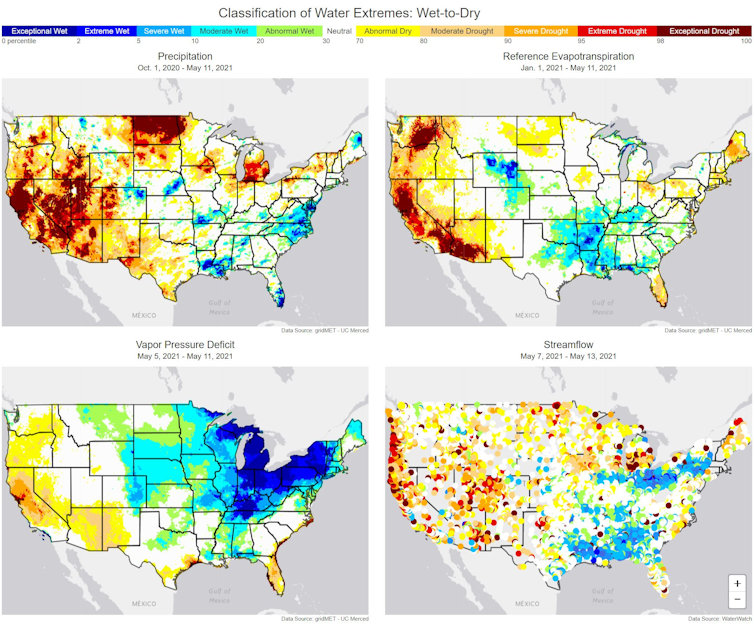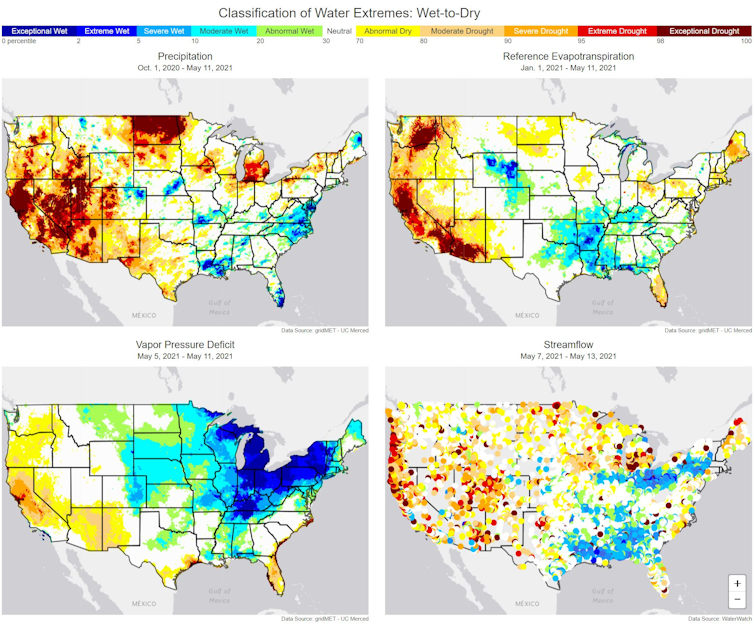 Four signs of drought.
These factors can all drive ecosystems beyond their thresholds – into a condition called ecological drought – and the results can be dangerous and costly. Fish hatcheries in Northern California have started trucking their salmon to the Pacific Ocean, rather than releasing them into rivers, because the river water is expected to be at historic low levels and too warm for young salmon to tolerate.
Snow drought
One of the West's biggest water problems this year is the low snowpack.
The western U.S. is critically dependent on winter snow slowly melting in the mountains and providing a steady supply of water during the dry summer months. But the amount of water in snowpack is on the decline here and across much of the world as global temperatures rise.
Several states are already seeing how that can play out. Federal scientists in Utah warned in early May that more water from the snowpack is sinking into the dry ground where it fell this year, rather than running off to supply streams and rivers. With the state's snowpack at 52% of normal, streamflows are expected to be well below normal through the summer, with some places at less than 20%.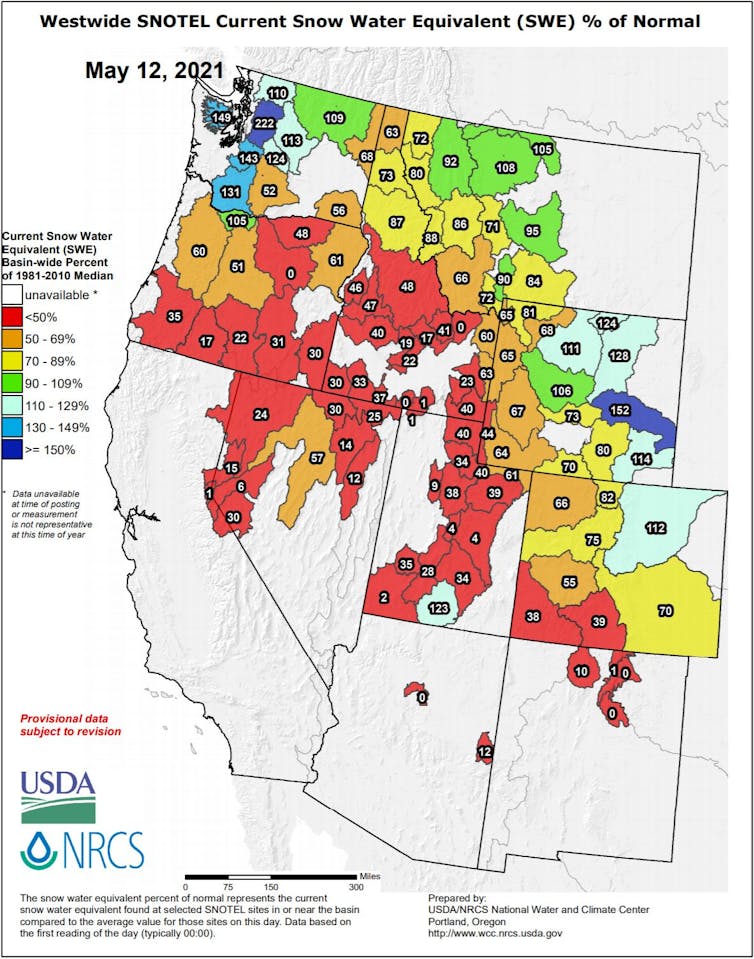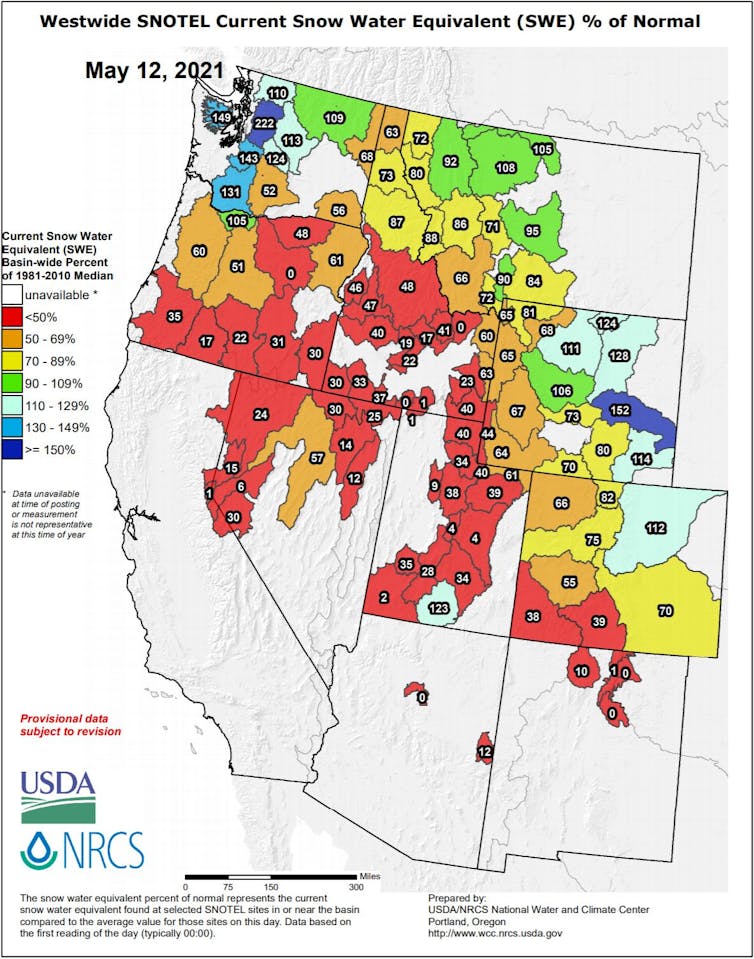 Snowpack is typically measured by the amount of water it holds, known as snow water equivalent.
National Resource Conservation Service
Anthropogenic drought
It's important to understand that drought today isn't only about nature.
More people are moving into the U.S. West, increasing demand for water and irrigated farmland. And global warming – driven by human activities like the burning of fossil fuels – is now fueling more widespread and intense droughts in the region. These two factors act as additional straws pulling water from an already scarce resource.
As demand for water has increased, the West is pumping out more groundwater for irrigation and other needs. Centuries-old groundwater reserves in aquifers can provide resilience against droughts if they are used sustainably. But groundwater reserves recharge slowly, and the West is seeing a decline in those resources, mostly because water use for agriculture outpaces their recharge. Water levels in some wells have dropped at a rate of 6.5 feet (2 meters) per year.
The result is that these regions are less able to manage droughts when nature does bring hot, dry conditions.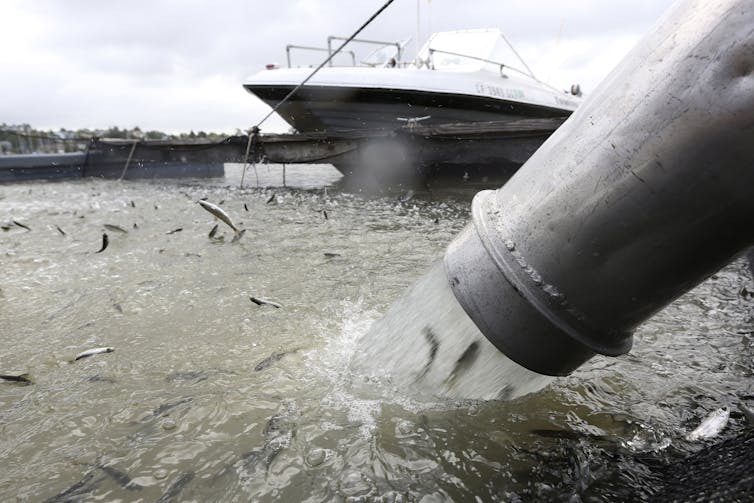 California fish hatcheries have started trucking their salmon to the Pacific Ocean because the rivers they are usually released into are too low and warm.
Rising global temperatures also play several roles in drought. They influence whether precipitation falls as snow or rain, how quickly snow melts and, importantly, how quickly the land, trees and vegetation dry out.
Extreme heat and droughts can intensify one another. Solar radiation causes water to evaporate, drying the soil and air. With less moisture, the soil and air then heat up, which dries the soil even more. The result is extremely dry trees and grasses that can quickly burn when fires break out, and also thirstier soils that demand more irrigation.
Alarmingly, the trigger for the drying and warming cycle has been changing. In the 1930s, lack of precipitation used to trigger this cycle, but excess heat has initiated the process in recent decades. As global warming increases temperatures, soil moisture evaporates earlier and at larger rates, drying out soils and triggering the warming and drying cycle.
Fire warnings ahead
Hot, dry conditions in the West last year fueled a record-breaking wildfire season that included the largest fires on record in Colorado and California.
As drought persists, the chance of large, disastrous fires increases. The seasonal outlook of warmer and drier-than-normal conditions for summer and fire season outlooks by federal agencies suggest another tough, long fire year is ahead.
[Get the best of The Conversation, every weekend. Sign up for our weekly newsletter.]
This article was updated with a statement from Secretaries Deb Haaland and Tom Vilsack.

Mojtaba Sadegh, Assistant Professor of Civil Engineering, Boise State University; Amir AghaKouchak, Associate Professor of Civil & Environmental Engineering, University of California, Irvine, and John Abatzoglou, Associate Professor of Engineering, University of California, Merced
This article is republished from The Conversation under a Creative Commons license. Read the original article.

Don't Sit on the Sidelines of History. Join Raw Story Investigates and Go Ad-Free. Support Honest Journalism.
Subscribe Annually
$95 / year — Just $7.91/month
Subscribe Monthly
$1 trial
I want to Support More
$14.99 per month
{{ post.roar_specific_data.api_data.analytics }}